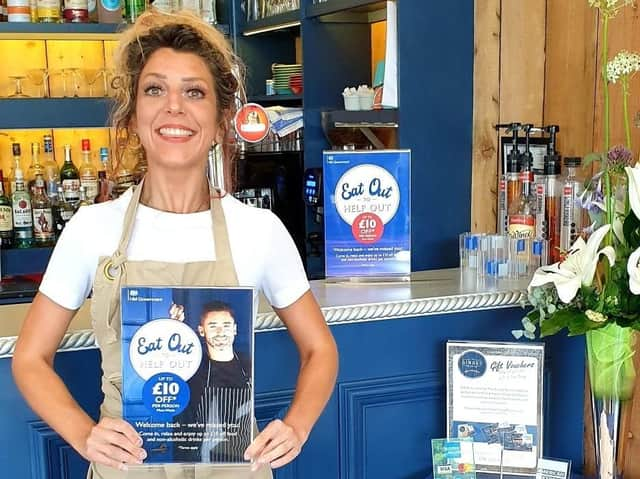 The Ginger Bistro, Preston are taking part in the scheme.
Under the new scheme, business owners can offer a discount to diners to encourage them to eat at their restaurant.
The new scheme – announced by Chancellor Rishi Sunak as a way of tempting diners back out to cafes, pubs and restaurants – is valid all day, every Monday, Tuesday and Wednesday from August 3 to 31.
The scheme offers a 50 per cent discount on food or non-alcoholic drinks to eat or drink in (up to a maximum of £10 discount per diner).
The Town House cafe is also a part of the scheme in Preston
The business can then claim the money back from the government.
Bernice Newton, from the Town House Coffee and Brew Bar on Friargate, said: "We are really excited to be part of the scheme."
The Town House has now reopened with just two members of staff.
Bernice said the public needed their confidence restoring into going out both shopping and eating.
Restaurants can offer a discount of 50% on food and drink up to 10.
She said: "We are at the quiet end of town anyway and you can see that footfall is noticeably down.
"It will be interesting to see what difference it makes when next week comes.
"I think there has been a loss of confidence and all most businesses can hope for is to keep ticking over and getting through to next year."
The discount scheme is only available on food and drink that is intended to be consumed on the premises, and can be used as many times as you like.
Over 53,000 businesses across the UK have signed up to partake in the promotion, which covers participating restaurants, cafes, pubs and bars, canteens and food halls.
Simon Noble, Manager of Ginger Bistro, Garstang Road commented on the scheme: "In terms of the bookings we have taken for next week, we have had many more customers coming to our restaurant than we have done before, so it seems like it will have a positive impact on our business.
"With the scheme, it makes it easier to cover the rota and make sure we have enough staff to cover the amount of customers. We are fully behind the scheme as it will bring new and loyal customers our way and help us reestablish ourselves.
"We are ready for it and have the correct procedures in place. We are encouraging people to book a table to avoid disappointment."
There is no limit to the number of times customers can use the offer during the period of the scheme.
• For full details of who is taking part in the scheme, visit: https://www.tax.service.gov.uk/eat-out-to-help-out/find-a-restaurant.
Just pop in your postcode to find a full list of the scores of local participating venues.