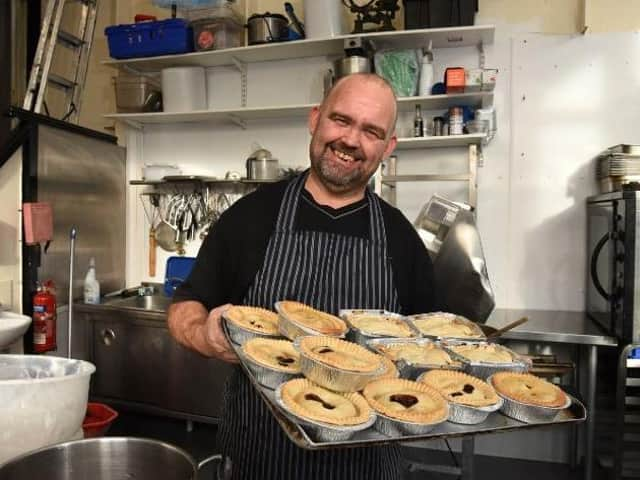 Paul Addison has been cooking homemade pies for more than 15 years
Paul's Pies opened officially today, November 17, after the ex-chef spotted an empty shop closeby to his home.
After being well known for his work at Pennington's bakery, on Chorley Road for the past 12 years, the Covid-19 pandemic gave him the determination he needed to take the leap and open his own bakery.
Paul, 47, said: "When the pandemic hit in march and the bakery closed, I found the perfect place near me to open my own business. I had been thinking about it for a while and decided to go for it and never went back.
His new pie shop, Paul's Pies opened today on Fishergate Hill
"I have always worked in the catering business and used to work at Huntleys in Salmesbury. When I was there I bought a pie machine and the rest is history from there."
Despite the pandemic putting a strain on independent businesses, Paul says he is confident that his pies will keep customers coming back for more.
He offers British favourites, from meat and potato, butter pies, and Lancashire hotpot.
And he plans to bring a range of exciting new fillings to the shelves over the festive period.
The bakery offers local favourites from meat and potato pies to hotpot
He added: "I understand what the country is going through at the minute, but I am remaining positive and I know people will keep coming back if they like my pies. My shop is in a good location and I am running it all by myself.
"People knew that I was opening today I know local people will get on board and keep coming back. There are a lot of butter pie fans down this end of town and I plan to keep it simple and not charge much for good food.
"In the past, I have come up with different flavours such as cheeseburger pies and donner kebab pies. I plan to offer a range in my new shop because I am very creative.
"It is still early days but in time, when I get sorted out with the right display, I'll start making my own cakes and desserts. I have still got a lot to sort out but I am getting there."
The new store, Paul's Pies, is on the corner at 91 Fishergate Hill and offers a range of homemade pies and pasties.
Opening times are Tuesday to Saturday from 7:30am until 2pm.