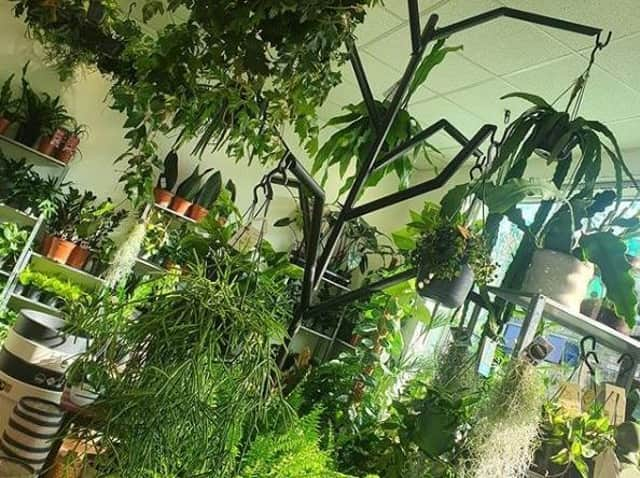 The PlantJunkie store in Longridge
Struggling to find a balance between a fulfilling career to which she could dedicate herself and exorbitant childcare costs, she set up PlantJunkie as an online store, creating her own little slice of verdant jungle in which she could spend her days spreading the gospel of good old-fashioned green-fingered living.
"That love for plants has always been there; I used to do allotment gardening and I've always loved nature," says Kimberley. "When I first started, I was more a collector of house plants and I'd swap cuttings with people. I started collecting house plants to promote positive mental health and for the focus and well-being that looking after them brings. Plus, they really transform a room and bring life into a home.
"It got to the point where nobody had anything I was after, so I started selling cuttings to buy new things," adds Kimberley, 33. "It kind of spiraled from there, really!"
Kimberley Atkinson, founder of PlantJunkie
In the last 10 years or so, houseplants have seen an exponential rise in popularity as people recognise not only their charming beauty and ability to inject a splash of class into a room but their propensity to increase air quality, improve mental health, and generally make people smile.
Instagram-friendly, far more readily available, and attractive to people whose closest thing to a garden may be a window box, houseplants are increasingly popular with younger people, with The Royal Horticultural Society reporting a 50% increase in sales in 2018.
"I'd realised that there was a growing trend and a demand for house plants," says Kimberley, who's from Clayton-le-Moors. "People were also after rare plants, so I thought 'surely somebody can import them' and decided to give it a go and now I've got growers in Holland who I badger to get stuff I want! They import from places like Thailand and do what's called tissue culture, which is taking cuttings to propagate new products.
"The business has gone from strength to strength and, in lockdown, I continued to operate as an online retailer, which was tough with three kids!" she continues, explaining that she saw a spike in demand whilst restrictions were imposed. "But it just went crazy; everyone was sat at home thinking 'this room could do with a plant', and I think embracing houseplants has almost become a lifestyle."
Seeing people's passion for plants spurred Kimberley on to open a brick and mortar shop to allow PlantJunkie to continue to blossom.
"The boom in interest gave me the idea of opening a shop and everything went really quickly from me deciding to open a place to actually opening the doors," she says, with her new store, aptly based on Berry Lane in Longridge, having opened when lockdown was lifted. "It made sense because I'd outgrown the space I was in so it was just the natural progression.
"We've built up a good community of people and I've really enjoyed it," adds Kimberley, having cultivated PlantJunkie into what it is today: a glorious, mulch-filled mecca of houseplants, gifts, and homeware as well as an online shop which ships across the UK. "I thrive when faced with a challenge."
Offering customers the chance to bring that botanical dash of bucolic je ne sais quoi to a home, Kimberley stocks classic, premium, weird, wonderful, and rare plants in an effort to encourage others to follow her lead in indulging in a pass-time which she calls her 'solace'.
"Three years ago, I began with a few trays of plants in my kitchen, so to look around at where I've come is great," Kimberley says. "Plants purify the air, promote good mental well-being, and just seeing greenery is good for mental health, so I think the whole houseplant craze will be around for a while, especially with people living in smaller, built-up areas.
"People need a bit of green in their lives."