Owner's heartbreak as it's announced Chorley play centre will close permanently
Thousands of families have been shocked by news that Chorley playcentre Cheeky Monkeys will close its doors for good next month.
Saturday, 17th October 2020, 7:00 am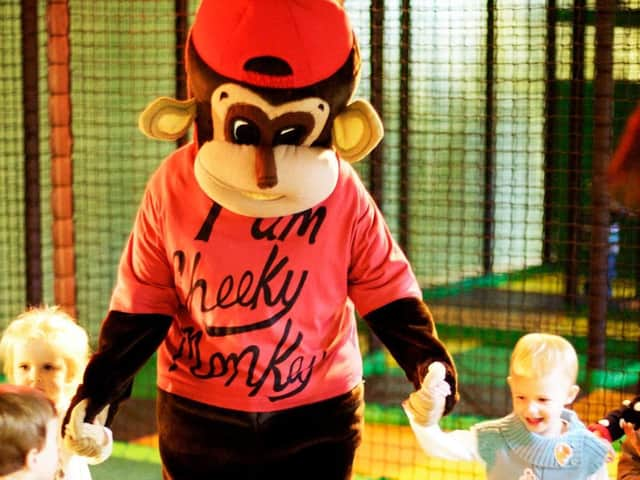 The Cheeky Monkeys mascot
The venue, which has operated from Factory Lane, Whittle-le-Woods since 2004, will close on November 1 with the loss of six jobs.
Owner Lorraine Kearney took to social media to explain the decision to families, saying she was "devastated and heartbroken".
She said: "Our current premises (are planned) to be demolished to make way for new houses and as such our loyal customers will know how excited we all were earlier this year with our own plans to move Cheeky Monkeys to new premises, but unfortunately directly due to COVID-19 these plans have not worked out.
The play centre in Whittle-le-Woods
"We have tried very hard to find an alternative venue in Chorley, but have been unsuccessful. We are a Chorley business and do not want to move to another area or town."
Chorley-based developer and property company Primrose Holdings submitted plans for six detached houses on the land earlier this year.
At that time, Cheeky Monkeys announced it would move to a new building on Strawberry Fields at the end of this year, offering parties, play, childcare and classes.
But speaking to the Post, Lorraine said that the pandemic has forced her to reassess the situation. Already she has had to reduce staff numbers from 25, and ongoing uncertainty about coronavirus restrictions - including the latest closure order under Tier 3 - has forced her hand.
But there was some hope for the future.
She said: "The team and I were so looking forward to moving with huge plans to bring new leisure activities to Chorley, but from March we had to close for six months due to Covid and this crippled our business financially.
"We will still keep the name and trade mark of C.M.s and our plans are to re open again next year once we have found a suitable venue in Chorley.
"This is important as we do not want to have to take Cheeky Monkeys to another town, Chorley is where we want to stay."
She added: "Over the years we have hosted tens of thousands of children's birthday parties, we have welcome thousands of visitors including some famous like Peter Kay, Sherrie Hewson, the BBC CBeebies team three times, our very own Kevin Simms and Steve Royle.
"We have won awards such as the PPA play providers association and BALPPA British association of leisure parks and piers.
"We are just a small local family who have worked hard to build not only a well-loved and respected brand, but a place where the whole community has come together to have fun.
"We have been overwhelmed by the comments of support and sadness that we are closing and we will do all we can in 2021 to bring our beloved cheeky monkey back to Chorley."
More than 1,000 people commented on Lorraine's Facebook post expressing their sadness at the situation.
Gaynor Tohill said: "Oh no so sorry to hear this . I was hoping you would still be moving to your new venue as planned despite the terrible year businesses have had.
"I really liked bringing my little ones to play and also to the holiday clubs, they all loved playing there. Let's hope you are able to start up again soon locally? I'm sure the local community will support you if you do .thank you for providing lots of fun to lots of children and a lovely cafe to enjoy while they played."
Katy Jane Alston said: "This is so very sad, my daughter loved Cheeky Monkeys as a play centre, birthday party venue and holiday club. I really hope you are able to secure new premises and are able to open back up You have saved so many parents on rainy days and you will continue to have parents etc support. Good luck."
Marie Carvall said: "This is heartbreaking. Cheeky Monkeys has been a huge part of our lives - I hope you can find another place to continue."