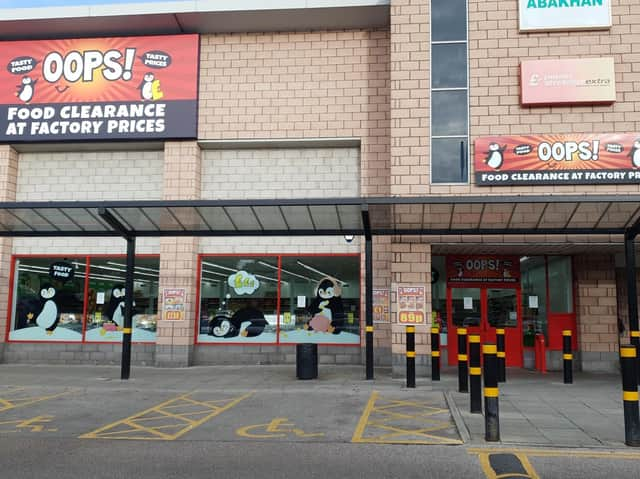 The new OOPS! store has opened in the commercial space once used by Poundworld before its closure
The Corporation Street store, next to Pound Stretcher, will open its doors at 9am on Wednesday October 21.
Preston's store will be the company's second location to open in the North West, joining the 30+ stores set to come to the region in the coming year.
'Oops!' is a new concept in food retail, offering much cheaper prices for hundreds of food items.
The retailer buys clearance goods from hundreds of large manufacturing sites and repackages them at its Liverpool base.
The products on the shelves could have ended up at the manufacturers' clearance section due to over-production or packaging errors.
And in a bid to cut down on waste, food that was set to go to landfill – but is more than safe to eat – is repackaged and stocked on the aisles.
Area Manager Darran O'Hara said: "We're confident our offering will be a great addition to Preston – we've had great success since opening our Bolton store only a few weeks ago. We believe the store will be great for the local community and we look forward to welcoming customers through the doors.
"At Oops! we save food that would usually go to landfill but is perfectly safe to eat. We see this as a sustainable business model offering tasty food at tasty prices at a time when pennies are being stretched more than ever.
"We plan to open 30-40 stores over the next year, across the North West and we look forward to growing the Oops! brand across the region."
The 4,400sq ft store, which is on the same retail estate as supermarket Aldi, will offer shoppers over 600 products of frozen, fresh and dry food.
In turn, it has created more than 20 jobs for the local community, providing a much-needed boost to the area.
And on Wednesday, five shoppers will be chosen at random to win their shop completely free.
The Lancashire Post will be given exclusive access to the new store prior to its official opening this Wednesday.