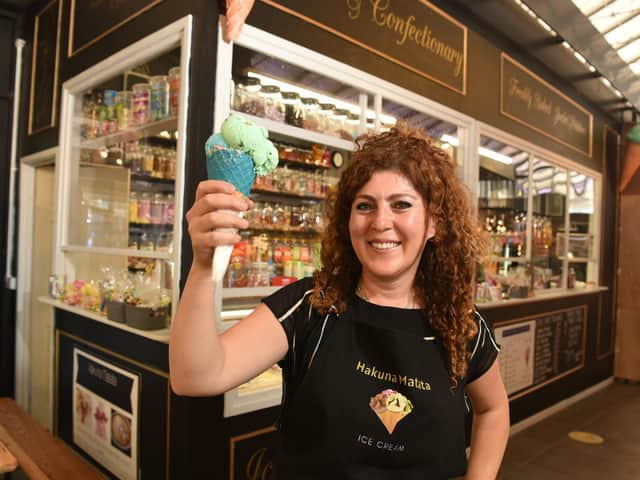 Owner Nurcan
Owner Nurcan, originally from Turkey, has lived in the UK for four years and had originally trained as a professional chef at Istanbul Culinary Institute.
Now, running the stall with partner Steve, the pair wanted to build the business together as they both felt that it filled a "niche in the market".
Hakuna Matata operates as a traditional sweet stall but also offers takeaway coffees and an extensive variety of sweets, snacks and 22 flavours of ice cream.
The stall offers a range of ice cream and cakes
Their experience running Café Delphine in Hoghton has prepared them well for a future in Preston's busy and newly refurbished market hall.
Steve said: "We previously ran a cafe and then decided to try something else. We both thought there was a niche in the market as there isn't much in the area for desserts and ice cream at affordable prices.
"We wanted to be a little bit different. Our aim is to sell desserts at reasonable prices to all the local community. We also tried to make the stall more Covid safe and to protect our products from the damp and any contamination, by enclosing the stall."
Lockdown threw a wave of uncertainty to many local independent businesses, but Steve and Nurcan claim that business is picking up: "Business is really picking up at the minute. We were worried with the talk of a lockdown in Preston as it did get a bit quieter but it has been really busy."
Hakuna Matata operates as a traditional sweet stall
The stall can also supply sweets for special occasions like baby showers, in gift bags and boxes.