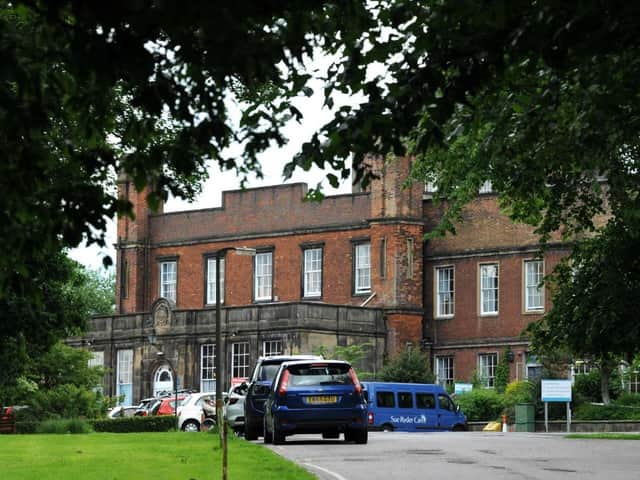 The sprawling 179-room stately home has been sold to a millionaire businessman, Colin Shenton, who said he intends to restore the mansion to its former glory as a "magnificent family home"
The Grade II-listed countryside mansion is located in Cuerden Valley, just a mile from Bamber Bridge and Leyland, and was formerly Sue Ryder Neurological Care Home.
The stately home, built in 1717, has been sold to businessman Colin Shenton, who is pledging to restore it to its former purpose as a family home.
The hall had been put up for sale with a guide price of £1.5million last year, but until now, details of any sale had not been made public.
Questions started to be asked about Cuerden Hall's future after metal fencing appeared around its grounds on Friday, October 23
But contracts have now been exchanged on the Lancashire mansion and Mr Shenton's restoration plans have been unveiled for the first time.
Mr Shenton, who is based in the North West, said he will be taking on the restoration of the hall as a personal project, rather than through his real estate business Shenton Group.
In 2011, he and his partner Gareth Harold bought and refurbished Gunby Hall, a stately manor in Lincolnshire, which they turned into their country home.
Mr Shenton has not said whether he intends to make Cuerden Hall his personal home once renovations are completed, but the stately home is conveniently located next to the M6 and just a 40-minute drive to Manchester where his property business is based.
The stately home, built in 1717, has been sold to businessman Colin Shenton, who is pledging to restore it to its former purpose as a family home
He said the hall, which sits in 16 acres of gardens and grounds, will now be subject to a full restoration led by Purcell, a "world-renowned heritage specialist architect".
He said the restoration project will likely cost around £15million to return the sprawling property back to its original use as a private stately home, "fit for the 21st century".
Mr Shenton said: "Cuerden Hall is one of the most important heritage assets in Lancashire.
"It is a weighty responsibility to take on such a restoration; the costs may exceed £15m, but with such a highly-experienced team, led by Purcell, I am confident we will restore the building to the highest standards.
"Cuerden Hall will make a magnificent family home, as was its original purpose – and by no commercial activity whatsoever taking place there, the house will remain in excellent condition for very many years to come."
The stately home's new owner has over 30 years' experience in restoring heritage buildings, with a portfolio of more than 15 similar projects and additional interests within property, farming and hospitality.
Meanwhile, at the other end of Preston, another millionaire is giving away a flat completely free of charge to Preston's most needy.
The £120,000 three-bedroom property in Derby Court, Fulwood, is being offered fully-furnished and mortgage-free by Marco Robinson. You can read our full story in the link below.
Sue Ryder has now vacated the hall and has moved to a £12 million state-of-the-art neurological care centre in Fulwood, Preston.
Further details about Cuerden Hall's redevelopment and build programme are due to be revealed in the weeks to come, with a public consultation scheduled to be held later this year.
The Lancashire Post is more reliant than ever on you taking out a digital subscription to support our journalism. For unlimited access to Lancashire news and information online, you can subscribe here.