Meet Arnold - the north west ambulance being turned into a mobile bar
"This is Arnold. He is a rescue ambulance. This is his story." reads the Facebook post which announced a retired ambulance's new purpose.
Friday, 23rd April 2021, 7:00 am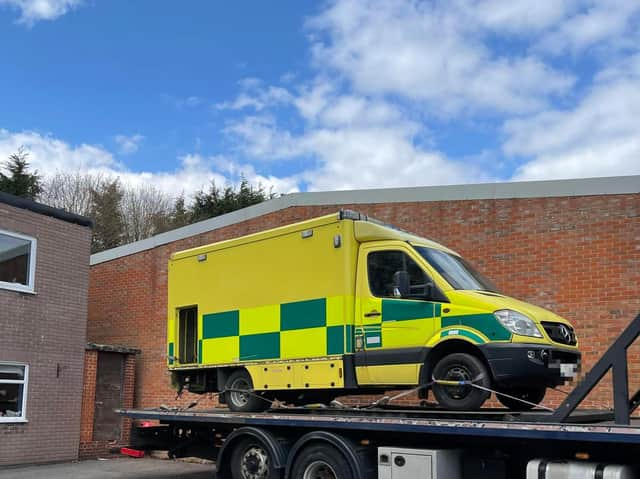 'Arnold' the ex-north west ambulance on tow, photo courtesy of Simon Harris.
'Arnold', as the ambulance is now being called, was purchased by self-employed social media manager Simon Harris, from south Essex, who hopes to turn the decommissioned service vehicle into a mobile bar and coffee shop with the help of some friends.
The 'Ambarlance' could see punters nursing a hangover instead of helping nurse them back to health as it did in a past life.
Simon and his business partners stumbled upon the ambulance by 'pure chance' when looking for a vehicle to house their new mobile business venture.
Inside the ambulance which is currently missing a back door, photo courtesy of Simon Harris.
"The business idea came about three days before we bought the ambulance," he said.
"We were scouring eBay and classified ads when I found an ambulance with a few months left on its MOT.
"For the time being, we've decided that there is going to be a lot more emphasis on outdoor socialising and a demand for outdoor hospitality because god knows how long it will be until this pandemic goes away," Simon said.
"Me and a couple of friends thought that it would be cool if a fully functioning ambulance is still more than capable of hitting the road for another 100,000 miles or so.
It will take a lot of work to transform 'Arnold the ambulance' into a mobile bar, photo courtesy of Simon Harris.
"We want to do something interesting with it."
It is thought that Arnold spent nine years on the streets of 'The North' tending to the injured and responding to medical emergencies.
Essex resident Simon, who is also known for running Facebook page 'Man Behaving Dadly', was shocked to hear that the vehicle was 'days away from being scrapped, ground down and turned into Carling cans'.
"Was this really a fitting end for such a British hero?" he asked.
Essex resident Simon Harris with the ambulance which is due to be transformed into a mobile bar and coffee van, photo courtesy of Simon Harris.
With Simon's social media expertise, and the group's experience in retail and electrical work, they hope to get Arnold the Ambarlance up and running and serving customers soon.
"Between the three of us, we have already got a lot of the skills we need to get the ambulance converted," Simon said.
"An ambulance has already got loads of cupboard space but there's obviously a fair bit of work on the inside.
The ambulance has been decommissioned and has had its sirens and lights disconnected to comply with UK law, photo courtesy of Simon Harris.
"We haven't made a proper start other than trying to clean it up a bit."
Currently, Arnold is missing two doors and is empty inside but it is hoped the ambulance will embark on its new life soon.
"We knew it was going to be a lot of work because the ambulance is open to the elements at the moment: one of the rear doors is missing and a side panel too," said Simon.
The markings which clearly identify 'Arnold' as an emergency vehicle will also have to be removed to be legally compliant, Simon said.
"We hope it won't also be confused for a Morrison's or Ocado delivery van," he joked.
Simon said the group are already receiving inquiries from customers asking to hire out the vehicle, including parents whose children love ambulances.
And what about the ambulance's new name?
"Arnold the ambulance is the first name that came into my head, it has a ring to it!" Simon said.