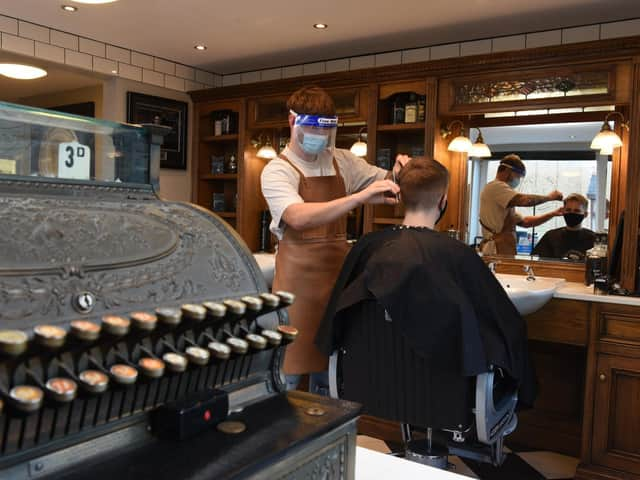 Ike Walmsley says his shop has delivered nearly 100 haircuts in a day.
The Gentlemens' Lounge in Inglewhite Road delivered nearly twice its average day of haircuts when it welcomed nearly 100 people through the doors on Tuesday, with Longridge co-owner Ike Walmsley starting work at 8-30am and sitting his last client down at 11-30pm.
The 24-year-old barber and his team then worked late into the evening again yesterday as they trimmed nearly 120 people's hair.
Ike, who co-owns the business with his 27-year-old brother Chad Walmsley, say they needed to make the most of the time left before shutting their doors today to help minimise the impact of lockdown on their custom.
Chad Walmsley of The Gentlemen's Lounge in Longridge is working until midnight to fit in last minute haircuts.
He added: "Last time, it was just an absolute shambles. Since July, we've probably been down about 50 per cent.
"There are two factors. One is that people are shaving their hair off or still having it cut by their mum or sister. The second is that there are few events on, pubs are closed and lads aren't going out on dates, so people are coming in once a month. We have clients who used to come in every week but now it's every three weeks. It's made a massive difference.
"We've had to turn so many people away in the past few days. We don't want to but we're working 16 hours a day and we physically can't do any more.
Ike believes that barber shops should be allowed to remain open during lockdown because they follow strict Covid-19 measures.
He added: "Barbers and tattoo parlours are some of the cleanest places you can go. They're sterile and we have one person in, one person out."
He also believes they are essential for people's well-being as they offer a safe place where men can talk openly about their lives.
"A big thing for me is mental health. When Caroline Flack died there was a lot of talk about mental health but now you hear nothing about it. How are people who are isolated or live in flats without gardens going to cope? If it was me I'd have lost my head by now," he said.
"People come into barber shops not just for a haircut but also to talk about things. I know so much about their lives. They feel they can express themselves here. It's not just about haircuts - it's about the relationship between the barber and client.
"You can be the most average barber in the world but if you listen to your client, they will come back."
Ike fears he will be forced to close the shop for good before Christmas if custom doesn't pick back up after lockdown due to the costs of running two venues. But he says the brothers will continue to run their new barbers in Derby Road, which opened 18 months ago.
He also worries about the financial impact on his staff, Mitch Facer, Oliver Alston and Ethan Bailey.
"Ethan and Mitch have children, houses that they rent, cars to pay for and bills in general. With the income we're on at the minute, it's a struggle enough to pay for all of these things, never mind when we're not actually at work," he said.
"When you have put your heart and soul into a business and you have to close it and there's nothing you can do about it, it's gutting.
"December is usually one of our busiest months but this year there won't be any parties and you might as well be closed in January anyway as it's always quiet.
"There are a lot of reports about universities and schools getting cases of Covid so why should businesses have to suffer? People will have an education but there won't be many jobs left."