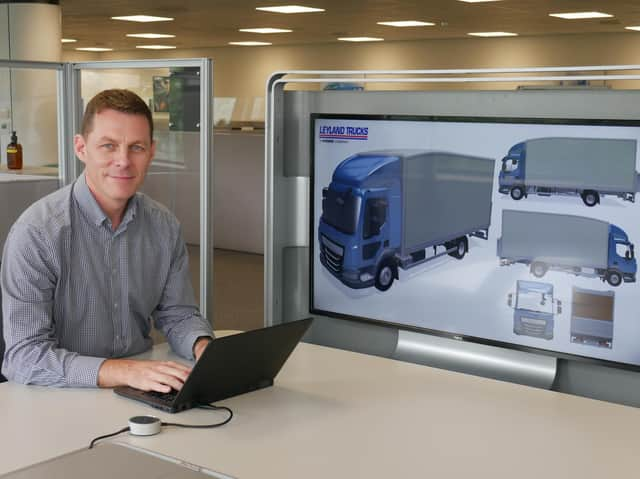 Leyland Trucks' Current Engineering Manager Chris Griffiths
A subsidiary of the American company PACCAR - which in 2019 had revenues of $25.6bn - since the 90s, Leyland Trucks manufactures medium- and heavy-duty trucks including the full market-leading DAF product range. Across the entirety of 2019, the company built 19,757 trucks with a truck leaving the production line every seven minutes.
"Around 400 people work on the shop floor and I lead the teams which manage and run our production lines, so it's my job to keep everything running smoothly," says Assembly Operations Manager Nic Isherwood, 38. "We're the last step in the whole process, so it's a really exciting challenge to get all those moving pieces together.
"Seeing the final product coming out is fantastic," adds Nic, who is from Clayton-le-Woods and who has worked for the company for 15 years, having recently returned from a five-year stint with PACCAR in Seattle. "You've put something together which lives and breathes and which is going out into the world to do a job which affects us all.
Leyland Truck's first vehicle, a 1.5 tonne steam wagon, in 1896.
"Everyone's really friendly and there's a great family spirit, so coming to work is really enjoyable and it's fantastic to be able to contribute."
During World War I, the company - then called Leyland Motors - built 5,932 vehicles for the British forces and at the height of the war was employing 3,000 people, while World War II saw the company produce 9,000 vehicles, 3,000 tanks, 10,000 tank engines, and countless munitions, leading to German bombers continuously targeting the site. Still trading in quality to this day, Leyland Trucks' Current Engineering Manager Chris Griffiths is responsible for the trucks' bodies, vehicle calibre, and legal compliance.
"It's very satisfying knowing you're rubber-stamping a product which will play an important role in an important industry," says Chris, who worked for the company between 1999 and 2007 before leaving to do eight years with Mercedes in Milton Keynes and returning to Leyland Trucks in 2016. "They don't like gravy and mushy peas down South, so I was delighted to come back to the North West.
"I'm very proud of being responsible for making sure we meet legislation; the car industry was tarnished with what happened with a certain German car manufacturer a few years ago but everybody in here works to make sure we're compliant," adds Chris, 46. "We see vehicles from when they're sketched ideas to when they're on the production line, and there's a big satisfaction in getting to see the job through from start to finish.
Nic Isherwood, Leyland Trucks' Assembly Operations Manager
"The engineering managers who look at future products have never been as busy because of increased customer demand for low-emission vehicles," says Wigan-born Chris. "A big percentage of our trucks will be electric in the not-too-distant future, so it's really exciting knowing that those future products will be the new normal very soon."
Covering employee communications, health and safety, HR, and manpower planning as well as helping to coordinate visits from the thousands of students who come to see the facility each year, HR Director Ivan Shearer has worked at the company for almost seven years and has had a big hand in its response to the coronavirus pandemic.
"Covid-19 presented many challenges as, initially, we had to cease production and we furloughed about 750 people," says 62-year old Ivan, who lives in Poulton-le-Fylde. "But as we've sorted safe working arrangements, we've had more people phased back in and now there are only a few people who are shielding who are still furloughed.
"It can sound twee, but the people make it a special place to work and a lot of employees have worked here a long time. It's a really passionate and committed team and everybody pulls together to get things done, so it's a really can-do business."
Leyland Trucks' HR Director Ivan Shearer