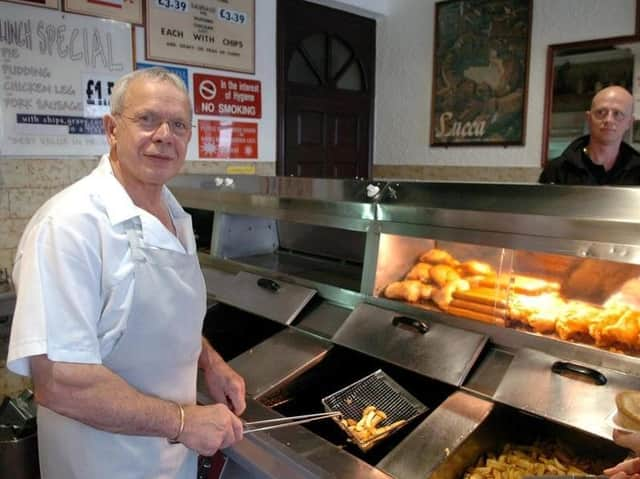 Italian-born cook Umberto Frediani, 77, had been serving up the nation's favourite dish at his chip shop in Watery Lane, Preston since 1973 until his retirement in November, 2020
The 79-year-old had been serving up the nation's favourite dish at his chip shop in Watery Lane since 1973, earning it a reputation as one of Preston's favourite chippies.
But after nearly five decades behind the fryer, Italian-born Umberto has hung up his apron, frying his last fish on November 20.
But the chip shop bearing his name will continue under new management after it was sold to a local businessman last month.
Staff member Angie Whittle with her former boss Umberto Frediani, at his chip shop in Watery Lane. Angie said: "I honestly couldn't of asked for a better boss or friend. You just don't get many like Umberto."
All staff have been retained, including Umberto's grandson, and two new chefs have been hired to replace Umberto behind the fryer.
Staff member Angie Whittle, who worked alongside Umberto for seven years, has paid tribute to her former boss.
"I miss working with him terribly, he was such an amazing boss," said Angie.
"I was there for 7 plus years and we had a right laugh. Our families remain close friends and Umberto and his wife always made my family feel like part of theirs. It's like one big family.
"You definitely don't get many like Umberto. I honestly couldn't have asked for a better boss or friend."
Angie has also reassured customers that they can still expect the same tasty fish and chips that they have come to expect at Umberto's.
She said: "Umberto has taught the new owners all he knows and we are all doing everything the same way Umberto always did it.
"Everything is staying exactly the same, they are just going to add to it.
"We look forward to seeing all our regular customers and invite all new customers to come enjoy our food."
He said: "After nearly 50 years serving the people of Preston and beyond, it's time to take it a little easier.
"It's been a pleasure to meet so many customers, some who've become very good friends."
Umberto's wife Aideen added: "Running the shop wouldn't have been possible without brilliant staff, loyal customers and our supportive family."
And their son Richard said his parents had been "pioneering shop owners" in Preston, adapting through the decades to make Umberto's a thriving business.
He said: "From selling ice cream, alongside fish and chips, during the heatwave in 1976, through late night opening in the 1980's when the rest of the city still hadn't realised the potential of the night-time economy, to the extremely popular lunchtime offers which causes queues along Watery Lane, it's no understatement to say Umberto's is a Preston institution.
"The shop may have my Dad's name over it but none of the success would have been possible without mum.
"They both deserve their retirement - but I'll only believe it when it happens."
It is more important than ever on you taking out a digital subscription to support our journalism.