Lancashire dairy farm apologises to Hindus for hosting 'yoga with cows' fitness class
A Lancashire dairy company has apologised to Hindus worldwide after it hosted a 'cow yoga class' at its farm in Leyland.
Thursday, 20th August 2020, 12:30 pm
Updated
Thursday, 20th August 2020, 12:34 pm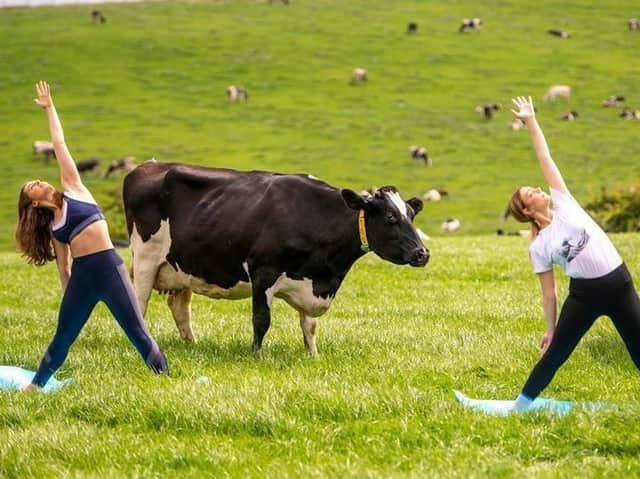 Lancashire Farm Dairies said the 'yoga with cows' class offered the "grounding effects of nature, natural sounds and music of the cow comrades". Pic credit: Lancashire Farm Dairies
Lancashire Farm Dairies has apologised after the yoga session, which took place in a field full of free-range cows, drew criticism from a Hindu cleric.
The yogurt company began hosting the class at a farm in Leyland earlier this month, describing it as as the first of its kind in the UK and "a great way to enjoy the countryside and roam with these wonderful animals".
Lancashire 'Yogis' had been invited to Leyland's Paradise Farm to practice their yoga poses amid "the grounding effects of nature, natural sounds and music of the cow comrades". They were then treated to a Lancashire Farm Dairies yogurt smoothie after the session.
The Lancashire farm, alongside free range yogurt brand Lancashire Farm Dairies, said it hoped the new 'cow yoga' classes would help motivate people following lockdown.
But a Hindu cleric, Rajan Zed, has spearheaded a protest against the company. He says the yoga session had "trivialised two serious concepts of Hinduism".
He said that cows were considered sacred among Hindus and "should not be used as a prop for human entertainment". He also accused the farm of "frivolity" and "diluting the profound, sacred and ancient discipline of yoga."
The US-based cleric, who is President of Universal Society of Hinduism in Nevada, said the event should be discouraged before it becomes "a trendy fad".
Mr Zed has written to Lancashire Farm Dairies, urging them to "rethink, revisit and reevaluate" its yoga classes with cows.
He said: "We do not want herds of people flocking to dairy farms to do yoga alongside cows, with many visualising it as an Instagram opportunity.
"Real yogis should not attend such events where cows are inappropriately used, causing unnecessary disturbance to cows and putting them in stressful situations.
"Moreover, unpredictable cows could be a distraction in a path of self-discovery that draws the yogi inward."
In response to the backlash, Lancashire Farm Dairies said it has cancelled all of its future 'cow yoga' classes, and has apologised for any offence caused to Hindus.
A spokesman for LFD said: "We hosted an intimate yoga class for six people at one of our farms as a fun way to encourage UK adults to exercise outdoors and experience the tranquillity of the vast 500-acre farm.
"We can only apologise if the recent fitness activity has caused offence, as you can imagine this wasn't our intent.
"There are no plans to hold any further yoga events."
Mr Zed said he has since thanked LFD for understanding the concerns of the Hindu community, who he said felt that "yoga with cows on a Lancashire farm was not a good idea".
But he has suggested that companies like LFD should send their senior executives for training in "religious and cultural sensitivity".
He said: "This training will help so that they have an understanding of the feelings of customers and communities when introducing new products, organising events or launching future advertising campaigns."
Rajan Zed is a vocal opponent of Hindu cultural and religious appropriation and has called on dozens of companies to change products or advertising campaigns which might be considered offensive or anti-Hindu.