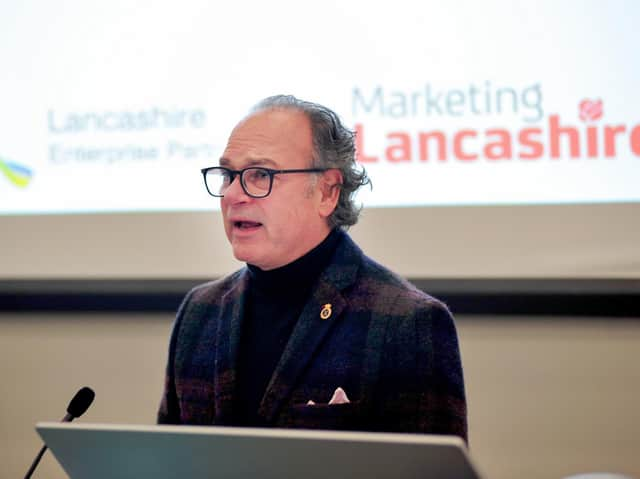 Marketing Lancashire chairman Tony Attard
The founder of fabric product manufacturer Panaz talks here about the difficult times all firms are living through and where to go for help.
Tony said: "During this terrible time although our first priority is to the NHS and the sick and vulnerable ,it is essential that business is able to get through this and retain jobs.
"From my own personal perspective this last week was the worst week in my professional career which spans over 30 years.
"Like many other business leaders, we have negotiated through economic downturns and enacted strategies to weather the storm.
"However I have never seen the world in lock down, when many businesses come to a halt.
"During difficult times there is a sailing analogy that I think is appropriate, if you are thinking about reefing then do it immediately, and that is true in business.
"If you need to apply for a business interruption loan, (CBILS) if you should furlough staff then you should do it immediately.
"Please be aware however that a furloughed employee must not undertake any work. They can take part in volunteer work or training (subject to the terms of their contract of employment relating to competition and outside interests), as long as that work does not provide services to, or generate revenue for, the employer.
"The Government has not disclosed the punishment which will be meted out to employers who are found to be making furloughed staff work, but HMRC are likely to be strict in their response to rule breaking.
"The Government has already confirmed that HRMC will be carrying out audits once the pandemic is over.
"You should also look at other cost cutting strategies, keep a keen eye on invoices that should be paid to you in order to retain cash flow and check your contracts and liabilities.
"Understandably it has been difficult to make some decisions because government strategy has been lacking some clarity in the first instance, however the Chancellor continues to refine the Government's approach and that clarity is now available and so business decisions can be made.
"I am particularly pleased that the business interruption scheme is now much clearer and business owners will not need to put up personal guarantees on initial loans and the Government will cover all fees and interest for the first year."
There is plenty of help out there for businesses.
The Lancashire LEP website gives access to government websites as well as a handy management tool kit from the UK business academy Coronavirus business survival guide.
www.Lancashirelep.co.uk/covid-19
From the above you can get access to Boost #AskForHelp which is a personalised service.
Marketing Lancashire as a specialist in the tourism industry has been in contact with government departments and Visit Britain and has some very important information for restaurants, hotels and other tourism operations at
https://www.marketinglancashire.com/news/spotlight/coronavirus-covid-19-advice/
Also: the North and Western Lancashire Chamber of Commerce has a coronavirus business toolkit at www.lancschamber.co.uk
The toolkit, contains a wealth of information on loans, grants and other support.
It's updated several times a day so do check it regularly..
There are a number of government business webpages:
Coronavirus Job Retention Scheme
https://www.gov.uk/guidance/claim-for-wage-costs-through-the-coronavirus-job-retention-scheme
Deferring VAT and Income Tax payments
https://www.gov.uk/guidance/deferral-of-vat-payments-due-to-coronavirus-covid-19
A Self-employment Income Support Scheme
https://www.gov.uk/guidance/claim-a-grant-through-the-coronavirus-covid-19-self-employment-income-support-scheme
There is also a Statutory Sick Pay relief package for small and medium sized businesses (SMEs)
A 12-month business rates holiday for all retail, hospitality, leisure and nursery businesses in England
Small business grant funding of £10,000 for all business in receipt of small business rate relief or rural rate relief, will be automatically issued by local councils.
Grant funding of £25,000 for retail, hospitality and leisure businesses with property with a rateable value between £15,000 and £51,000· https://your.burnley.gov.uk/service/Coronavirus_Government_Business_Support_Grant
The Coronavirus Business Interruption Loan Scheme :·
https://www.british-business-bank.co.uk/ourpartners/coronavirus-business-interruption-loan-scheme-cbils-2/