It's plane sailing for BAE Systems - with a little help from Carol Vorderman
TV personality Carol Vorderman has congratulated BAE Systems experts who designed and built a ventilator within weeks.
Tuesday, 5th May 2020, 6:36 pm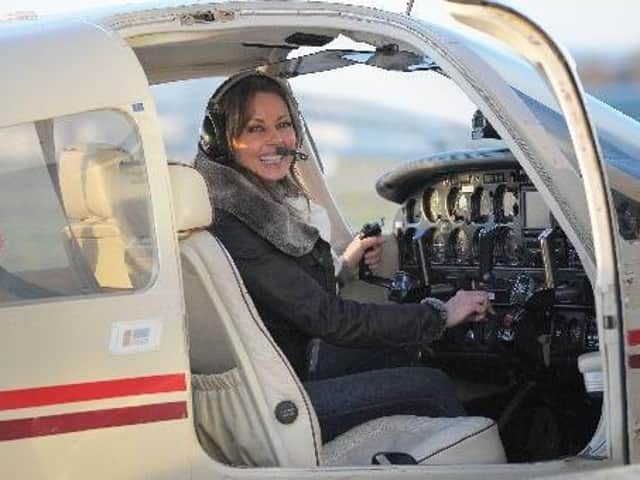 Carol Vorderman, pictured in 2013, is a qualified pilot. Picture:PA
And she revealed that her private jet helped to play a part in delivering the vital components.
The former Countdown star is a qualified pilot who has a Diamond DA42 NG Twin Star which is hangared at Warton.
In mid-March, the Government asked industry to help ramp up the production of ventilators.
Part of the BAE Systems team with Carol's plane
As well as joining the VentilatorChallengeUK consortium, a team in BAE Systems' Applied Intelligence business in Guildford came up with an innovative idea for an entirely new ventilator.
This was to be built from readily available parts that could be rapidly manufactured.
As the project progressed it became clear that some additional specialist skills and capabilities were needed.
The Air team based in Lancashire joined the project, providing specialist engineering support while also using their industrial-scale 3D printers to print hundreds of new ventilator parts. These parts were flown directly from Warton to the production line in Portsmouth.
One of the planes used was Carol's .
She retweeted BAE Systems' post about the operation and said : "Congratulations to all the engineers and workforce at @BAESystemsAir @BAESystemsplc who designed and build a brand new ventilator within weeks, and to EVERYONE who helped in all ways."
She added: "My little Mildred plane did her bit too xx."
Carol has owned the plane since 2014 and had once planned a round-the-world trip in it, until a family illness struck.
She is a honorary ambassador for the RAF AIR Cadets
In total, the BAE Systems team produced 2,700 ventilator parts.
The ventilator design did not eventually go forward to full-scale production due to the drop in the need for ventilator technology.