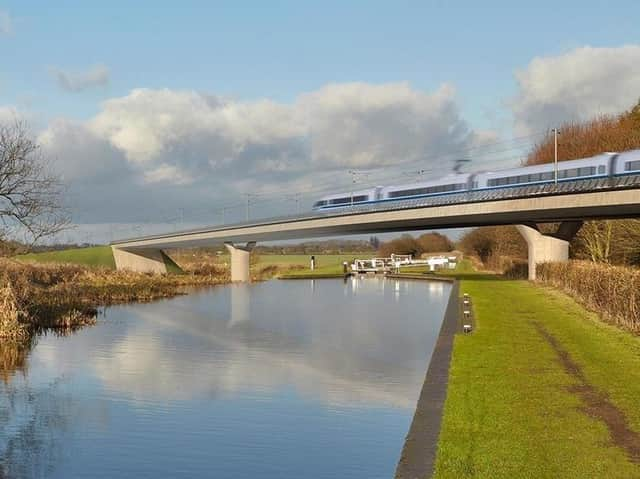 An image of how HS2 will look
The first phase of the route will travel between London and Birmingham, with a second phase going to Manchester and Leeds.
It could be as late as 2040 before the second spur reaches the North West.
But it looks as if Northern Powerhouse Rail initiative across the Pennines will go ahead.
Prime Minister Boris Johnson announced to MPs that he hoped that by pressing on, HS2 services could be running by the end of the decade.
The prime minister added he was going to appoint a full-time minister to oversee the project and criticised the HS2 company's management of the scheme.
Mr Johnson added: "This is not just about getting from London to Birmingham and back.
"This is about finally making a rapid connection from the West Midlands to the Northern Powerhouse, to Liverpool, to Manchester, to Leeds and simultaneously permitting us to go forward with Northern Powerhouse Rail across the Pennines - finally giving the home of the railways the fast connections they need.
"And none of that, none of it makes any sense without HS2."
He added: "The Infrastructure and Projects Authority considers that this first phase can be delivered for its current projected costs of £35 billion to £45 billion in today's prices."
Mr Johnson said: "If we start now, services could be running by the end of the decade."
Geoff Mason, Policy Manager at the North & Western Lancashire Chamber of Commerce said: "The increase in capacity to be delivered by HS2 is a huge boost to business.
"Having now been approved, it is essential to start work immediately, and that further delays are avoided.
"Any review into the northern legs of the project need to focus on maximizing connectivity and bringing work forward.
"It cannot be as a cost-cutting exercise resulting in a second-rate service if government claims of 'levelling up' are to be believed.
"The announcement coming at the same time as funding promised for local bus routes and cycling infrastructure is welcomed.
"Large rail projects can work together with local public and active transport systems to take people out of their cars, reduce congestion and greenhouse gas emissions.
"National and local government will need to work closely with business communities to ensure that any funding into transport infrastructure achieves real difference and improvements."
Henri Murison, Director of Northern Powerhouse Partnership said:"The North's civic and business leaders have argued tirelessly that major infrastructure investment is so badly needed to provide the extra capacity urgently required on our rail network.
"Creating a delivery vehicle to build High Speed North as an integrated high-speed network North to South and East to West provides the best way to rebalance our national economy and secure the benefits of shared growth in turn, attracting investment in the shortest possible time.
"The Oakervee Review has set out how a process can begin swiftly for HS2 and Northern Powerhouse Rail, to be best configured together with the wider existing network to create a joined up new and upgraded railway for the North – taking up the ambition of the Victorians and being as bold as they were.
"It is the only way we will create the capacity we need to unlock the benefits passengers on packed local trains, get freight off the roads and provide the connectivity which is a pre-requisite of closing the North - South divide for good."
"This a once-in-a-generation opportunity; to create a truly balanced Britain that works for everyone.
"Integrating HS2 and Northern Powerhouse Rail is the first step – a bold, decisive, forward-looking step that I am heartened the government has finally chosen to take as politicians across both major parties here in the North have campaigned with us for."
Jude Brimble, GMB National Secretary, said: "The reality is that HS2 is happening and the Government should get on with it.
"Thousands of skilled jobs depend on the project in construction and the supply chain.
"Ministers must concentrate on making HS2 a model of good employment practice while making sure our members can get on with building world class infrastructure in the Midlands and the North."