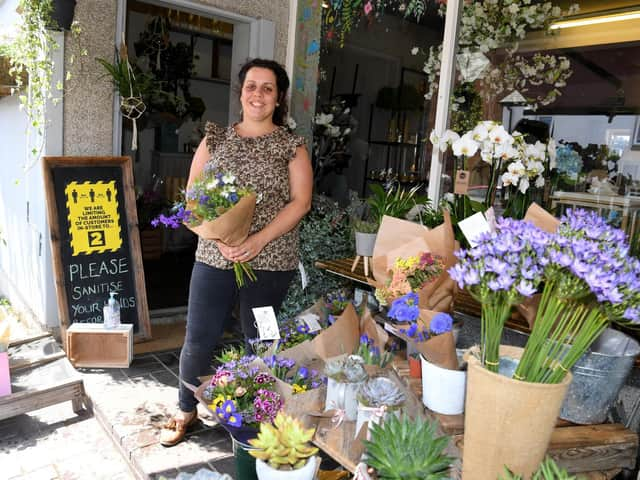 Leah Loftus of The Flower Shop in Garstang thanks her loyal customers and new ones too for their support during the Covid-19 pandemic.
We're back where we want to be!
For those Garstang traders who decided to open their doors this week it may not be quite business as usual ... but it's certainly a step in the right direction.
They reported shoppers were showing patience to be proud of as they queued for service in the small market town renowned for its independent businesses.
Some, but not all, shops have reopened in Garstang
Customer loyalty was the order of the day as people got used to the new normal of plastic screens and hand sanitisers.
It is, as shopkeepers readily acknowledged, too soon to call, but signs of a hoped for high street revival were promising.
They demonstrated how they are adapting to survive with some also seeing a boom in, or anticipating increases in, online business.
Jeweller Damian Carr of Carr's jewellers on the High Street said: "I think everybody has been very positive and people have been very generous with their patience. It's been very pleasant to see us all getting back to some normality."
Ready to welcome customer back: Lisa Crane with Elmo the bulldog and Sophie Senar at Harrison Cropper gift and interiors store in Garstang
He continued: "We've got screens in place, we're able to deal with the two metre distancing, we have a push bell to ring to get in..Everything is sanitised and if anybody touches anything it gets cleaned afterwards. We've got cleaning regimes in place throughout the day ..it's clean, clean, clean. We're also offering appointments."
Although staff were furloughed Damian himself has worked behind the scenes throughout the pandemic, dealing with customer queries and continuing making jewellery, As for the wider fortunes of the town he said: "Garstang has got so much to offer. You can't beat seeing things and having the goods here to choose and the personal service you get from the high street.I think we really do offer something unique,"
Nowhere were the green shoots of recovery more evident than at The Flower Shop by Morgan on the High Street. Proprietor Leah Loftus said all her staff had returned, apart from one who is on maternity leave. She had been heartened by customer support and the new business which arrived despite lockdown
She said: "We reopened on May 3 with the website and phone orders. We had an honesty box in front of our displays which worked massively because we couldn't open to the public. We've sold lots and lots of locally grown flowers and houseplants. I think people have been treating themselves and friends and family. We've been busier than in the whole 18 years I've been here. It was quite touching how many people have supported us. "
Damian Carr pictured outside Carr's jewellers in Garstang
This week customers were allowed in but with social distancing rigorously observed. She said: "We've cut our shop in half. They can't come to the counter. We're asking everybody to sanitise (their hands) when they walk in and we're sanitising between every customer and every bouquet and job we do."
She addedthey were re still keeping the honesty box for cash payments , but a cardreader was also available for online payments.
She said business had tripled on the net and many people ere still opting for online contact free ordering. She added: "That's maybe the new way."
All orders are being tied with rainbow ribbon as a thank you to the NHS.
Customers start to return to Garstang
Lisa Crane, co-proprietor of gifts and interiors shop Harrison Cropper re-opened on Tuesday and said: "I think everybody is very positive in trying to support local businesses. We've put up screens and put hand sanitisers at the door and around the shop and we're asking people to put gloves on when looking at the pattern books..It does feel good to be back."
Longer term she suggested Garstang shops needed to look at opening on Sundays: "We've got to try and keep taking it forward and future proof rather than keep everything very much the same."
Luke Goddard at Printmob hopes to reopen next week. He has been kept busy during lockdown as a largely unsung high street hero making face shield visors for doctors' surgeries, dentists, care home and schools. So far, with the aid of his own and loaned and donated equipment, plus a GoFundMe appeal he has made and supplied some 4,500. He delayed reopening his bespoke printing and personalised gift business to complete this work.
He continued: "Obviously we're adapting to the way people are buying because it's certainly changed and a lot of that is going to remain. We're going to try and adapt and move towards offering free local delivery and postal service."
However Luke's business will also have different opening hours as, he explained, his children will not be back at school so he will be juggling business and family commitments.