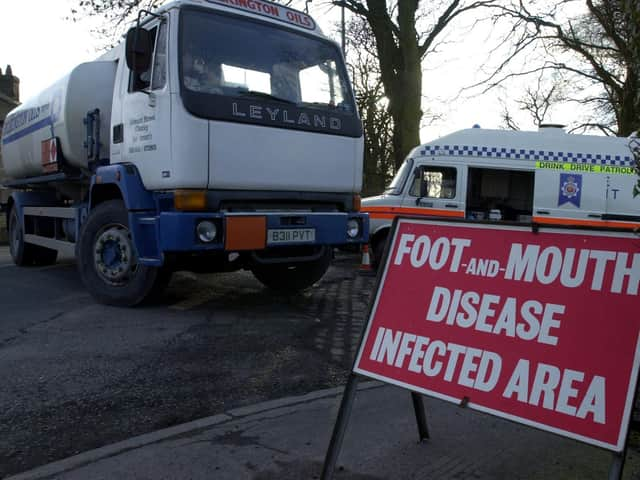 A tanker arrives with fuel for the pyre at Ollerton Fold Farm in Withnell near Chorley foot and mouth disease, 2001
When foot and mouth disease hit the farm he managed in Withnell near Chorley, all his cattle and sheep had to be shot. None were spared.
It was so distressing, even for a hardened livestock worker like Phil, that he bundled his wife and children into the car and drove off for two nights in a hotel to get away from the gruesome aftermath.
Piles of carcasses were set on fire in the fields at Knowles Farm as Ministry of Agriculture teams set about burning the animals in a bid to contain the highly infectious virus.
A fire rages at Knowles Farm, Withnell, near Chorley, 2001
"I had to take the family out of the way," recalled Phil. "We got everything shot and then we got a pass out and went away while the fires were on."
Knowles Farm was one of several in the Withnell area hit by the biggest foot and mouth outbreak the UK has ever known.
The disease, first identified on February 19, 2001, brought the country to its knees and cost agriculture and tourism an estimated £8bn.
Cumbria was the worst-hit county, while in neighbouring Lancashire there were 44 farms infected and around 50,000 animals slaughtered before it was finally brought under control more than seven months later.
"It was a disaster at the time," said Phil who was working as manager at the farm in Chorley Road. "It was stressful, very stressful, especially with having young kids at home.
"We had 350 cattle and about 100 sheep. They all had to be put down, the whole lot. We were covered by insurance. But we only got value for money for the animals, that's all we got.
"It was a good six months before we could start up again and it took a long time to get back to where we'd been.
"I think the government learned a lot of lessons from it. There are different things in place now."
The February 2001 outbreak was the second of three major foot and mouth flare ups to hit the UK in the past half century.
The disease struck in 1967 in an area along the border between Wales and Shropshire, leading to 442,000 animals being culled at a cost of £370m. And there was a smaller outbreak in Surrey in 2007 which was linked to the Institute for Animal Health at Pirbright.
But in between the 2001 epidemic dwarfed the others with more than 2,000 farms affected - 843 of those in Cumbria alone.
More than six million cows and sheep had to be destroyed. Public rights of way across farmland were closed.
The Lake District's tourism economy was badly-hit, racing's Cheltenham Festival was cancelled and the General Election was put back a month from May to June.
Yet Tony Blair's Labour government was still re-elected for a second term despite claims that the foot and mouth crisis had been badly handled, with the National Farmers Union accusing the Ministry of Agriculture of acting too slowly in the early stages of the outbreak.
Today, on the 20th anniversary of the outbreak, David Hall, NFU regional director for the North West, says: "God forbid, but if FMD ever returned there is absolutely no doubt in my mind that the industry response would be quick, efficient and robust enough to stamp it out because of the lessons learned."
The first case of the 2001 epidemic was identified in a pig at an abattoir in Essex. tWithin a month the disease had spread far and wide with up to 50 new cases a day being reported. So many animals were being killed each week - between 80,000 and 93,000 - that the Army had to be brought in to help.
It was on September 30 that the final case was reported but restrictions remained for months.
With foot and mouth not having been present in the UK for more than 30 years prior to the outbreak and tight restrictions on the import of meat, it is considered likely that the source of the 2001 outbreak was illegally imported meat.
In the following two years a research project was carried out into the health and social consequences of the 2001 outbreak, led by Dr Maggie Mort of Lancaster University. In 2008 a book based on the study was published called Animal Disease and Human Trauma.
What has changed for farmers?
Since the Foot and Mouth outbreak, Dave and Edwina Miller have turned Cobble Hey Farm in Claughton-on-Brock, Garstang, into a popular visitor attraction, while still actively farming sheep, cows, pigmy goats and chickens.
Although Foot and Mouth didn't reach their farm, they suffered with no income for 18 months as they weren't allowed to sell their animals, and had to look at other ways to bring income in.
They initially opened their country gardens to the public in 2001, then expanded the offering year on year..
Edwina said: "Restructuring was the only way to keep farming.
"We noticed early on that people coming to the gardens were saying 'where are the animals?'
"We said 'they're out in the fields', but people wanted them up close."
A cafe was added in 2004, and now the farm gives people the chance to feed and walk the animals, enjoy the gardens and wetland areas, there are indoor and outdoor play areas, people can take on walking routes, and school visits are encouraged to teach children about farming life.
The success of their diversification over the past 20 years is in stark contrast to the hardships of 2001.
Edwina said: "I always say, we were unlucky enough not to get it.
"For those who did get it, it was devastating and there were huge losses - a very upsetting scenario. But the pay cheque (from the Government) was a very good thing to wipe your tears with.
"It created a big divide in the farming community between those who had got it and those who hadn't.
"You'd see people driving round with their wonderful brand-new trailers, and other people had survived 18 months with no income because they weren't able to sell their cattle, but still had to feed them."
She added: "When my husband sold some cows for the first time afterwards, he went all the way to Bolton and he got a pittance for them. There was a lot of hardship going on and it was criminal the lack of support we got from the Government. At least this time round, with the pandemic, we have been able to get some support."
Mrs Miller's husband and sons work on the farm, and are currently lambing, but they have had to put their cafe manager on furlough, and let part-time staff go.
The farm has been closed to visitors since March 20 last year.
Mrs Miller added: "Foot and Mouth was bad enough, but coronavirus is worldwide and the lack of control is worse than Foot and Mouth.
"It's extremely frustrating, soul-destroying really, because you build up relationships with lots of groups, and that's all gone."
She said: "It's definitely a time to take stock, like it is for everyone.
"It will be interesting to see, in 10 years time, how the pandemic has changed the way people work, like Foot and Mouth did."
* Thanks for reading. If you value what we do and are able to support us, a digital subscription is just £1 per month for the first two months. Try us today by clicking https://www.lep.co.uk/subscriptions