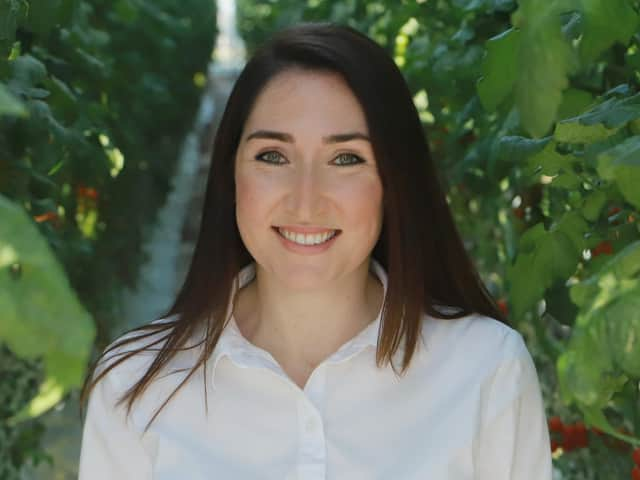 Charmay Prout, MD of Flavourfresh
The company churns out an average of 75,000 packages per day supplying the likes of Asda, Waitrose, Morrisons, Booths, Co-op, and M&S. Talk about the fruits of labour...
"Scale is important in our industry because the margins are so slight and you need volume for success, so it's a complex and technical business," says the company's Managing Director Charmay Prout. "It's my job to make sure the team works well together because we want to be the premium grower of soft fruit and tomatoes supplying multiple top-end retailers.
"We're all about flavour and quality: that's our USP."
Flavourfresh produce in one of their nurseries
One of the country's leading commercial glasshouse growers, Flavourfresh was established in 1997 and is based in Banks near the Ribble estuary. With a turnover of £18m and around 180 year-round employees as well as 80 seasonal workers, the company is also a LEAF (Linking Environment and Farming) Marque-approved grower, with their methods meeting environmental and sustainability standards.
"There's no shadow of a doubt that it's a tough industry to be in, but we've got a resilience and passion which sets us apart," adds Charmay. "Whilst you can't always succeed in battles against unpredictable elements such as the weather, we love the challenge and it makes the job extremely exciting. No two days are the same because you never know what's around the corner. It keeps you on your toes.
"This is my dream job, I absolutely love it," explains Charmay, who has worked with the company since January 2019. "I think I've got the best job in the world because I love food and I love the fact that we produce a healthy product to the standard that we do.
"Producing food in a sustainable way is massive too because we're very ethics-driven as a business and I feel very fortunate.
Charmay Prout in one of the company's nurseries
"During lockdown, I felt even more fortunate to be able to continue coming to work as normal because we, as food producers, were classified as key workers," she adds. "We've been relatively unaffected by the pandemic. If anything it's driven demand and there's so much pride in knowing that we had the honour of feeding the nation in lockdown and that we had a responsibility to put food on the table for people.
"It was a time for farmers and growers to step up."
Always looking to develop further with challenges such as Brexit set to impact the availability of seasonal work-forces, Flavourfresh has also recently turned its sights to technological advances with help from Made Smarter, a North West pilot programme supporting Lancashire-based businesses in adopting hi-tech digital manufacturing techniques.
"Brexit is a huge opportunity for UK production," says Charmay. "Of course there are going to be challenges with seasonal work-forces, but we're looking longer term with things like robotics, which is where I think the industry is going. We're ready to embrace that because we want to be as efficient as possible and make sure our food is affordable."
Using data and system integration solutions, the company is aiming to increase production and reduce waste, with systems capturing and analysing data from the greenhouse to dispatch to ensure consistency and removing the need for paperwork associated with quality checks.
"Tech is revolutionary, so we're not only open to change, we're excited at how we can go to the next level," Charmay says. "We're always striving to be the best, so if we can use data and tech to improve things like standards and yield then that's a great tool.
"We work within such fine margins, so data is really important and can be the difference between if we have a successful year or not."