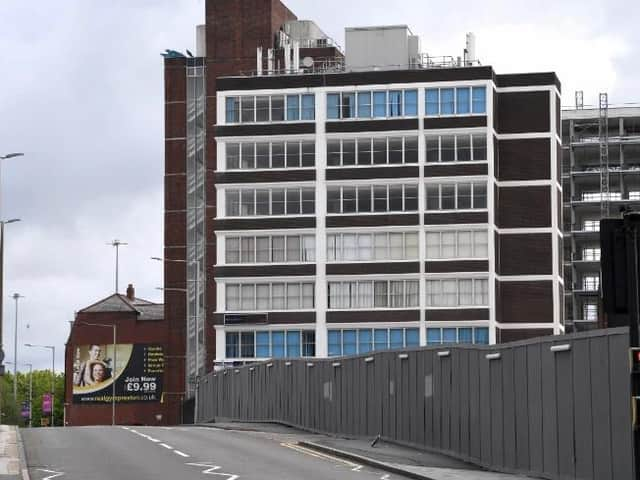 Forbes have been in Ribchester House, overlooking Ringway, for more than 20 years.
The owners of six-storey Ribchester House, the home of Forbes Solicitors, one of the largest law firms in the city, have notified the council they intend to apply for a change of use for the building from offices to 36 self-contained apartments.
Penthome Limited, whose headquarters are at Winckley Court in Chapel Street, want to convert the block on the corner of Lancaster Road and Ringway into 30 one-bedroom and six two-bedroom flats.
Few details have been submitted to the authority other than the block will have six apartments on each of its six floors and the 16 car parking spaces which the offices already have will be retained for residents.
The proposed scheme is the latest to convert office blocks around Preston - in the Winckley Square area, near the bus station and the Markets Quarter - for city centre living.
With a multi-million pound entertainment complex planned for the site of the old indoor market hall and car park, developers have been looking at some of the ageing office stock nearby to modernise as exclusive apartment accommodation.
Only yards from Ribchester House plans have been approved for 75 flats at Red Rose House and a further 55 in Elizabeth House.
And only last week an ultra modern 20-storey building was given the go-ahead on the other side of Preston Bus Station to include 80 flats.
Forbes, who have been in Ribchester House for more then 20 years, say their future use of the building "depends on the plans of the landlord."
But while the firm has opened two new offices at Walton Summit, it insists it will continue to maintain a "significant presence in the city centre for the foreseeable future."
Daniel King, managing partner at Forbes Solicitors, said: "Forbes Solicitors has had a long connection with the Preston area, having had an office in the city centre for over 30 years.
"The firm continues to show strong growth year-on-year and we now employ around 400 people in Lancashire, Manchester and Leeds.
"Forbes continually review our office and client requirements and in May 2016 we opened our Oak House offices at Walton Summit and in Autumn last year we extended our presence at the business park with the opening of additional offices in Gordon House.
"Walton Summit provides us with workspaces that suit the collaborative and cross-practice working of our different legal teams and the Preston-based location has excellent transport links. The offices are ideally positioned to effectively service our growing portfolio of clients across Lancashire, the North West and nationally.
"Although Forbes has occupied Ribchester House on Ringway for more than 20 years, our continued presence there depends on the plans of the landlord who we understand may wish to change the use of the building to align with the retail and leisure development that is taking place around the building.
"Even if this is the case we fully intend to maintain a significant presence in the city centre for the foreseeable future."