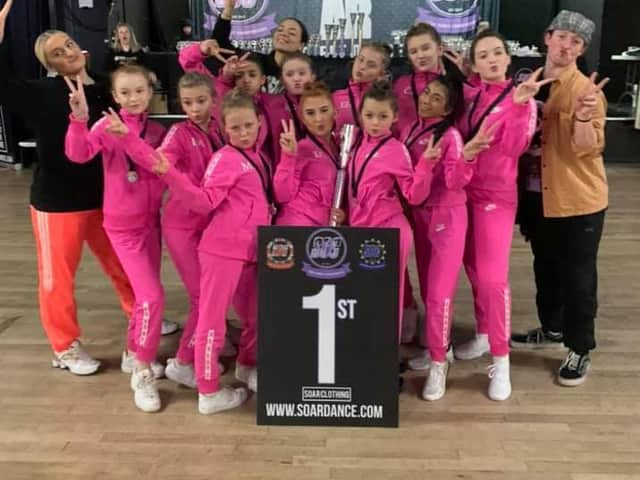 Demi says she is loving working with kids who have a passion for dance.
But what makes her achievements evermore impressive is the fact that Demi is just 19 years old.
"I've always loved dancing; even when I was in school I used to train six or seven days a week and it's always been a lifelong passion," says Demi, a former Fulwood Academy High School student who has also taught dance at the school. "I've never known any different and so I thought it was best to go for it and start my own company while I was young.
"It was a case of 'what better time than now?'," she adds, having already been in the industry for 16 years. "It was daunting, but I've got a good set of dance mums who really helped me and I had a vision from the very start. At first, I was worrying, thinking 'what if no one turns up', but it's been overwhelming and it's great to see how we've grown.
"It shows we're doing something right!"
Raised by her grandmother, Pamela Naylor, Demi says she had a 'rough time' at school which made her feel like she was on 'a path to nowhere'. But dancing changed everything. "When I was younger and had problems, I'd go to dance to forget about everything," she explains. "What happens in your childhood does not [define] where you end up. I think a lot of young people need to hear this: you can do whatever you put your mind to.
"Dance is so good for children, it's rewarding and it's a great way to express how you feel," Demi, from Preston, adds. "It's important for everyone to have that outlet and you see such a difference in the kids: they can be quite shy when they first come but give it two weeks and everyone comes out of their shell!"
Ably assisted at DLN, which is based at Vernon Carus Sports Club in Penwortham, by assistant teachers Grace Horn and Ellie Hilton, Demi already has a number of dance teams and talented individuals who have qualified for for various European and world championship street dance competitions on her books.
DLN Dance reps will be at the Soar British Championships laster this month
And having coached the Demigods (over-16s) and Paragons (under-14s) to considerable success at the UDO World Street Dance Championships in Blackpool in August last year, she is hungry for more success with DLN, which has four new competitive teams and age groups at DLN ranging from under-fours to over-18s.
"We're a competitive school - one of our five-year-olds is top in the North West at the minute - but we also have fun classes and I just love being in that environment," says Demi. "Looking at the kids is like reliving it all again. It's nostalgic and I can pass on my own knowledge.
"I've been there myself and learned the hard way with some things and, because I'm young, I know what they're going through," she continues. "I can pass on the first-hand message that having fun really is the most important thing and I really relish being a bit of a mentor to them."
Praising Grace and Ellie as 'brilliant', Demi says that running her own business can be hard at times, but that she's thriving with the right people around her. "It's great to have people on your team who have a passion for it," she says. "We're one massive family and as long as the kids try their best and have fun, it doesn't matter how well they do. They absolutely love it and they don't realise it but they're making memories and that's so rewarding."
Very much of the opinion that she has found her calling, Demi goes back to the person who backed her from the start. "Thinking about how much money my nan put into me as a dancer when I was younger..." she said. "It's really starting to pay off now."