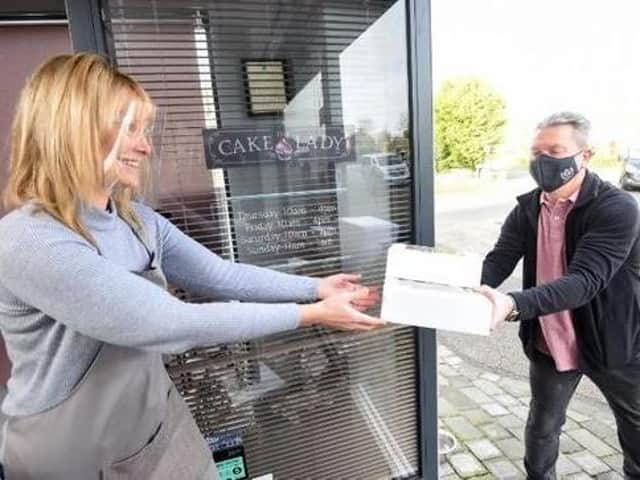 Joanna Lough from The Cake Lady shop in Hutton offers click and collect services in lockdown
The Post has backed independent businesses closed by the Covid-19 pandemic with our #supportlocal campaign.
Despite the fact that physical shutters have come down on non-essential shops until at least December 2, essential shops are open, while neighbourhood stores and independent outlets continue to offer online sales and services as well as click-and-collect trading, which was unavailable during the first lockdown.
Lancashire firms have rallied round to offer online services since being plunged into a second lockdown.
Matthew Taylor prepares online orders for delivery as his shop, Hollywood Exports remains shut
Hutton shop The Cake Lady, on Liverpool Road, is currently closed for takeaways because owner Gemma Catterall didn't want to 'encourage people to come out' and is instead offering click and collect services and local deliveries that can be ordered through her website.
The introduction of a second lockdown has been difficult for Gemma, who has had to furlough her only other staff member, Joanna Lough.
She said: "It's so hard for us to have to be closing again. We started offering postage and deliveries in the first lockdown to get us through and then we were able to open up again with reduced hours.
"Just when we were starting to get back on our feet again we were told we had to close, hence why we are offering postage and deliveries again. We are offering brownies by post across the UK, or local delivery of cupcakes, traybakes and brownies that we usually sell over the counter.
"We are still being hugely supported by our regulars which is very much appreciated. We need people to continue following us on social media and see what is on offer on our website as the shop is closed, and continue supporting us through the second lockdown.
"I didn't want to encourage people to come out so we have decided to close and I have furloughed Joanna who works for us. The whole idea of lockdown is to stay at home, so if we all do that hopefully this nightmare can be over soon."
Matt Taylor, 39, owns Hollywood Exports, an independent vintage clothing store on Fox Street, Preston.
Since the announcement of the second lockdown, he has reintroduced online sales to the business and claims the online uptake has increased '10fold'.
He said: "We have set up our online shop on Depop. There are currently 1,300 items on there that we are selling to make sure we keep our head above water through these difficult times.
"Now we are back working from home, we are photographing the items in our studio and posting them three times a week for our customers.
"The lockdown is, of course, a huge concern for us. The biggest implications for high street stores in the fashion industry, especially for us, is that 80 per cent of our customers are students and young people who are either moving back home or not coming out shopping to buy new clothes because they cant socialise and visit bars and restaurants.
"Luckily, we have a good client base who are continuing to support us, but we are just treading water and relying on our online sales.
"In the first lockdown, we had such a huge uptake in our online sales. They used to amount to just 10 per cent of our trade, but have now grown 10 fold and have remained a large source of our income even when we reopened.
"Clothing will always have a place on the high street, people enjoy trying clothes on and knowing the fit is right. But with the pandemic, people haven't wanted to come into the store, so moving to online has been the best decision."
Businesses "providing essential goods and services" have kept their doors open. Food shops, supermarkets, pharmacies, garden centres, hardware stores, building merchants and off-licences all fall into this category.
Vets, pet shops, agricultural suppliers, storage and distribution facilities, fuel stations, car repair and MOT services, bicycle shops, taxi and vehicle hire businesses have not physically shut.
Banks, building societies, post offices, loan providers and money transfer businesses similarly continue to trade on our high streets, as do funeral directors, launderettes, dry cleaners, medical and dental services.
We urge shoppers to still spend on their doorstep, our clarion call following JPIMedia's recent Big Conversation survey, confirming 71 per cent of our audience agree "the Christmas period will be a good opportunity to support local businesses".
Together we can back business by all making an extra effort to boost traders' takings, ensuring local economies enjoy a prosperous festive fillip.
Throughout the pandemic local shopkeepers have stepped up to the plate to provide plentiful supplies of essential goods, extending opening hours, launching food banks and free delivery services, as well as supporting generous community and charity projects.
The Federation of Small Businesses (FSB) and British Independent Retailers Association (BIRA) back our initiative. FSB National Chair Mike Cherry said: "Small businesses are well and truly at the heart of our communities and, over much of the past year, the valuable contribution that these firms make to local areas has been proven time and time again.
"That's why it's never been more important to support your local firms and, by extension, support the community in which you live. And in many cases, you can still do this, even where premises have had to close because of COVID restrictions.
"Many pubs and restaurants have adapted to offer takeaways or deliveries, cake shops and cafes selling their tempting treats via online delivery platforms, independent retailers trading online as well, some even using the likes of Zoom or Facetime to offer live demonstrations of their products.
"Plus there are many small stores selling essential items that are very much still open – you don't have to go to a big brand supermarket to buy your turkey and trimmings.
"Savvy shoppers have long realised the benefits of the quality, value and service offered by smaller independent businesses and, while the festive shopping experience will be different this year, there are still ways of shopping local.
"Small businesses give back to their neighbourhoods in so many ways, that often go unnoticed by the general public, but the impact that they can have on individuals is substantial. Whether that be their continued help for local charities, hiring local staff, which includes apprentices looking for that first step on the jobs ladder, those from backgrounds that are often at a disadvantage in the job market including those with a disability and ethnic minorities, as well as offering opportunities for older workers.
"This is why it's critical that we support small businesses through this crisis so that they can continue to provide jobs, services and community character long into the future.
"It is a triple win for consumers – the chance to find cool and unique presents, get top-notch service and value, and give your community the gift of protecting local jobs and economies."
BIRA chief executive Andrew Goodacre agrees. He said: "The run-up to Christmas is an essential time for retail. Shopping is safe – all the evidence tells us it is. In retail, we need to show leadership by making sure that the safety protocols are in place, clearly communicated and enforced. The future is in our hands ... or should that be our sanitised hands.
"This year has been unique, different and, ultimately, very challenging for independent retail. Covid has changed many things in our lives, not least the way we shop."
Thanks for reading. If you value what we do and are able to support us, a digital subscription is just £1 per month for the first two months. Try us today by clicking here.