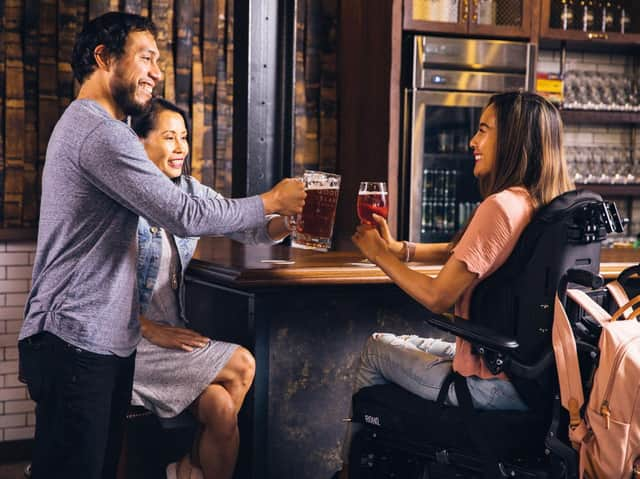 Lancaster ranks 9th in the top 10 biggest pub spenders in the first week after lockdown eases.
Hospitality venues were able to serve people outdoors after months of closure, meaning thousands of Brits flocked back to bars and pubs.
As eager Brits queued for the taste of normality, the data analyst team at Dojo wanted to find out which pubs across the UK were taking the largest average spend last week.
Their data found that the first day of pubs reopening led to four times the usual spend levels across hospitality, compared to a typical Monday trading. This uptake was an extra 10-20 per cent more than a typical day in August.
Dojo's merchant transaction data reveals that Lancaster had the ninth largest average spend per customer, coming in at £21.30.
This was closely followed by Brighton with £21.03 and London with £20.54.
Lancaster had the highest spend per person of towns and cities in the north, with Crewe in 12th place with £20.07 and Wigan in 17th with £18.32.
Top of the spenders were those in Portsmouth, forking out an average of £40.02 per customer.
Jon Knott, head of customer insights at Dojo, part of the Paymentsense brand, said: "After over a year of lockdowns and restrictions, it is no wonder that Brits are eager to get back to normality, and for some this includes going out for drinks at the local pub.
"The average spending last week will have been high due to a number of reasons, from Brits celebrating their freedom to wanting to support their local businesses.
"As pubs and restaurants with outdoor seating areas are now permitted to open with outdoor service, customers have been flocking back. Hospitality has taken a big hit during lockdown and it's great to now see restrictions slowly lift.
"Pubs and bars have been preparing for this moment over the past couple of months, many taking measures to ensure both their staff and customers are safe, by adopting contactless payment methods."