'I want to make a difference' says Booths supermarket boss as he awaits High Sheriff's role
Businessman Edwin Booth wants to use his year as High Sheriff of Lancashire make a real difference.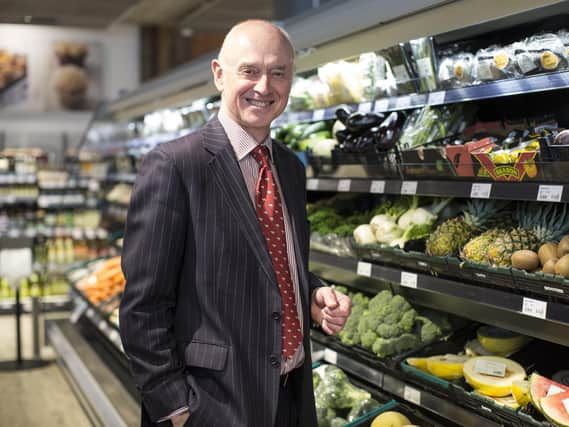 Mr Booth is the chairman and CEO of the Booths supermarket chain and represents the fifth generation of the family to lead the business since 1847.
He will take office after having signed a sworn declaration on April 11.
The office of the High Sheriff is an independent non-political year-long appointment supporting the Crown and the judiciary, lending support to crime prevention agencies, emergency services and the voluntary sector.
It is often seen as a ceremonial position – but Mr Booth wants to dispel that idea.
He intends to address his attentions to three issues: crime, homelessness and education.
Mr Booth said : "A lot of people probably think the High Sheriff's role is just pomp and circumstance.
"That isn't the case. Its about influencing and trying to create a better society."
Mr Booth has been a Deputy Lieutenant of Lancashire since 2005.
His name was put forward for the High Sheriff's role three years ago.
But until his nomination was approved recently by the Queen in a centuries-old ceremony at Windsor Castle it was not official.
The event was witnessed via Zoom owing to the current lockdown.
Mr Booth knows that his swearing-in ceremony will also be affected by coronavirus regulations applying at the time.
By June, if all goes according to plan, public events will resume as normal. And he has the full support of his Booths board and his family to fulfill his role.
"I am sure I will be asked to attend lots of functions – it will be a very very busy year, especially if things open up," said Mr Booth.
He said he wanted to use the role as a platform to promote good causes .
The High Sheriff is officially the Queen's representative in the county for all matters relating to the judiciary .
But it is also an opportunity for the High Sheriff to work with and promote organisations for benefit of the community.
"It is a privilege to be recognised for this role and I want to celebrate everything that is good about Lancashire, a county my family has called home for nearly 200 years.
"There is a great deal of opportunity in Lancashire, and it is my wish to give others the same inspiration and chance to succeed that I have been fortunate to receive.
"Access to education, and by that I don't just mean academic education, but inspiring people to find and celebrate what they are good at, can be a driver in solving the larger societal issues of crime and homelessness."
Mr Booth added: "I often use the phrase, 'there is no such thing as a dull person.'
"Finding and cultivating what excites people is key to education.
"My Great, Great grandfather Edwin Henry Booth believed in giving back.
"Orphaned at the age of 11, by age 19 he was a tea dealer, opening his first shop in Blackpool.
"He found what he excelled at and became a founding trustee of the Harris Childrens' Homes, now the Harris charity, which supports young persons in difficulty, ensuring that talents are not constrained though lack of opportunity."