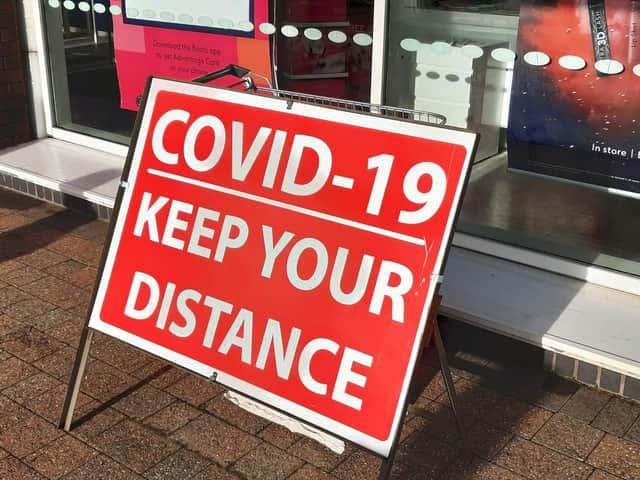 Social distancing is still in place
Prime Minister Boris Johnson announced a delay of up to four weeks for the removal of all restrictions at a press conference tonight (Monday June 14).
It will come as a bitter blow to many hospitality businesses, particularly nightclubs, who were hoping to reopen normally from next week.
Babs Murphy, chief executive of the North & Western Lancashire Chamber of Commerce, said: "This delay to remove restrictions will come as huge disappointment to those businesses who must remain closed or who need to operate at reduced capacity.
"Many of them face significant reductions in turnover and cashflow is a real issue.
"They are desperate to reopen fully and play their part in the recovery. We must ensure they receive the necessary financial support, and the clarity, that will give them a chance to do that.
"Until business are able to open fully we are calling for the government to release further cash grants, a delay the tapering of government payments into the furlough scheme, an extension of the VAT deferral scheme and the continuation of 100 per cent business rate relief."
Mark Whittle, manager of Preston City Centre Business Improvement District, said:"We understand that critical decisions like this are not taken lightly, and that careful consideration will have been applied, from scientists and medical experts, in order to ensure that case numbers do not become unmanageable.
"Unfortunately though, businesses, especially those in the hospitality sector, are again the ones bearing the brunt of ongoing-restrictions.
"Some businesses in the leisure sector are trading at such limited capacities, if at all, that their businesses are operating on a knife edge; it's reported that just two out of ten are currently operating profitably.
"Licensees have done everything asked of them, over a very long period of time - they need to see continued and targeted support made available which lasts as long as businesses-limiting restrictions do."
Paul Foster, Development Manager for Lancashire and Cumbria for the Blackpool-headquartered Federation of Small Businesses, said: "This announcement has not come as a surprise to the small business community given the news cycle of the last few days, however it is still damaging to hard-hit businesses which have been targeting the 21st June as the day when we could move into a new post-covid period.
"We must remember that some of the businesses yet to open have had little or no support for 15 months now, with no revenue and many overheads still to pay."
He added: "The hospitality sector is one of the worst affected by this decision, as it means that they will have to continue to operate with reduced numbers of customers at any given time to ensure they meet social distancing rules.
"These businesses will be needing further support to help them stay afloat.
"This also affects businesses thoughts and plans around furlough. We must see support measures for businesses extended until our economy picks up to the point where they can stand on their own two feet."