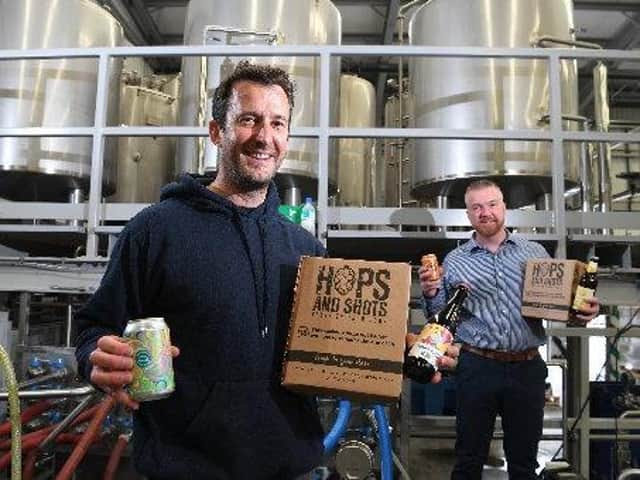 Liam Morrow and Tony Greenwood from Hops and Shots
Hops and Shots was formed out of the existing Morrow Brothers bottling company at Buckshaw Village.
The new business launched in March just as the coronavirus led to emergency measures being taken all over the UK.
But despite the lockdown, customers are raising a glass to Hops and Shots with more than 2,700 orders since the start of April .
The business, based in Ordnance Road, was created when bosses realised they could utilise the bottling plant in a way to benefit both the brewers and the customer.
Morrow Brothers bottles craft beers for a range of small and independent brewers – including Thistly Cross, Assorted Ales, Kirkby Lonsdale Brewery Ltd, Edinburgh Beer Factory, and Northern Whisper Brewing Co.
So the firm set up a mail order craft beer business – enabling customers to receive fresh craft beers to their door directly off the bottling and canning production line.
Because these beers don't return to the brewery for further transportation, the operation reduces the environmental impact by reducing distribution costs.
It also enables the brewer to receive more money for their product.
Commercial director Tony Greenwood said that after an initial soft launch, the business was going from strength to strength.
He said: "We've seen a huge upturn in business since the lockdown, have recruited staff, and received great feedback from all our customers."
One of the attractive offers Hops and Shots is providing is its H&S Fresh Boxes which contain a mixed selection of the most popular craft beers.
Because Morrow Brothers bottles or cans them all on site it is easy for them to use ales from its range of brewery partners.
Operations director Liam Morrow said the launch of Hops and Shots seemed a natural move.
The firm had the ale on site –but knew it needed more expertise to market it and so recruited Tony.
Liam said it was important to the company to be environmentally responsible and ensure that brewers also received the best price possible for their products.
Less distribution meant a smaller carbon footprint and lower costs.
Liam said: "There are always several legs to the supply chain.
"What our customers are buying is beer direct from the brewer and supplied direct to your door."