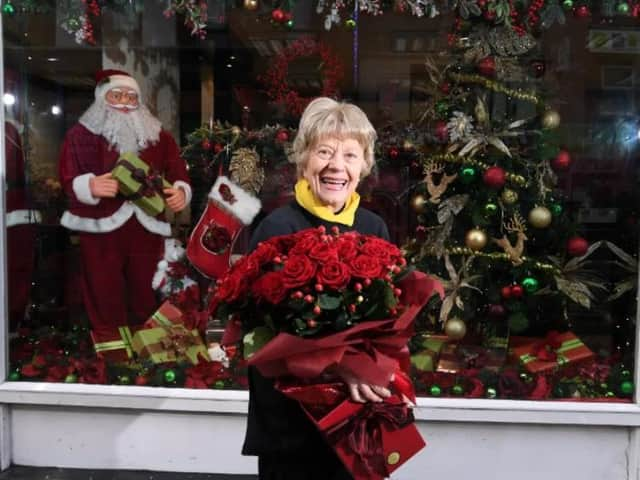 Margaret's legendary window displays will continue this Christmas even though the shop is shut.
Evergreen florist Margaret Mason has seen some big changes since she first opened up on Friargate in 1961 - but none quite like those caused by Covid.
"I haven't let it knock me down in 2020 and I don't intend to as we head into 2021," she said.
"I'm looking to the future and, while we're never going to get back to exactly how things were, that's still no reason why we can't be positive."
Margaret will begin her 60th year in Friargate on Sunday.
Margaret's shop has been closed since the first lockdown back in March, but she has still been as busy as ever working from home in Freckleton and intends to return to Friargate as soon as she can.
She admits she has "wiped up a lot of tears" from brides whose weddings have been postponed this year, but business has still been blooming despite the pandemic.
"We have managed to adapt to the situation," said the 84-year-old who is still looking to expand in 2021. "We haven't been doing the functions we normally do. But we have still attracted a lot of new customers and made new friends.
"I could have sat at home and done nothing, but that's not me. We've carried on working from the barn at home and we have done a lot of deliveries. People still love flowers."
Margaret's shop is famous for its window displays and this Christmas will be no different - even though the place is shut.
"We've done the Christmas windows quite early this year because we wanted to do something to cheer people up at a difficult time," she said.
It is thanks to our loyal readers that we can continue to provide the trusted news, analysis and insight that matters to you. For unlimited access to our unrivalled local reporting, you can take out a subscription here and help support the work of our dedicated team of reporters.