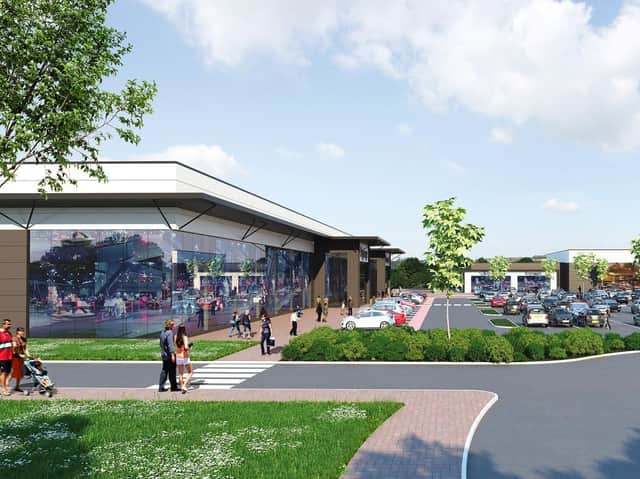 An artist's impression of how the original Cottam scheme would have looked
But another ambitious scheme is still in the pipeline.
In 2015 a planning application was submitted for the former Cottam Brickworks in Cottam Avenue/Tom Benson Way.
The application was for the redevelopment of the site (5.84 hectares) to include up to 6,105 sqm of Class A1 (retail); up to 1380 sqm of Class A3/A4/A5 (food & drink); up to 2035 sqm of Class D1/D2 (health hub); a petrol filling station and associated car parking.
It was submitted by De Pol Associates Ltd of Leyland on behalf of Cottam Hall Properties.
Now it has been "finally disposed" having never been formally considered by Preston Council in the five years since it was lodged..
A similar scheme in the same area, which is expected to feature an Aldi store, housing and retail, was submitted in 2019.
Nexus Planning of Manchester applied on behalf of BXB Cottam Properties Limited.
They are seeking full planning application for the erection of a retail foodstore (1,785 sqm) (Use Class A1) together with associated car parking, servicing, access and landscaping; and outline planning application for the erection of up to 11,425 sqm of flexible use commercial floorspace for A1, A2, A3, A4, B1, C3 and D1 uses with up to 229 car parking spaces; up to 89 residential dwellings and associated landscaping, car parking, servicing and open space.
A spokesman for the applicants BXB Cottam Properties Ltd said earlier this year: "It is very clear that the local community and the market want this development to come forward and all parties have a responsibility to meet these aspirations."
It has yet to come before the planning committee.