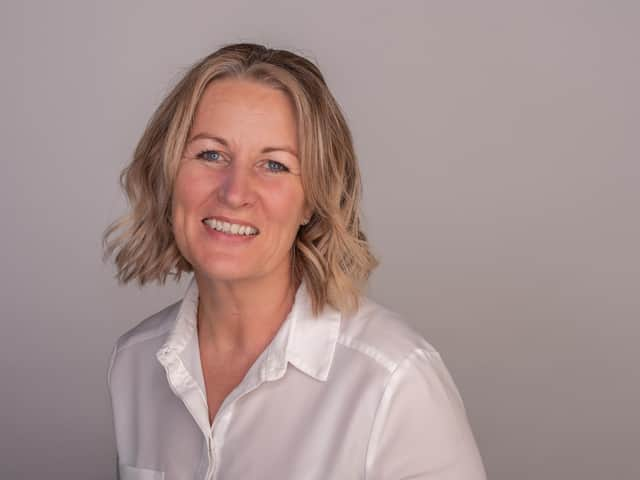 Collette Barnard, owner of Skills Fix Limited.
Skills Fix Limited, based at Burton-in-Kendal, is seeking funding to tap in to find new offices with land attached so it can offer even more indoor and outdoor training courses to small and medium-sized companies.
Owner Colette Barnard, who has clients across the North of England and Scotland, has decided to focus mainly on the Cumbria and north Lancashire area in future because she wants to help upskill the local workforce and keep training spending within the local area.
"I currently source training and have a good portfolio of tutors and training providers who are happy to deliver in our area," said Colette. "Those who need training in Cumbria are sometimes having to go out of the county, often to places like Manchester, for that training as, while there are some training companies in Cumbria, these might not be running the courses they need at that time and there is also no space for outdoor training at my existing premises. This is obviously costly and time consuming for the companies needing training and not good for the local economy.
"I want to have the flexibility to offer training when it fits in with the client and keep the money spent on training within the local economy. Having new premises for indoor and outdoor training in this area would allow me to do that, using my tutors and in collaboration with other local training providers."
Colette, who was brought up in Morecambe and attended Morecambe High School, was training manager for Volker Stevin, in the town, dealing with all aspects of its training, before setting up skills4construction in 2010 to support small to medium enterprises with their training.
"I work with clients which do not have the luxury of their own training department," said Colette, who lives at Beetham. "They include those in the construction and land-based sectors, such as civil engineering, demolition, sports turf specialists and horticulture – any companies which have labour and plant machinery.
"I provide a tailor-made, full service, in effect becoming their training department. This involves implementing systems, maintaining records, identifying and sourcing training, applying for relevant and required cards, tracking expiries, along with claiming grants and funding to help subsidise the training.
"These smaller organisations generally do not have a dedicated individual responsible for training and it very often falls into the lap of senior management to manage.
"The companies are usually missing out on thousands of pounds in unclaimed grants or potential available funding.
"Training card and certification schemes can be a minefield and I have the experience to navigate my way around these. I relieve the disruption, stress and administrative headache that is involved in everything associated with training, leaving senior personnel to get on with managing the business more effectively and efficiently."
Skills Fix organises all aspects of training, including health and safety, such as safety awareness, site management safety, first aid, asbestos, abrasive wheels and mental health awareness; working at heights, including scaffold safety and mobile towers; streetworks, including location of underground services and use of temporary traffic lights; and plant operations, such as using a dumper, excavator, agricultural tractor, ride on roller and more.
Training can be accredited to schemes such as CITB, CPCS, NPORS, LANTRA and IPAF.
Colette said she was now also looking to offer more courses to support the agricultural sector.
She has just changed the name of her company to Skills Fix and worked with Creative Lakes at Kendal on a rebranding exercise. "After ten years it felt the right time to refresh and rebrand, take the company to the next level and to reflect my plan going forward to concentrate on local skills and helping the local economy," said Colette. "I will retain my clients in other parts of the country but want to focus on the Cumbria and north Lancashire area."
She said now was a particularly important time for companies to look afresh at their training. During lockdown, many firms had not been able to operate as normal and some training would have fallen by the wayside. Most accreditation bodies had given extensions to expiries of mandatory certificates to the end of September, so firms needed to ensure they were compliant by then.
Colette added the Government's announcement of £5 billion of spending to revamp the economy was likely to generate construction projects in this area and companies needed their staff trained up to make them more competitive and attractive to clients when tendering for work.
She also felt scores of companies were missing out on claiming grants and funding for training. "The companies who engage my services can make significant commercial benefits through my experience in maximising grants and gaining industry funding, which can very often offset a large proportion and, in some cases, all of the cost of training their workforce.
"I get a kick out of clawing as much money back into the company as possible to aid the upskilling of the workforce."
Colette said she was excited about the future of her business and aimed to do all she could to help local firms. "I want to take all their training hassle away from them, so they can get on with running their business, concentrate on winning work, sleep easy at night knowing training is under control and, crucially, that they are keeping their workforce safe."
For more information about Skills Fix Limited see www.skillsfix.co.uk