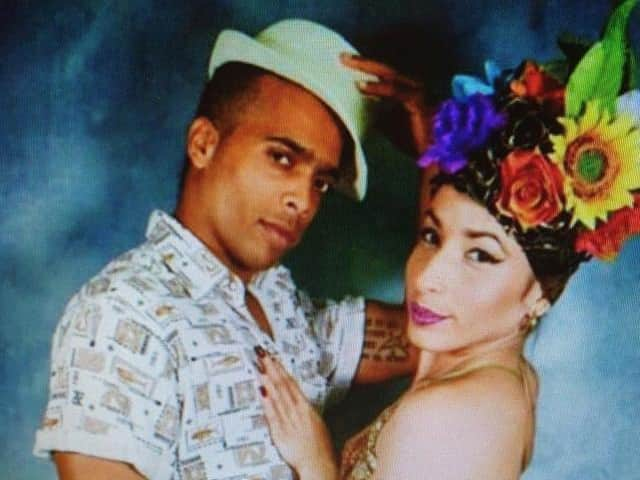 Jhanys Corrales and Sandy Triana
Jhanys Corrales and Sandy Triana, from Cuba, both work at the Big Kids Circus which became stranded in Morecambe after travel was banned during lockdown.
But on Monday (July 13) the pair went missing and have not been seen or heard of since.
Police believe the two are together but the lack of contact and the pair's precarious work permit position has left members of the touring circus worried for their wellbeing.
The Big Kid Circus on Morecambe prom
A spokesman for the circus said: "Their work permits are related only to circus work and they will soon expire.
"We are worried about them of course, they have lived with us a long time and we have heard no news, we are just waiting for the police to tell us anything.
"They have no money, no visa to work outside the circus.
"We just want to know if they are alright and that they are safe."
While they wait anxiously for news of the pair the international circus, which usually travels across the UK and south east Asia, has at least had some good news.
The Government's latest changes to restrictions across England means they can now finally begin to perform again.
The 35-strong circus has set the dates for its latest shows and will perform next week from Wednesday to Sunday (July 22-26), in their Big Top on Morecambe promenade.
And, as a special thankyou for the extraordinary support the circus has received from the communities of Morecambe and Lancaster - all these shows will be free.
The spokesman added: "Without the help we received, when we were unable to make any money, we would have starved - literally.
"The help we were given with electricity, water and food kept us going.
"So performing our shows for free is just our way of saying thankyou - it is the least we can do."
The artists are not eligible for any government support as most of them are not UK or EU citizens.
Around 25 of the performers come from Cuba, while others some from Chile, Ukraine and a handful from Bulgaria, Romania and UK..
And despite paying tax, they are not eligible for any help as they don't have a property that they pay rent on.
They were allowed to stay in Morecambe by Lancaster City Council, who also provided them with electricity, running water and refuse collections, while the Morecambe Bay Foodbank has also helped them.
However, the circus' dire financial position forced the proud grafters to reluctantly set up crowdfunding page.
After next weekend the circus will finally move on, with dates set for Workington. from July 29 to August 2, when they will finally get to put on shows for paying audiences.
To help with the crowdfunding appeal, visit: https://www.justgiving.com/crowdfunding/bigkidcircus
Meanwhile, Lancashire Police spokesman said of the missing pair: "We would urge them if they are reading this post to please make contact with Lancashire Police on 101 quoting log number 0656 of July 15."