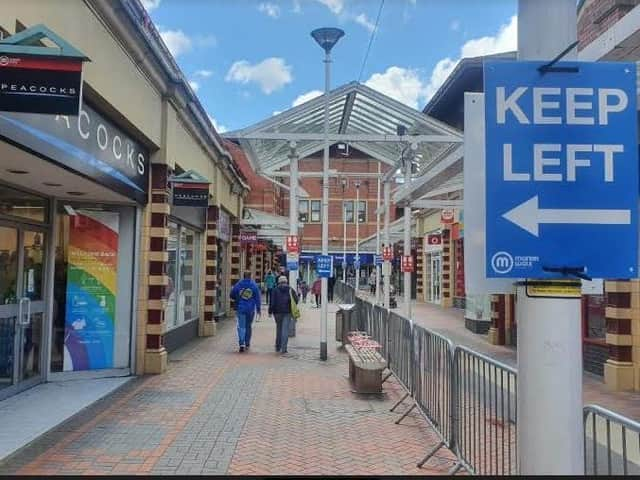 Market Walk shopping centre's one-waysystem
Chorley Council has planned and implemented measures in the town centre since the government announced it was starting to relax current lockdown restrictions.
Currently essential food traders and the Tuesday street market stalls are open but from Monday, many non-essential retail businesses are expected to reopen which will attract more visitors to the town centre, bringing challenges when it comes to social distancing.
Councillor Peter Wilson, deputy leader of Chorley Council, said: "Reopening the town centre in current circumstances isn't without its challenges but we're constantly looking at measures that we can put in place. It's a balance of supporting the local town centre economy and ensuring our visitors are safe when doing so."
Over the last couple of weeks, the council has trialled different measures to encourage social distancing within the town centre.
The decision was made to close off one end of Market Street to vehicles to accommodate stalls from the Tuesday street market which are usually on Chapel street.
This aims to free up space in Chapel Street, helping the flow of foot traffic and social distancing, particularly when other retailers reopen.
So far, this move has been very well received by town centre visitors, said the council.
In addition to this, visitors can expect to see more council staff in high vis, including the Town Centre Ambassadors directing visitors in the town centre, extra handwashing stations, toilets operated on a one in one out basis, as well as an abundance of social distancing and directional signage.
Queue management signage for town centre shops including those on Market Walk is being implemented to prevent queues cutting across the walkways, which can make it difficult to pass.
Visitors are urged to shop at quieter times, usually later in the afternoon, to spread the numbers of people in the town centre across the day, to help with social distancing.
During lockdown town centre parking has been free of charge, however from Monday tariffs will be reimplemented on short stay car parks to increase usage for shoppers.
Long stay car parks will remain free until further notice.
The council is working with businesses and providing information to help them comply with latest government guidance on managing the risk of COVID-19.
Shops will be expected to display a poster to show shoppers that they have carried out the 5 steps to working safely.
Information on safe water supply is also being provided.
With many businesses closed during lockdown it is important that businesses address the potential health risks from dormant water systems such as Legionella and take action to reduce this risk.
Other support to help businesses is also being offered by Chorley Council including online resources such as downloadable signage, financial health checks with local accountancy firms, online workshops and more.
Although the council is putting numerous measures in place to make the town centre safe for visitors, it urges everyone to act responsibly, remain vigilant and adhere to social distancing guidelines.
Councillor Wilson continued: "It's fantastic that our town centre visitors are loyal and continue to want to support local traders, however we urge everyone to adhere to social distancing guidelines and not to rush out to the shops on that first day of reopening and cause crowds – shops will still be there later in the week or the following week."
For further information on Business Support during the COVID-19 pandemic, please visit the business support section of the council's coronavirus webpage: chorley.gov.uk/coronavirus.