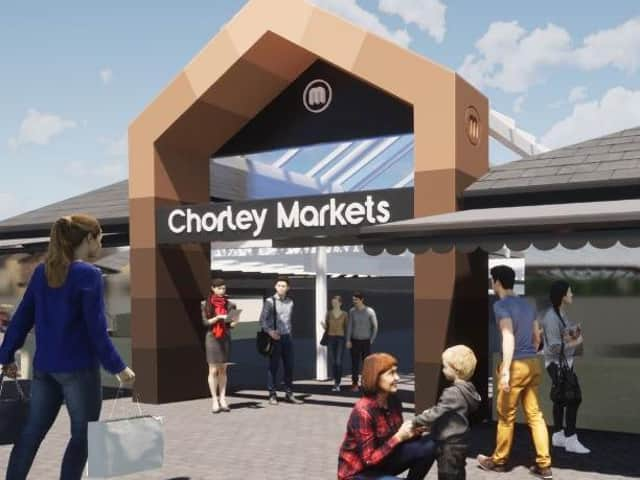 An image of the new look market
Gone are the entrance spikes as the exciting refurb continues.
Councillor Peter Wilson, Deputy Leader of Chorley Council, explained: "Last year we allocated £600k for the renovation of Chorley Market and have been liaising with the market traders throughout for their input on the plans.
"The work began in Autumn and includes a fresh new look to the exterior of the building, to reflect the colours used in the new section of Market Walk, along with full redecoration inside, improved lighting and the addition of seasonal protection in the centre walkway.
A crane lifts off a 'spike' at one of the entrances
"As part of this we have also revamped the gazebos that are used for the street market.
"Most noticeably, last weekend, the large spike-like canopies over the two main entrances were removed and we have exciting proposals to revamp these areas. We expect by June 2021 the general work to the market and toilets will be complete, however we are always looking at how we can enhance the market, therefore there may be further proposals in the future.
"The market is a real focal point of our town so we really must continue to invest in it, enhance and maintain it, to help support our local economy."