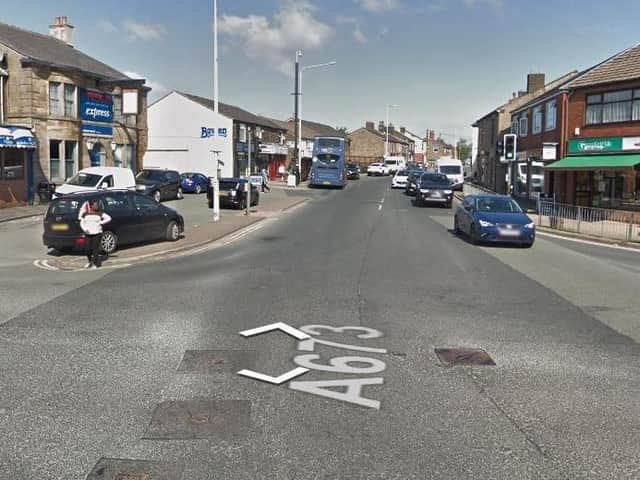 Adlington town centre
Adlington is set to shine with pride this festive period as organisers attempt to put a smile back of folks' faces as the coronavirus pandemic continues to affect our lives.
The plans for Light Adlington aim to bring the business community together through a 'stunning' display of Christmas trees.
They have been drawn up by Adlington Town Council, which says it wants to make this Christmas 'a special one' given the difficulties the crisis has thrown at everyone.
In a message to business owners, the town council said: "We would like local businesses to take part in Light Adlington and have a lit tree erected on your shop or business frontage to create a stunning Christmas display after this difficult year."
The town council said it would share the cost of the initiative by donating half of the total cost to each of the first 50 businesses to apply - from almost £100 to £50.
It added: "This will include a new wall brack with installation, an attractive tree with battery operated tree lights.The tree and lights will be erected, tested, and then removed in early 2021,"
The organisers add that the price would just be for the tree and lights, as the bracket would be in place and could be used for other events, such as holding a flagpole for a special occasion.
"The extra first year costs that the town council will contribute towards includes purchasing very good quality brackets, a site visit and the bracket installation," the town council explained, adding that it could not guarantee a 50 per cent contribution every year, but would do its best.
Businesses are being asked to sign up before the end of this month.
Christine Bailey, clerk to the council, said it was hoped the initiative would bring some festive cheer.
"That's what we're hoping for.
"It was a resident that got in touch proposing it around about January. The first leaflets I took round were very, very vague, looking for ideas and interest.
"The resident said it would be good if Adlington was better lit at Christmas and to be fair the town council had discussed it, so we have got a number of ideas at the moment.
"We've got about twenty seven trees ordered, mainly businesses, but some of the public buildings have been approached as well. The target is about thirty, so we're nearly there.
"Some businesses are not open yet, so some people won't have found leaflets behind the door.
"It's to cheer people up and maybe get some more custom into the village. We're going to ask residents to join in with lights in their windows or doors."
She added that the town council is working with Adlington Carnival which is also planning Christmas events, and looking into the possibility of linking up with Adlington NHS clinic which has a large tree outside its premises at Christmas.
However, with the pandemic still ongoing and seemingly with us for some time, any plans for public events will have to be somewhat fluid.