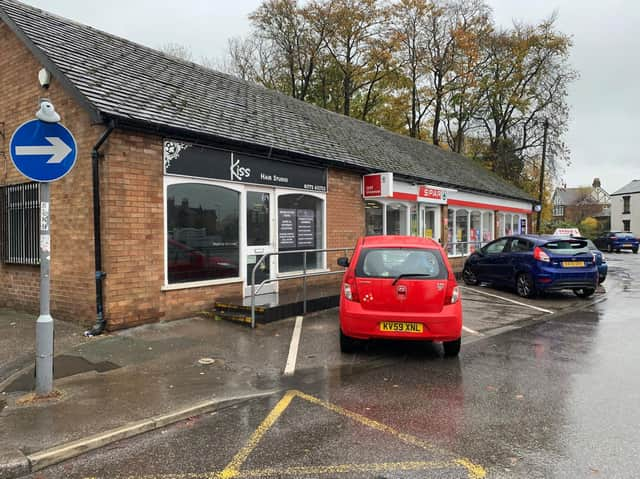 The Spar shop in Longton with the empty salon next door
Hunts Stores are seeking permission to extend the current Spar shop at 62 Liverpool Road into a vacant hairdressers shop next door and build a single-storey rear extension.
In a report submitted to South Ribble Borough Council, the agent states: " It is proposed that the adjoining Spar store be extended into the subject property to create a slightly larger store area together with ancillary office space, Post Office space and staff welfare. A single storey rear extension is to be erected to create additional delivery and stock space."
The existing Post Office in Longton is housed inside Post and Presents in 64 Liverpool Road - the next property to the vacant hairdressing salon.
The current Post Office in Liverpool Road, Longton
The Post was told this week that it had been sold to Kevin Hunt, managing director of Hunts Stores in March.
Mr Hunt declined to comment in any detail on the plans for the Spar and the Post Office when approached by the Post, but did say that both businesses would continue to run separately until planning permission and Post Office approval is granted, and a final plan can be made.
A Post Office spokesperson said: "A planning application has been submitted to see whether it is feasible for Lawrence Hunt & Co, which operates Longton Post Office, to extend their nearby convenience store to incorporate a Post Office into the main store. Any move of the branch would be subject to public consultation."
The design and access statement sent to South Ribble Borough Council adds: "The alterations to the shop front will replicate the building proportions from the Spar across and the new fascia signage will streamline the street scene. Whilst the building is not listed or of any specific architectural interest, the shop front proportions will be maintained.
"The single storey rear extension will maintain the existing flat roof heights to the rear of the premises and the rationalisation of the existing metal clad delivery area will improve and simplify the side elevation."
There are no proposals to change any of the car parking spaces outside the Spar and the rear goods delivery door will be retained.
A front entrance ramp to the hairdressers salon will be removed as it would no longer be necessary.