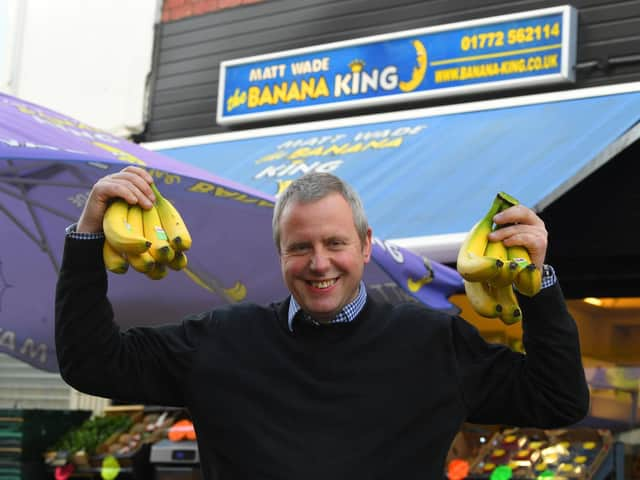 Norman Young of Banana King
The Post asked its online readers to nominate a local business which has helped them during the pandemic - and we received nearly 300 replies.
Here we celebrate a small selection of traders for their everyday efforts in helping their communities over the last year.
JAI'S PLACE, LIVERPOOL ROAD, HUTTON.
Deviyani and Paresh Patel of Jai's Place in Hutton
Corner shop owner Paresh Patel became a local hero after saying it with flour during lockdown.
The businessman became a baker's dream after helping residents near his Jai's Place store in Hutton get hold of precious supplies of plain flour for their cakes and pastries.
"We managed to get hold of some big commercial packs of the stuff when supermarket shelves were empty," he explained. "Then we broke it down into small bags for our customers so they could continue baking."
Flour was just one of the in-demand commodities Paresh managed to find when other shops were struggling. Pasta and toilet rolls, all in short supply during the first lockdown last March, were still available at his shop/newsagents in Liverpool Road.
Photos by Neil Cross; Cheryl and Rebecca Whittaker of Whittaker's Butchers on Leyland Market
When the Post asked for readers to praise businesses which have gone the extra mile during the difficult last 12 months, Jai's Place won plenty of support.
One said she had nominated Paresh "for being a hero during the first lockdown, sourcing hard to get items like flour." Another said: "Anything in short supply they would go out of their way to get for you."
Paresh, who is still putting in the extra hours and miles to keep Hutton supplied, said: "We've not stopped since the start of lockdown last March.
"We have sourced whatever we can do with every means possible to make sure our customers get what they want. There are a lot of elderly people around here, many of them who have been nervous at going out during the pandemic, and so we've been doing home deliveries to keep them supplied.
"We have been starting work at 6am until 10:30 at night, seven days a week and that is still the case a year on.
"They are very long days and it's been hard work. So it's nice to know we are appreciated."
WHITTAKER'S FAMILY BUTCHERS, LEYLAND MARKET HALL.
Butchery stallholder Rebecca Whittaker is used to delivering the finest cuts of meat to customers at Leyland Market.
But when Covid struck and the nation went into lockdown a year ago, the community-minded trader decided it was time she and her daughter Cheryl became personal shoppers for many of their vulnerable customers.
"We didn't just deliver meat, we started taking them fruit and veg, anything they wanted," she said at her Whittakers Family Butchers stall.
"A lot of people were really vulnerable and they were scared, they didn't really know what to do when lockdown came.
"So we set about going shopping for them and trying to make them feel at ease. It is so hard for people, even now a year on, and it didn't matter what they wanted, I would go and get it.
"We had people phoning us asking if we could deliver things. One phoned from Australia saying her parents were panicking and could we help."
Readers responded by suggesting Whittakers were local champions. One said: "They have been absolutely brilliant with the local community."
Rebecca said: "It's nice when people say things like that. But we just wanted to help.
"It has been a scary time and not just for older people. The people we delivered to have been really grateful - sometimes making me cry.
"It was emotional stuff, but we've made many new friends this past year while we've been doing it. That's the only reward we want."
BANANA KING, ORCHARD STREET, PRESTON.
Fruit and veg trader Norman Young has had some unusual orders for delivery to customers during lockdown, but none stranger than ... a new bed.
The owner of the Matt Wade Banana King business in Preston's Orchard Street bounced into action when a woman who was shielding issued an SOS (Save Our Sleep).
"That's got to be our weirdest request from a customer," recalled Norman. "It was back during the first lockdown when nothing was open and she just said to us 'my bed's broken.'
"Even though we're largely fruit and veg, we decided to have a go at helping her out. We got hold of a chap who used to work on the outdoor market selling beds and we fixed her up with a new one."
Banana King, which used to operate from the city's old market hall, was singled out for praise by readers for the selfless way staff have been going the extra mile to deliver essentials.
One wrote: "They have been absolutely amazing during lockdown. They deliver fresh fruit and veg next day. The staff are so friendly and helpful."
Norman's family have run Banana King since 1973, the year Preston's indoor market opened. When it closed three years ago they decided not to go into the new market building and opened a shop yards away at the top of Orchard Street.
They were already running deliveries prior to Covid through their online business, but when lockdown came in March last year demand soared.
"Overnight we went from having 20 orders to having 600 via the internet," said Norman. "At the start we were working five days behind, but hard work has meant we're now doing next day delivery in a patch from Chorley to Garstang and Longridge to Tarleton.
"We have been delivering bread, cheese and other groceries for customers. We even nip down the road to the newsagent to pick up a paper for a few of them.
"We've always tried to be as helpful as we can for our customers, but this last year has been the toughest we've ever had trying to make sure they get what they need.
"It's been a rough year for everyone, so if we can help make it any easier we will."