Can anyone learn to be a successful property investor? One expert and millionaire says the answer is yes
This article is paid for, sponsored content and does not reflect the views of LancasterToday or National World. People should always seek independent advice in matters of finance and investments.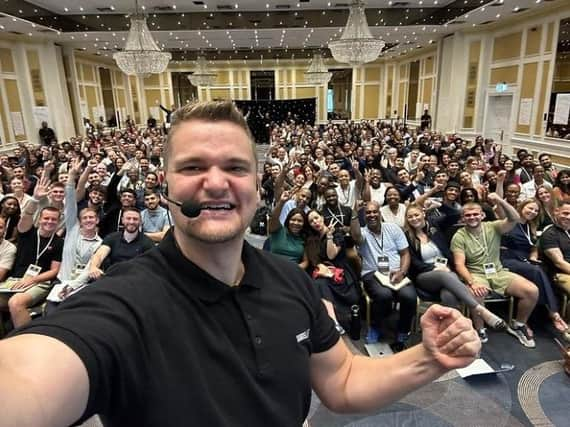 Turning life round after it takes a downward turn is far from easy as many people know. But choosing a completely new direction can sometimes be the answer according to one man who recently faced a string of challenges.
Former physiotherapist Adam Hindley had a nice house and lifestyle, a long-term partner and was running his own business when his relationship unexpectedly ended. In what seemed like the blink of an eye, he lost his home, his girlfriend and even his pet.
With little choice but to move back to live with his parents and reassess his future, Adam felt like he'd taken a huge step backwards. Chronic stress developed and he spent his days with a "constant tightness in his chest and crippled by anxiety."
Running a business based around health and wellbeing was an added ordeal at the time. While feeling so low himself, Adam felt unable to continue the work day-to-day and ended up selling his shares in the venture.
His future was looking very uncertain until a much-needed boost came his way when his mum spotted a YouTube video about property investment and thought it might be worth a watch.
Hosted by property guru and millionaire Samuel Leeds, the video ignited Adam's interest, especially as he'd previously renovated and sold his late grandma's house for a profit.
Pay £1 to hear from an expert
Feeling positive, he attended one of Samuel's Property Investors crash courses – for the modest fee of just £1 – and was impressed by the businessman's energy and approach.
Convinced that Samuel had something of real value to teach any would-be entrepreneur, Adam signed up for some more short courses.
Soon afterwards he used the money from his business sale to enrol on a year-long training programme with the academy and set his mind on changing his prospects for the better.
And Adam says that's exactly what happened after he completed the course and chose to focus on selling property deals to investors.
He acknowledges that his new career got off to a slow start and he had to handle a series of rejections when proposing deals to people during his first few months.
But he continued to hone his skills and spent time putting together carefully worded scripts to make his pitches more appealing, helped by regular access to academy mentors.
He says that the knowledge and contacts he gained during his training made all the difference and his efforts finally paid off when he landed his first three deals in the space of just one week.
Since then Adam, who comes from Leeds in West Yorkshire, says he's made several more deals, improved his income considerably and teamed up with a business partner.
The pair work closely together using complementary skills; Adam has experience of marketing and social media while his colleague is a talented tradesman and kitchen fitter.
It's all a far cry from the dark days of last year when life had sadly lost its sparkle but Adam is thrilled to be in a much better place and credits the academy with setting him on the road to success.
As well as offering ongoing support, it has also contributed directly to his business as fellow students have bought seven of his property deals so far.
And, like Samuel Leeds, Adam is keen to pass on his knowledge to others and now volunteers at Property Investors events to help people improve their finances and future.
Special event at Old Trafford
Samuel Leeds hosts a variety of crash courses around the UK and his next stop will be in Manchester on Friday, November 24.
Attendees will learn specifically about the property strategy of rent-to-rent – when a property is rented from a landlord and then let at higher rate. The approach is often used to provide accommodation for several temporary tenants.
The events will also teach people about the legislation governing homes of multiple occupation, how to find a profitable area and provide insight into working with landlords. It also promises to provide live deals on the day.
Anyone keen to find out more about can attend the course which starts at 9am at the Manchester Suite, Old Trafford Stadium, Stretford, M16 0RA.
Tickets cost just £1 (although late cancellation/no show fees apply) and can be booked online where more details are also available.
This article is paid for, sponsored content and does not reflect the views of Lancaster Post or National World. People should always seek independent advice in matters of finance and investments.