Butlers Cheese thanks community for pulling together after Longridge fire on industrial estate
Residents have relived Monday's devastating blaze in Longridge as locals tell of the "massive flames" engulfing the building and the terrifying speed that the fire spread.
Watch more of our videos on Shots! 
and live on Freeview channel 276
Visit Shots! now
One resident who saw the blaze on the night, Connor Fitzpatrick, said: "I walked down Green Nook Lane to have a look and saw massive flames spreading across the back of the building. The fire service was doing a brilliant job. It was terrifying to see how fast it was spreading."
Steven Howard from Longridge also witnessed the blaze and expressed his concern for the employees of Butlers, he said: "The fire has been devastating for the employees and the firemen working tirelessly throughout the night."
Firefighters worked through the night with two aerial ladder platforms, a stinger appliance, drone unit, high-volume pump and a command unit dispatched to the scene to help bring the blaze under control.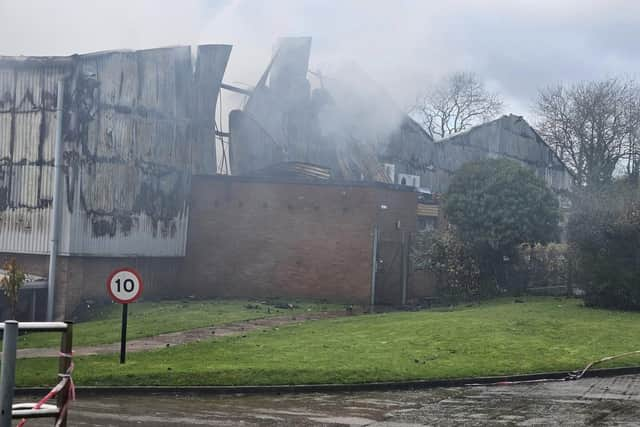 No casualties were reported but the devastating fire has gutted the industrial unit which will need to be demolished.
Despite the devastating circumstances, the community of Longridge have pulled together ensuring anyone affected by the blaze have been offered support and a warm space.
A local social club, Wilfrids Club, posted on social media welcoming Longridge residents to find refuge: 'Just like to say with the big fire if people are needing to leave their homes.. Wilfrids will open its doors .. heating on and warm brews .... praying everyone is safe ….'
Manager of Wilfrids Club, Gemma said: "Here at Wilfrids club we are at the heart of the Longridge community and support all local charities and fundraisers, so we feel that it was important for us to open our doors and give support to all affected by the fire in whatever way we can. Me and my staff will always help where we can."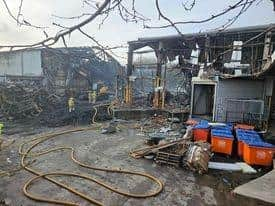 A spokesperson for Butlers Farmhouse Cheeses said: "The way the local community has supported us has been incredible. Offers to help have come from all corners, whether it's providing space for our team to congregate and have a cup of tea together, or ensuring fire crews on site have the refreshments and respite they need to do their work. We can't name everyone who has helped, or offered to help, but they know who they are and we are extremely grateful. The strength of character shown by this community and all of our staff shows just how resilient we are when we work together."
Currently there are delays for motorists passing through Longridge as temporary traffic lights control one lane of traffic on Preston road.
Ribble Valley Borough Councillor, Kieren Spencer, saw the aftermath of the blaze as he visited the site to do what he could to help. He told The Post: "The fire at the Butlers Cheese plant is the most significant incident I have seen in Longridge in my lifetime. I'm truly amazed by the seamless teamwork displayed by our dedicated emergency services, who tackled the blaze swiftly and with as minimal disruption as possible to our residents.
"I have personally extended my heartfelt gratitude to the exceptional first responders at Lancashire Fire and Rescue and Lancashire Police and offered full support as a councillor to those affected by the fire.
"Yesterday, I had the privilege of speaking with the wonderful volunteers from the Salvation Army and the caring staff at Longridge High School, who stepped up to provide assistance and support to anyone impacted by this incident.
"I'm aware that there are other local businesses and residents who also lent a helping hand, and I'm genuinely thankful for their contributions, demonstrating that we are a community that stands united in times of need.
"My thoughts and well wishes continue to be with all those affected by this event."
Both Longridge High School and St Celia's closed early today (Wednesday 8 November), as the aftermath of the blaze continues to affect the community.
Jane Green from Longridge High School and Helen Hall St Cecilia's RC High school said: "Longridge High School and St Cecilia's RC High school took the decision to close on Tuesday 7th November for the day on the advice of the fire service. This was due to smoke pollution affecting classrooms and the school environment from the fire across the road, as well as debris from the fire littering the school sites, making them unsafe.
"Today both schools have closed after lunch as smoke pollution continues to be an issue. Buses have been arranged to collect pupils early and school has remained open for families who are unavailable to arrange safe transport home.
"Both schools will reopen tomorrow unless advised otherwise by the fire service. We apologise for any inconvenience this has caused and thank all our families for their support.
"At this time, our thoughts go out to everyone affected by this incident."