Blue is best for award winning cheesemakers Butlers Farmhouse
A Lancashire cheesemaker has an award winning case of the blues - the Beacon Blues.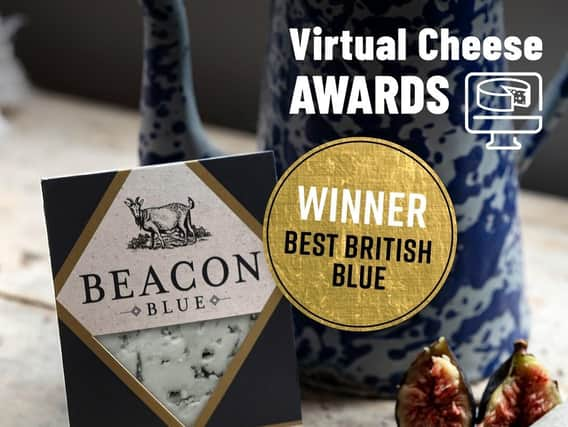 Butlers Farmhouse cheese makers of Inglewhite, near Preston, are celebrating after scooping the top prize for a British Blue cheese in the inaugural Virtual Cheese Awards.
The online contest was created after the Covid-19 pandemic meant the usual British cheese awards were cancelled. But no corners were cut - there was a full day of virtual cheese-judging watched online by more than 3,000 people.
More than 300 cheeses had been considered for awards. These had been whittled down to the final 30 which for the first time ever were judged live online.
The best British Blue cheese was won by Beacon Blue made by Butlers Farmhouse. The cheese also came in third in the final for best in Britain, securing its place as one of the premier cheeses in the U.K.
Matthew Hall, fourth generation owner and commercial director of the company, said the recognition for the cheese, which the company has made for around a decade, was "tremendous." He continued: "It's a cheese that's often missed by people. It's a goats' cheese milked from the family herd in Lancashire just down the road from the dairy. It's a very unique product with being a blue cheese and a goats' cheese - that's what makes it so special."
He continued: "It is silky and sweet like a goats' cheese and peppery tangy from a blue cheese. It's a favourite cheese of our cheesemaker and grader - people who really know their cheeses. It's quite hard to come by a goats' cheese and a blue cheese, both are complicated products to make in their own right. When you try and combine them it becomes difficult.."
As for the name Beacon Blue, he said: "When it comes to product names we like them rooted in place. The dairy sits at the foot of Beacon Fell."
Butlers Farmhouse Cheeses is also renowned for its award winning Blacksticks Blue. The company, which has offices and packing premises in Longridge, produces a third blue cheese, Stratford Blue, which is a creamy white blue cheese.
The company also recently launched Sunday Best, a 50th anniversary cheese which Matthew, 31, describes as "A Lancashire based product, somewhere between a Lancashire and Cheddar - a savoury and complex cheese in terms of flavour."
The current pandemic means any company celebrations of their Beacon Blue success are on hold. But Matthew said they will celebrate when they can: "Our celebrations are on pause until we can actually get together."
Meanwhile staff are savouring their success. He said: "It's nice for everyone working here to get these accolades coming through - it keeps the energy up."
* The first prize in the Best of the Best British cheese category went to Feltham's Farm cheese, Somerset for Renegade Monk - a soft blue cow's milk cheese which is made from organic pasteurised cows milk and rind-washed in ale.
The not for profit Virtual Cheese Awards were founded by Sarah de Wit and Nigel Pooley and organisers say the aim was to demystify and celebrate British cheese and its producers in a time of great need.
Sarah de Wit said: "It was an amazing day and we're so grateful for everyone who supported our crazy idea to set up a virtual cheese awards back in April. The quality of British cheeses entered into the awards was amazing and the judges had a tough time narrowing it down to just one cheese ... We really are leading the world with our exceptional cheesemakers and we're super proud to shine a light on them. All we ask is that consumers go out and buy these cheeses and support our British cheese industry."
The finalists competing for the top award were the winners of the individual categories and comprised: Best Cheddar – Creamery Mature Cheddar made by Dale Farm, Northern Ireland ;Best Territorial Cheese – Rutland Red made by Long Clawson Dairy; Best Blue cheese – Beacon Blue made by Butlers Farmhouse Cheese; Best Enhanced Cheese – Fenugreek Cornish Gouda made by Cornish Gouda; Best Speciality Cheese – Ripe Somerset goats' cheese made by Lubborn Cheese; Best Artisan Hard Cheese – a natural rinded ewes' milk cheese made by Alsop & Walker; Best Artisan Soft Cheese – Renegade Monk made by Feltham's Farm
There was also a Consumer Class won by Plaw Hatch Vintage Cheddar made by Old Plaw Hatch Farm, which was judged separately.
The awards day included an expert panel discussion on the British cheese industry and the challenges is it currently faces.
* Gill Hall of Butlers Farmhouse Cheese introduced the People's Choice Box of cheese during the day. Each box cost £45 and includes award-winning cheese from Butlers. All profits will be given to the Specialist Cheesemakers Association and RABI (Royal Agricultural Benevolent Institution) to help support British farmers and dairy producers.See www.virtualcheeseawards.com/shop