You'll Get Yours by William Ard - book review
Mysteriously lured by thieves into taking part in a ransom delivery, an honest Manhattan private-eye becomes involved in a perilous blackmail plot and the prime suspect in the murder of a stripper.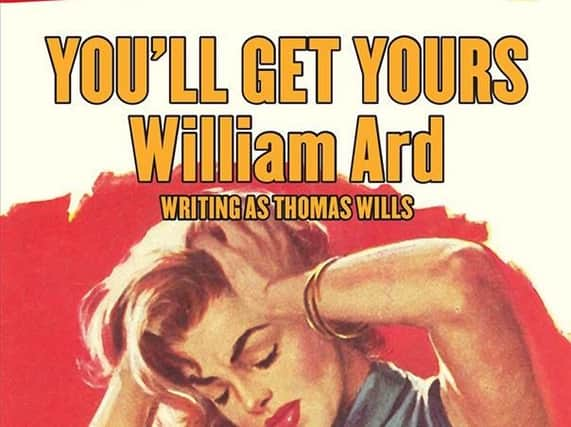 First published in 1952 by paperback publisher Lion Books under the pseudonym Thomas Wills, You'll Get Yours is a hardboiled Fifties tale of theft, blackmail, murder and frame-up by the popular but long-forgotten novelist William Ard.
Before becoming a prolific writer of more than thirty novels, Ard worked briefly for a local detective agency, as a copywriter for an advertising agency, and as a publicity writer for Warner Brothers Pictures.
He penned his first novel in 1951 and went on to create several distinctive series detectives published under four pseudonyms as well as his real name.
Considered one of the best writers of private-eye detective fiction during his lifetime, he frequently received glowing reviews from the New York Times book critic Anthony Boucher who praised him for his technical skill, complexity of plot and counterplot, vigour and originality, and for the warmth and tenderness of his hardboiled detectives.
This new reprint of Ard's second novel marks a welcome return to print for the first-rate writer of crime, mystery and Westerns who died aged 37 from cancer while at the height of his career.
Told in flashback by 31-year-old Barney Glines, a much sought-after PI normally employed by insurance companies, the story opens in a seedy 'godforsaken hole' of a hotel in Mexico with Barney intending to kill press agent Archie St. George, the man who hired him to retrieve jewellery stolen from Kyle Shannon, a beautiful fashion model who has been signed by a major movie studio.
Although jealous and mistrustful of Archie, and sceptical about the job, Barney is so smitten with Kyle that he agrees to play the bag-man and make the money exchange with the punk thieves.
He later learns that the jewel case full of diamonds, worth one-hundred thousand dollars, is of little interest to the starlet. All she wants is a bundle of negatives, stolen from the case, containing highly embarrassing nude photographs of her which have the potential to ruin her career.
While trying to locate the photographs, Barney focuses his search on Archie who turns out to be a sleazy lothario with some revealing connections in his little black book.
Before long, Barney is up to his ears in trouble, finding himself battling junkies, dodging bullets, and trying to prove his innocence to the police when a beautiful, raven-haired showgirl is found dead in his room, injected with heroin and killed with his own gun.
Like his father, a New York police captain who was gunned down by sneak thieves at his home for running racketeers and mobsters out of the neighbourhood, Barney is a tough but law-abiding character looking to do the right thing but who courts danger and struggles to keep his emotions in check.
Possessed by jealousy, anger and revenge, he gets too involved with his client, enmeshed in 'a crime that reeks of sex and vice,' and headed down a path to self-destruction.
Swift and dramatic, You'll Get Yours is a worthy, quick read that is helped by a lean plot, terse writing, and a likeable, upright, hardboiled protagonist.
(Stark House Press, £9.95, paperback)