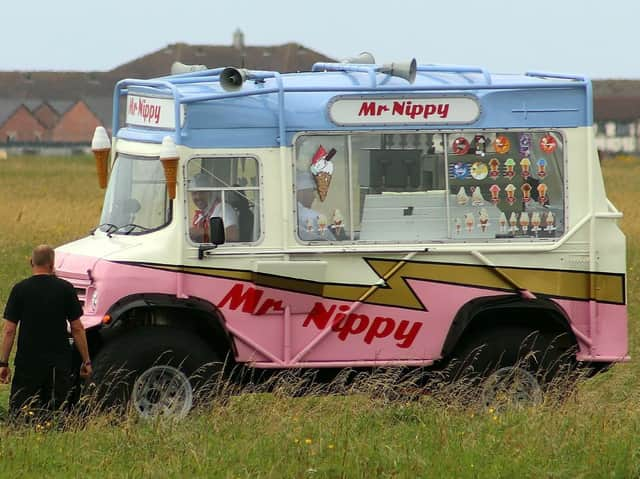 Paddy McGuiness was at the wheel of the Ice Cream monster truck at Blackpool Airport today (August 1). Pic credit: Paul Webster
Lancashire's own Andrew 'Freddie' Flintoff and Paddy McGuiness were spotted with co-host Chris Harris as filming took place at Blackpool Airport today (August 1).
Paddy, 46, could be seen grinning with delight as he climbed into the driver's seat of a souped up, pink, white and blue ice cream 'truck'.
But a less impressed Freddie could be seen in the back of the truck donning a traditional ice cream vendors outfit complete with a pointy white hat.
The electric Ice Cream monster truck on the runway at Blackpool Airport today (August 1). Pic credit: Paul Webster
And this wasn't just your average ice cream van. This beast - nicknamed Mr Nippy - sped along Blackpool's runway with HUGE monster truck tyres.
But instead of the awesome roar of a monster truck, this one was electric and cruised along the grounds of the airport with the familiar chimes of the traditional ice cream van.
It's the second time this summer that the thrill seeking TV stars have put the pedal to the floor in Lancashire.
Presenters Andrew 'Freddie' Flintoff and Chris Harris take a break from filming Top Gear at Blackpool Airport today. Pic: Paul Webster
But the crew, and Paddy in particular, will be hoping that this weekend's filming goes a bit smoother than their last visit to the county.
Top Gear is poised to switch channels this year, making a move from BBC Two to its new home on BBC One.
The change will mark the first time the popular motoring show has aired on BBC One since the programme was revived in 2002.
The 29th series is expected to air later this year, but no date has been confirmed as yet.