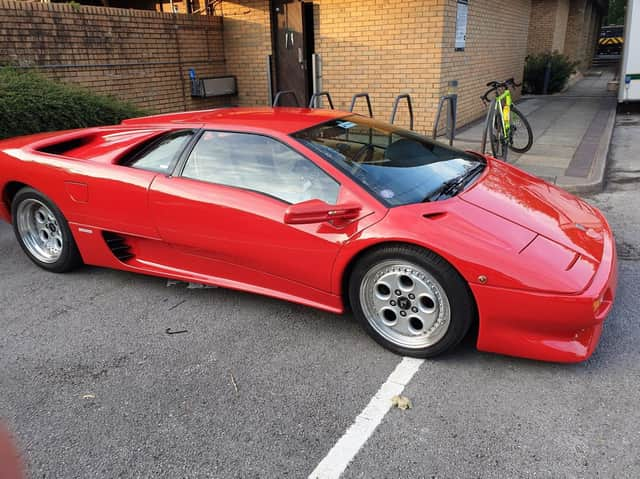 The Lamborghini Diablo, one of the most famous and sought-after sports cars of all time, was spotted in the Holiday Inn car park in Lancaster yesterday (June 15)
The Ferrari F40, Lamborghini Diabolo and the British-made Jaguar XJ220 - three of the most awesome sports cars of the 1990s - eased into the Holiday Inn car park under a police escort.
Their satisfyingly noisy arrival had heads turning and tongues wagging about who they might belong to and why they were in a hotel car park in Lancaster.
Hotel staff remained tight-lipped when asked about their shiny, four-wheeled guests and their owners, until Lancashire Police revealed what was happening.
The iconic sports cars - with a combined value of more than £1million - will be taking a spin around Lancashire's roads for a new episode of Top Gear.
Filming is taking place around Ribblehead today, after the cars were given check-ups and a thorough wax and polish from a local valet service yesterday.
Preston's own Andrew 'Freddie' Flintoff, alongside co-hosts Paddy McGuiness and Chris Harris, will be in the driving seats when filming begins this morning.
The Top Gear team will reportedly be filming the famous sports cars, as they zip along country roads between Lancashire and Yorkshire, until Wednesday.
The British-made Jaguar XJ220 - there were only 275 of this classic car built due to the global economic recession of the early 1990s
There are three Ferrari F40s currently listed for sale on Autotrader with eye-watering asking prices between £800,000 and £1.5million.
An F40 that belonged to the Formula One driver Nigel Mansell was sold for a record of £1 million in 1990, a record that stood into the 2010s.
It has been reported that there are only 24 Jaguar XJ220 left in the UK with an MOT.
The Ferrari F40, an icon of the late 80s/early 90s - at the time it was Ferrari's fastest, most powerful, and most expensive car
Top Gear is poised to switch channels this year, making a move from BBC Two to its new home on BBC One.
The change will mark the first time the popular motoring show has aired on BBC One since the programme was revived in 2002.
The 29th series is expected to air later this year, but no date has been confirmed as yet.
Andrew 'Freddie' Flintoff will return alongside Paddy McGuiness and Chris Harris for the 29th season of Top Gear on BBC later this year. Credit: BBC Studios/Lee Brimble
The new series will run for six episodes and will be available to watch on catch up on BBC iPlayer.
The Lamborghini Diablo, one of the classic sports cars from the 1990s, has a tune-up in Lancaster's Holiday Inn car park ahead of Top Gear filming