Weather magic, musical animals and a pirate princess by various authors - book reviews -
Enjoy a sky-high adventure in stunning Shetland, take to the stage with a cast of quirky animals, find out how you can help to save the planet, and gallop away on a hunt to find a stolen teddy bear in a sparkling springtime selection of children's books.
Tuesday, 16th March 2021, 12:30 pm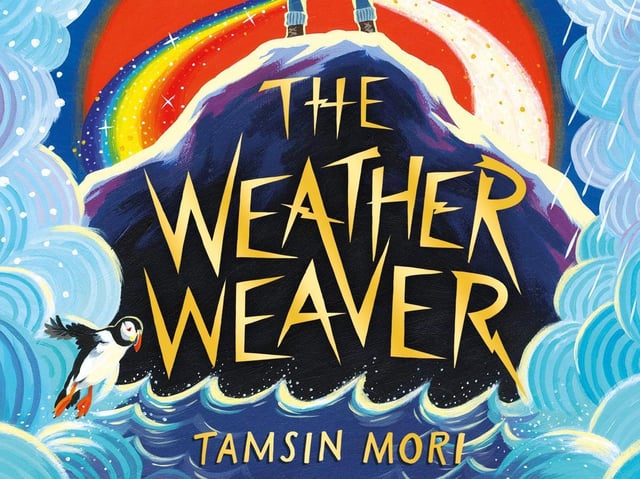 The Weather Weaver
Imagine having a cloud for a friend and being able to choose the weather… would it bring rays of sunshine-filled happiness, or storms of darkness and discontent?
Always at ease in the stunning scenery of her mother's Shetland homeland, where she whispered spells into sea shells and sang to the selkies, debut author Tamsin Mori has harnessed the islands' fabulous myths and legends for a mesmerising story filled with magic, danger… and weather of every kind!
The Weather Weaver is a thrilling and original first novel, an action-packed adventure which celebrates the rich, mysterious and unpredictable moods of the elements whilst gently exploring universal themes like gaining independence, the meaning of home, handling grief, and discovering the fallibility of grown-ups.
Taking centre stage is eleven-year-old Stella who grew up on a tiny Shetland island but left five years ago and is now returning to spend the summer with her recently widowed Grandpa. Spending six weeks away from her parents is a big wrench but their research work leaves no room for children.
Armed with the few clothes she needs and a book called Shetland Myths and Magic which her Gran gave to her before she died, Stella is looking forward to exploring the island again and revisiting the places she loved.
But it's nothing like she remembered. Grandpa is grumpy, strict and lost in his grief for Gran, the island is bleak and Stella feels lonely and trapped. But one day she bumps headlong into an old woman named Tamar who, strangely, seems to be expecting Stella's arrival and tells the girl she needs her to fetch a cloud!
And Stella soon discovers that Tamar is a Weather Weaver who can spin rainbows and call hurricanes and, with the help of Nimbus, a feisty young storm cloud who is in need of a lot of training, she too begins to learn the craft of weather weaving.
But when Nimbus's cloud brain-fogs Grandpa and The Haken, a local sea witch, starts to close in on the island, Stella realises that with magic comes with big responsibilities because the weather matches itself to her mood, whether she want it to or not. It will take all her heart and courage to face the coming storm...
Drawing on the elements, island myths, and the natural world, The Weather Weaver is an enchanting and inspirational tale which blends the thrills and spills of magic with a beautifully portrayed and authentic young girl whose hopes, fears and anxieties are firmly rooted in reality.
Add on the wild beauty of Shetland and some fascinating insights into weather systems, and you have a wonderful, windblown reminder that looking for the end of the rainbow isn't always an impossible dream!
(UCLan Publishing, paperback, £7.99)
The Animals of Madame Malone's Music Hall
Laura Wood and Ellie Snowdon
Dim the lights, raise the curtain… and let the show begin!
There's an exciting theatrical fizz to this this bright and beautiful tale about self-belief and working together from the pen of Blue Peter Book Award shortlisted author Laura Wood whose books include the wonderful Poppy Pym series.
With the superbly distinctive illustrations of Ellie Snowdon, and published in Barrington Stoke's trademark dyslexia-friendly format, The Animals of Madame Malone's Music Hall is the perfect reading performance for any youngster with their sights set on the theatre.
Summer by the seaside with Gran isn't exactly what Callie expected. Instead of sunshine and ice cream, she's stuck helping Gran's drama group save their local theatre.
Worst of all, they've asked her to star in their play. But when she goes exploring backstage, Callie stumbles into an altogether different world… another theatre, run by a wise fox and her troupe of talking animals. And the strangest part of all? Callie is set to play the lead in their show too.
Forced to face her fears, will Callie be up to the challenge of saving Madame Malone's Music Hall?
Finding yourself in the spotlight isn't what every youngster longs for but Callie's unexpected and uplifting stage appearance puts lots of important personal issues in the spotlight and will provide inspiration and empowerment to many youngsters.
Imaginative and full of quirky characters, this is a show you won't want to miss!
(Barrington Stoke, paperback, £6.99)
Naomi Klein with Rebecca Stefoff
Award-winning journalist and author of The Shock Doctrine, Naomi Klein makes an impassioned plea to youngsters to help save our endangered planet in an inspirational new book.
How To Change Everything is the first book for younger readers by the international social activist, providing an authoritative, child-friendly summary of climate change for young people.
Feted by Greta Thunberg as 'the great chronicler of our age of climate emergency, an inspirer of generations,' Klein joins forces with award-winning children's science writer Rebecca Stefoff to give a powerful picture of why and how the planet is changing, and provide effective tools for action so that young people really can make a difference.
Warming seas, superstorms, fires in the Amazon… the effects of climate change are all around us. But with reforestation and school-strikes for climate change, young people are saving the world and Klein urges more children to join them because they deserve a better future.
This fascinating book includes notes on the Covid-19 pandemic and how youngsters can get involved to make the world a safer place. From the Great Barrier Reef and Hurricane Katrina to school environmental policies and Greta Thunberg, climate change impacts every aspect of the world and Klein tells young people they have the power to lead the way by enacting change.
So are you ready to change everything?
(Puffin, hardback, £12.99)
How You Can Save the Planet
And if any youngster is looking for a practical, down-to-earth guide to saving our fragile planet, here is a book that fits the bill perfectly.
Written by Hendrikus van Hensbergen, a passionate conservationist and CEO of youth environmental charity, Action for Conservation (AFC), How You Can Save the Planet aims to empower and inspire young environmental activists.
Van Hensbergen founded the charity in 2014 whilst working for the World Wide Fund for Nature after realising that no charities in the UK existed with the sole purpose of engaging young people in environmental action. In a short space of time the charity has become an influential force, driving greater action to engage and involve young people across the environmental sector.
Combining step-by-step actions for making change and inspiring stories of children who stood up and said 'no more,' this book will break down exactly what you need to do to make a difference.
From building a green wall and rewilding to making recycled bird feeders, setting up a swap shop, organising cycling groups at school, writing to politicians and using your voice as a powerful tool, Van Hensbergen uses years of experience and a wealth of knowledge to show children how they can make real change.
With a foreword by Robert Macfarlane, bestselling author of The Lost Words, an easy-to-read format, and full of life-affirming ideas and inspirations, this is the definitive guide to creating a better world wherever you live.
(Puffin, paperback, £7.99)
Emi-Lou May and Leire Martín
Just what the doctor ordered… a laughter-filled tonic for poorly toddlers!
If your little ones are feeling under the weather – or just love playing doctors and nurses – here's the perfect rhyming picture book to inspire, cheer… and make them giggle.
With a cast of daffy dinosaurs, some medical conundrums, and a dynamic Doctorsaurus dispensing pills and potions to her patients, author Emi-Lou May and illustrator Leire Martín have created a hilarious cure-all comedy.
Splinter in your finger, thumping head, tummy ache, nose all sore and sniffy? Call for Doctorsaurus on her super-fast ambulance and she'll fix you in a jiffy! Doctorsaurus is on the case and she aims to make all the dinosaurs feel better.
May's delightful raucous rhymes and Martín's gallery of funny, friendly dinos will have little ones quickly on the mend and with an explosive finale guaranteed to result in cheeky grins and grown-up groans, this cheery picture book is medicine for all the family!
(Little Tiger Press, hardback, £11.99)
Never Mess With a Pirate Princess
Holly Ryan and Siân Roberts
Knights in shining armour aren't always what you think!
Meet a sweet little princess who leads a very quiet life until pirates steal her royal teddy… and she turns into a fiery, feisty force to be reckoned with.
Author Holly Ryan and illustrator Siân Roberts perform a magical, mighty double act on this funny, fast and furious tale starring a mould-breaking heroine and a crew of cut-throat pirates who more than meet their match.
Princess Prue takes her precious royal bear everywhere… to the supermarket, the zoo and even the loo! But when an unwanted palace guest – a cheeky pirate no less – steals him away, she leaps into action and prove that the knights in shining armour don't always have boys inside!
Youngsters will love Prue's daring exploits as she gallops off to find her stolen teddy and outwits the pesky pirates.
Ryan provides the romping, action-packed rhyme while Roberts fills the pages of this inspirational picture book with a gallery of villainous villains and a plucky little princess. Fun to read aloud and a feast of pictures to pore over!
(Little Tiger Press, hardback, £11.99)
A zest for life runs deep inside toddlers and nobody harnesses that endearing trait better than rising star author and illustrator John Bond.
So if you haven't already met Bond's irrepressibly enthusiastic picture book star Mini Rabbit, then now would be a perfect time to join this single-minded, super-funny hero for another hilarious adventure.
Mini Rabbit is making a camp in the garden. There will be marshmallows and Mini Rabbit will stay up REALLY late. He can't wait because it's going to be the best day ever! But there are still a few last things he needs to get, and it looks like it might rain. Will Mini Rabbit ever manage to get everything home in time?
Follow the trail of the keen-as-mustard but predictably distracted Mini Rabbit as his list of things-to-do becomes perilously lengthened by a series of madcap mishaps and miscalculations.
With his trademark deadpan wit and warmth, a natural empathy with the very youngest readers, and extraordinarily appealing and colourful illustrations, Mini Rabbit's adventures have the legs to run and run and run.
(Harper Collins Children's Books, hardback, £12.99)
Polly Faber and Briony May Smith
You can't be chicken when you're a runaway chicken!
Youngsters will be clucking and chuckling at a plucky chicken's narrow escapes in a sparkling springtime picture book by author Polly Faber and illustrator Briony May Smith, the top team that created Grab that Rabbit.
Dolly likes to lay her egg in an unlikely place each day to test and tease the little boy who owns her. But today she has chosen a place to roost that will take her on an adventure far from home and put her in lots of danger. Dolly's warm and cosy basket is attached to a hot air balloon and that's just the start of her journey. With a roar and a lurch, she's off. Will Dolly manage to get home in time to meet her owner from school?
Faber lets her imagination take glorious flight in an action-packed but lyrical story packed with mishaps and near-misses as daring Dolly ruffles a few feathers on her perilous adventure which comes packed with witty one-liners to keep grown-ups entertained too.
With Smith's stunningly atmospheric and richly detailed illustrations adding extra wings to the story, Chicken Come Home! is the perfect, read-aloud countryside story for Easter!
(Pavilion Children's Books, paperback, £6.99)
Three knights with just one candle… how will they ever find a dragon in the dark?
Get ready to laugh at the lines and marvel at the stunning illustrations as New York Times Best Illustrated Book winner Leo Timmers works his special magic on another stellar picture book which encourages young readers to anticipate a brilliantly adventure story.
Three knights must hunt for a dragon in the dark and the king won't sleep until they find it. Luckily, the knights know everything about dragons and are armed to the teeth! But with only one candle between them, it's not going to be easy. As they go out into the night, they find something that looks very much like a dragon. Attack… problem solved! Or is it?
With a quirky story translated by James Brown, Timmers' trademark richly detailed illustrations with their stunning use of colour, and atmospheric light and shade, and a humorous contrast between the illustrations and the words, Where is the Dragon? is the ideal book to inspire the imaginations of even the youngest children.
(Gecko Press, hardback, £11.99)
Susan Hayes and Sam Rennocks
Time travel back to the age of the dinosaurs and join a trek into the Amazon rainforest with two exciting and innovative board books which were specially created for all young adventurers.
Dinosaur Adventure and Rainforest Adventure are two new titles in an imaginative board book series from What on Earth Publishing which specialises in non-fiction books which engage children's natural curiosity and passion for learning.
These sturdy, informative books, with their intriguing peep-holes and a final, fabulous fold-out surprise, deliver fascinating facts about the world around us through exciting, colourful adventures and fun-filled, hands-on discoveries.
In Zoom: Dinosaur Adventure, we join Jasmine and Jamie on an epic journey back to the prehistoric era where they meet a long-necked Alamosaurus with a big appetite, take a trip on a flying pterosaur and come face to face with the fearsome T.rex.
Intriguing die-cuts, Sam Rennocks' bright and lively illustrations, and a spectacular pop-up make every page an interactive experience while Susan Hayes' fun and informative writing explains fascinating facts about dinosaurs.
And in Zoom: Rainforest Adventure, written by Susan Hayes and illustrated by Susanna Rumiz, we head off to the jungle and share Lin's journey into the Amazon rainforest to discover mischievous monkeys, slithery snakes, smiling sloths, hovering hummingbirds and delightful dolphins in one of the most exciting places on Earth.
Once again, Hayes' brings us a wealth of fascinating facts… this time about the amazing life inside the rainforests. With its bold interactive features, vibrant illustrations and fun story, this book is the ideal gift for young nature enthusiasts.
(What on Earth Publishing, board books, £10.99 each)