Thrills, spills and adventure for half-term reading by various authors - book reviews -
There won't be a dull moment this half-term school holiday with an eclectic mix of fiction and non-fiction children's books that are guaranteed to keep young minds entertained, amused and informed
Wednesday, 21st October 2020, 12:30 pm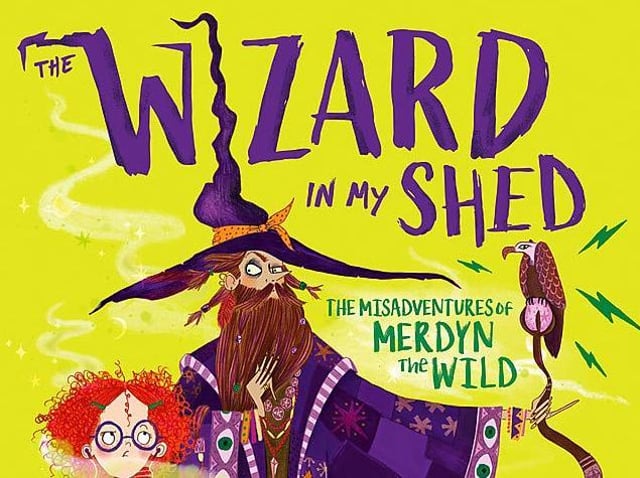 The Wizard In My Shed
The Wizard In My Shed: The Misadventures of Merdyn the Wild
Simon Farnaby and Claire Powell
If you and your family are down and out with the year of the pandemic, indulge yourselves in the shared joy of a simply wizard new middle grade series from Horrible Histories star Simon Farnaby.
Whether this hilarious story of a badly behaved, time-travelling wizard is read alone or aloud, there are guaranteed gags, giggles and great adventures on every page as Farnaby lets his imagination and storytelling skills run riot, and Claire Powell adds the finishing touches with her super-charged, richly detailed illustrations.
Merdyn the Wild is from the Dark Ages. He's the world's greatest Warlock (don't call him a wizard), banished to the 21st century for bad behaviour, and he is about to create a whole load of trouble for an unsuspecting 12-year-old girl called Rose Falvey.
Rose is a totally ordinary girl and she is on a mission to mend her broken family since her dad died suddenly four years ago and her mum became permanently sad. Her brother Kris finds her embarrassing and Rose's only friend at home is Bubbles, the guinea pig. But he just poos a lot.
When Rose bumps into Merdyn in the woods and discovers what he is, she quickly realises that he could be just what she needs. Rose agrees to help Merdyn navigate the confusing ways of the modern world (things like, the lidded bowl in the bathroom is not a sink, it's a toilet, so definitely don't wash your face in it) if Merdyn gives her a spell to fix her family in return.
Now they just need to hide him in the shed without Rose's mum noticing, track down Merdyn's magic staff and find a way to send Merdyn back through time to the Dark Ages. What could possibly go wrong?
Expect a big, bold cast of brilliant characters, fun and laughter all the way, an entertaining historical twist and a story with a warm and compassionate heart, and you have what promises to be one of the best middle grade series to grace our bookshelves.
(Hodder Children's Books, hardback, £12.99)
The Day I Fell Into a Fairytale
Ben Miller and Daniela Jaglenka Terrazzini
If you thought supermarkets were boring, step inside a sinister store called Grimm's where magic and danger are always just a heartbeat away!
Following the success of The Night I Met Father Christmas and The Boy Who Made the World Disappear, actor, comedian and bestselling author Ben Miller is back to blow young minds with a terrific tale set in a dark and forbidding fairytale world.
Featuring the beautiful black and white illustrations of Daniela Jaglenka Terrazzini, The Day I Fell Into a Fairytale is a thrilling story about stories, but it's also about a brother and a sister finding their way back to each other through the power of imagination.
Lana loves stories, especially the ones she and her older brother, Harrison, share in their make-believe games. But when Harrison starts senior school and decides he's too grown-up to play with Lana, she finds herself feeling lonely. Until something magical happens…
Hidden in Grimm's, the strange new supermarket which has sprung up from nowhere on the common, Lana discovers a portal to a fairytale world. But these aren't the happy-ever-after fairytales that Lana knows, they are darker and more dangerous, and the characters need Lana's help to defeat an evil witch.
But she can't do it alone. Can she convince Harrison to believe in stories again and journey to the world with her… before it's too late?
This gorgeous gift book, with its stunning illustrations, warm heart, and all-action, thrills-and-spills adventures – laced throughout with Miller's irrepressible wit – is set to become another classic for this exciting and inventive storyteller.
(Simon & Schuster, hardback, £12.99)
Jane Austen's Mansfield Park
Ayisha Malik and Églantine Ceulemans
Inspire your youngsters to enjoy the wit, warmth and wisdom of one of England's best loved and most celebrated authors with the fresh, funny and accessible Awesomely Austen series.
Jane Austen's Mansfield Park, which is accompanied by a gallery of Églantine Ceulemans' witty black and white illustrations, is given a delightful retelling by lifelong Londoner Ayisha Malik who has read and re-read Austen's books throughout her whole life, and is perfectly placed to bring the classic story of Mansfield Park to a new audience.
Fanny Price is one of nine children, and her family are very poor. So when a distant relative offers to take her in – giving her the opportunity to grow up wealthy and comfortable – her parents jump at the chance.
But money doesn't always bring happiness, and Fanny struggles to settle into her new home, where the family are very cold towards her. Her only friend amongst them is Edmund, who tries his best to help her be happy.
As she grows up, Fanny realises that Edmund is the most important person in her life. But will he ever see her as more than the timid little girl who arrived at his home so many years before?
Austen's satire and wit spring to glorious life in Malik's clever and appealing retelling as part of a bright and bold series which features some of the most inspiring and famous heroines in English literature and includes Pride and Prejudice, Emma, Persuasion, Sense and Sensibility and Northanger Abbey.
The perfect way to discover Austen for the first time…
(Hodder Children's Books, hardback, £9.99)
Vashti Hardy and Natalie Smillie
If mystery, monsters, maps and dangerous missions set your pulse racing, head off to a land called Moreland and join a crime-fighting girl on a fantastical adventure!
Produced in a super readable format by innovative publisher Barrington Stoke, and especially suitable for struggling, reluctant or dyslexic readers, The Griffin Gate is the first book of an exhilarating, fantasy-fuelled steampunk series from Blue Peter award-winning author Vashti Hardy and talented illustrator Natalie Smillie.
'Warden Griffin at your service. Can I ask if you've seen a monster in the area?' Grace's family are wardens of the Griffin Map which was invented by her Great Grandma and is the most important piece of technology in the city of Copperport.
The Griffins use the map – which shows the entire country of Moreland – and its teleport technology to fight crime and keep law and order across the land. Although 13-year-old Grace is still too young, she longs to go on missions herself. After all, if her older brother, Bren, can do it, why can't she?
So when Grace finds herself alone with the map when a distress call comes in, she jumps at the chance to prove she's up to the task. But the map transports Grace to a remote village where nothing is quite as it seems. Has she landed in the middle of a treacherous scheme… and has she taken on more than she can handle?
Adventure is certainly the name of the game in this thrilling and inventive new series which has all the hallmarks of Hardy's rich imaginative powers… a brilliantly created 'other' world, an inspirational heroine and her charismatic supporting cast , and a story full of twists, turns and big-hearted family values.
Add on Smillie's superbly detailed and evocative black and white illustrations which bring the story to life, and you have a reading treat for all fantasy-loving middle-graders.
(Barrington Stoke, paperback, £6.99)
Travel back in time to the Great Flood of London in a thrilling adventure story from Irish author Eve McDonnell, an exciting new voice in children's fiction.
Inspired by the devastating flood that engulfed the capital city in 1928 when a deluge of rain caused by thawing snow raised the level of the Thames beyond anything ever seen before, spilling freezing water into the homes of basement dwellers and trapping them, leaving fourteen people dead.
An epic and moving story of courage, determination, friendship and time-travel, Elsetime is published by Everything with Words, creators of high quality, innovative, engaging fiction for both children and adults.
The story begins on January 6, the day before the Great Flood. There is a snowstorm raging over the city, the river is about to burst its banks and fourteen souls will be lost unless Glory Bobbin, a 12-year-old orphan with only one hand, her time-travelling friend Needle and Glory's crow Fusspot can change the future.
When Glory, who works at The Frippery and Fandangle Emporium creating jewellery, meets Needle, a mudlark scavenger boy who has done a spot of time travelling from 1864 to track down his father, they discover that they actually share ownership of the crow (known to Needle as Magpie) and that their destiny is linked to a terrible disaster that is threatening the town.
Can two children and a crow change the course of history and save the fourteen lives endangered by the flood? Is it possible to change the future?
Steeped in atmosphere and suspense, beautifully written, and full of superb historical detail and a finely drawn cast of eclectic characters, Elsetime is gripping, moving, and delivers a final, dazzling twist that will delight readers both young and old.
(Everything with Words, paperback, £8.99)
Climate Emergency Atlas: What's Happening – What We Can Do
Written by Dan Hooke with a Foreword by Liz Bonnin
There can hardly be a child who is not aware of the ongoing, urgent conversations about the climate crisis… but what exactly does that mean and how can we all help to save our planet?
To answer these questions and much more, innovative publisher DK has created Climate Emergency Atlas, a unique graphic atlas – brimming with facts, figures and amazing illustrations and photography – to inform older children about climate change and show them how they can make a difference.
In her Foreword, science, natural history and environmental broadcaster Liz Bonnin says: 'Each of us needs to play our part … and this book is full of information about why this is so important. Eating less meat, using green energy in our homes, and writing to our MPs demanding change sends out a clear message that we want to live differently, and it inspires others around us to do the same.
'Our voices are far louder than we might first imagine! We're in this together, we can be the change the planet needs.'
And never has there been a more urgent time to take action against climate change. Young people have grown up with awareness of our endangered planet through the news, social media and even in the school curriculum, and some are even leading the fight against this global threat.
Packed with facts and figures and more than 30 dynamic maps, Climate Emergency Atlas helps children gain a deeper understanding of the climate crisis, explaining how the Earth's climate works, what causes climate change, its effects around the world, and what can be done about it.
Through clever, easy to understand graphics, the atlas illuminates complicated topics of urgent international importance. The specially commissioned illustrated maps show how countries compare on important metrics like population growth, fossil fuel emissions, deforestation, fast fashion consumption, extreme weather, renewable energy sources, and much more.
And there is hope for the future as the book outlines what governments and individuals can do to halt the worrying climate trends.
The perfect visual reference book to engage children in learning about climate change… and a useful tool for teachers and families who are using remote learning this school year.
Timelines From Black History: Leaders, Legends, Legacies
Foreword by Mireille Harper
Discover the unique, inspiring, and world-changing history of Black people in a revealing and timely new book which has been published by DK to coincide with Black History Month.
This has proved to be a momentous year in which one of the biggest global movements in history, Black Lives Matter, has shone a light on the injustices and inequalities that still exist in society today. So there could be no better time to use the amazing visual timelines in this book to explore the people and the issues that have shaped Black history.
In her Foreword, award-winning editor and freelance writer Mireille Harper reminds readers: 'Black history has been overlooked and minimised in every area of society, and even worse, often erased. Yet, the contributions of Black people to society influence every part of how we live, from the art and culture we consume, to the rights we have.'
Timelines From Black History charts Black experiences across the ages but not only is it a celebration of that history for those who are Black, it is also a great entry point for anyone else who wants to learn about Black history.
From Frederick Douglass and Oprah Winfrey and the achievements of ancient African Kingdoms and those of the US Civil Rights Movement, to Barack Obama and Stormzy, the book takes youngsters on an exceptional journey from prehistory to modern times.
Boasting more than 30 visual timelines, the book explores the biographies of the famous and the not-so-famous, royalty, inventors, writers and scientists. Learn about the trailblazers of today's generation, such as activists Amariyanna Copeny and Marley Dias, as well as other notable people who have made groundbreaking achievements, including Doreen Lawrence who campaigned for police reform following her son's murder.
Stacked with facts and visually vibrant, Timelines From Black History: Leaders, Legacies, Legends is an unforgettable and accessible store of information about the people and the issues that continue to shape Black history and inspire Black experiences today.
The 130-Storey Treehouse: Laser Eyes and Annoying Flies
Andy Griffiths and Terry Denton
The 'wizards of Oz' are back with their incredible, ever-expanding treehouse… and this time it has an incredible 130 storeys!
Top Australian writer and illustrator team – Andy Griffiths and Terry Denton – have turned their zany adventure stories, featuring two young would-be publishing sensations (unsurprisingly called Andy and Terry!), into a real-life reading phenomenon.
The success of the Treehouse series just won't stop growing and the amazing creators are climbing higher than high in the bestseller lists with these wild and wacky, highly illustrated, laugh-out-loud books packed with hilarious antics, jokes and cartoons.
So join Andy and Terry in their now 130-storey spectacular treehouse. They have added thirteen new levels, including a soap bubble blaster, a Grabinator (it can grab anything from anywhere at any time), a time-wasting level, a toilet paper factory (because you can never have too much toilet paper) and an extraterrestrial observation centre… which will come in handy when giant flying eyeballs from outer space come to grabinate us.
The 130-Storey Treehouse is the tenth book in this truly bonkers series. Easy-to-read, visually exciting and wonderfully entertaining, the pace is fast and the fun never stops. So what are you waiting for? Climb each level in fits of laughter in this glittering, gold-foiled hardback edition which is ideal for Christmas gifting.
Simply brilliant and guaranteed to get even the most reluctant readers begging for more!
(Macmillan Children's Books, hardback, £12.99)
There are Reptiles Everywhere
Camilla de la Bedoyere and Britta Teckentrup
Pull on your sturdy boots and get ready to track down some of the world's most amazing reptiles.
There are Reptiles Everywhere is the third in a series of non-fiction books from bestselling artist Britta Teckentrup and teaches where in the world all sorts of reptiles can be found, and the weird and wonderful things about them.
Written by Camilla de la Bedoyere, who has an academic background in zoology, and sumptuously illustrated by Teckentrup, this big, beautiful book explores the world of reptiles and brings these wonderful creatures to life through fascinating facts and rich and vibrant colours.
There are reptiles everywhere. Some of them live in jungles, some of them in the savannah, and some may be in your back garden! Follow geckos through the Madagascan jungle, take a stroll to the beach to watch baby turtles hatch, and be ready to nip up a tree if a Komodo dragon catches your eye.
The colourful world of reptiles is full of drama and surprises!
(Big Picture Press, hardback, £12.99)
Wild City: Meet the animals who share our city spaces
Even though more and more people now live in cities and towns, there is a whole world of exciting and often hidden wildlife in the urban jungles.
So sit back and take an unforgettable armchair tour around the world to meet the creatures that share our city and urban spaces. From bears to bats, penguins to opossums and spiders to snakes, discover how they have adapted and thrived in this gorgeously illustrated gift book written by award-winning natural history journalist Ben Hoare and illustrated with the striking artwork of Lucy Rose.
Wild City travels the globe, exploring how animals have adapted to live alongside humans in busy cities like New York, Rio de Janeiro, Berlin, Stockholm, London, Alexandria, Singapore and Mumbai. Discover hawks by a world-famous shopping street, hamster havens in Viennese cemeteries, snakes slithering through city sewers, and penguins waiting patiently to cross the road.
Each colourful spread takes a closer look at the animals, showing how some wander in plain sight while others hide away in our homes, and we meet wildlife heroes from around the world – ordinary people doing extraordinary things to make our wild neighbours feel welcome.
Hoare's lyrical and factual text is perfectly complemented by Rose's stunning illustrations. The beautiful cityscapes are full of rich and colourful detail with close-ups of the different creatures featured and there is something new to discover on every fact-packed page.
Guaranteed to send animal lovers wild!
(Macmillan Children's Books, hardback, £12.99)
The Secret Explorers and the Tomb Robbers and The Secret Explorers and the Jurassic Rescue
When there's trouble afoot – whether that's in the past or present – you can always depend on The Secret Explorers!
DK, the publishers who pride themselves on creating books that explore ideas and nurture curiosity about the world we live in, have two new exciting titles this autumn in a series launched this summer featuring a diverse team of curious kids who specialise in solving mysteries and problems whilst learning all about interesting non-fiction topics.
And after diving into undersea explorations and blasting off on outer space missions in The Secret Explorers and the Lost Whales and The Secret Explorers and the Comet Collison, the club of eight children from all four corners of the globe – Tamiko, Gustavo, Ollie, Kiki, Connor, Roshni, Leah and Cheng, each with their own special expertise – must race back through the centuries on exciting, new adventures.
In The Secret Explorers and the Tomb Robbers, history expert Gustavo and engineering expert Kiki must stop the Cairo Museum from closing down. They travel back in time to Ancient Egypt and are soon drawn into a tense, thrilling adventure that involves breaking into pyramids, learning ancient Egyptian hieroglyphics, and stopping thieves wanting to rob treasure from the Pharaoh's tomb. Throughout the mission, young readers will learn facts about the real-life Pharaoh Khufu and his treasures, ancient Egyptian religion, and how mummies were made.
And in The Secret Explorers and the Jurassic Rescue, dinosaur expert Tamiko and geology expert Cheng travel back to the age of the dinosaurs in an effort to rescue a dinosaur egg from destruction. However, to save the egg, the Secret Explorers must first use all their courage and skills to outsmart a fierce Allosaurus, rescue a baby Stegosaurus, and find a way to attract an Archaeopteryx. Tamiko and Cheng soon find that, to succeed, they need to come up with some unusual solutions.
These superbly informative, illustrated paperbacks are the ideal way to reinforce school curriculum topics whilst keeping youngsters glued to the page. With adventures to enjoy, fascinating facts to discover, lively, black and white illustrations, and reference sections including timelines, quizzes, maps and glossaries, these are a must addition to home and school shelves.
(DK, paperback, £5.99 each)
Lottie Loves Nature: Frog Frenzy
Jane Clarke and James Brown
Nature isn't just fascinating… it's positively awesome!
Join a girl who loves every little thing on our planet in this inventive and entertaining new children's fiction series which makes learning an adventure full of knockabout fun and comes from Five Quills, a small independent publisher with big ideas about books for younger readers.
Five Quills is on a mission to fill its books with lively illustrations and carefully written stories, making them perfect for reading aloud and sharing with both new and experienced readers.
Lottie Loves Nature: Frog Frenzy stars Lottie Boffin, twin sister of Al Boffin, the star of author Jane Clarke and illustrator James Brown's brilliant Al's Awesome Science series which explored science principles through fun stories and (often hilariously messy!) experiments.
Lottie loves wildlife and dreams of becoming a nature show presenter like Samira Breeze, host of her favourite programme Every Little Thing. Lottie decides to make a pond in her back garden to encourage local wildlife. She enlists her techy neighbour Noah's help, but is distracted by his neat-freak golf-mad dad, who is determined to rid their garden of annoying ants.
Suddenly Noah's dad's golfing green is swarming with ants and a multitude of frogs… it's hopping mayhem! Noah is convinced that escaping to Mars would be easier than facing his dad, but Lottie is keen to save the planet one creature at a time.
Expect lots of fascinating facts and plenty of mishaps and mayhem as Clarke works her storytelling magic while Brown's charismatic black and white illustrations add extra comedy and energy to what promises to be an inspirational series.
With nature and conservation tips tucked away at the back of the book, this is the perfect way to have fun while learning!
(Five Quills, paperback, £6.99)
Squishy McFluff: On with the Show
Pip Jones and Ella Okstad
Squishy McFluff the invisible cat takes star billing at the circus in the seventh book of Pip Jones and Ella Okstad's enchanting series of romping, rhyming tales.
Purrfectly created to bridge the gap between picture books and read-alone fiction, these highly imaginative stories are fast, funny and have a special appeal for any child who has their own imaginary friend.
Ava and Squishy, her invisible and very naughty pet cat, are off to see the circus which features Hank Honk, the world's silliest clown, but when Hank can't turn up, it's up to Ava and Squishy to step into the glare of the limelight and save the day!
Okstad's quirky, characterful illustrations are the ideal match for Jones' impish humour and jolly, jaunty rhymes which capture the zest of youth and feature all those zany antics that are guaranteed to win the hearts of young readers.
(Faber & Faber, paperback, £6.99)
We're Off To Find A Fairy
Eloise White and Cory Reid
Join a magical mystery tour for a flyaway fairy in an endearing picture book from Eloise White and Cory Reid.
Publisher Owlet Press is on a mission to include incidental inclusivity and diversity into their stories so that children can see themselves represented alongside a whole range of other characters, and We're Off To Find A Fairy is a new addition to their We're Off To adventures which are ideal for children from all backgrounds.
The family in this beautiful story includes mixed race and disabled characters and debut BAME illustrator Reid brings the story to life with his gallery of warm and colourful pictures.
Explore different landscapes as the family searches for an elusive, fabulous and fluttery fairy and along the way, discover a fascinating natural world of bees, butterflies, beetles, squirrels, hedgehogs and even a sleepy glow-worm which all have a magic of their own.
Little ones will enjoy trying to solve the clues to identify the different creatures while White's gentle rhyme and repeated key phrases keep the joyful and adventure-filled story moving to a conclusion that will leave a smile on the faces of both children and adults.
And with subtle messages about taking care of our precious animal kingdom, this is a warm and winsome all-round winner.
(Owlet Press, paperback, £7.99)
Jane Rushmore and Sally Darby
Also from Owlet Press is the first autumn-themed adventure in a new Silly Squirrel Stories picture book series written by Welsh author Jane Rushmore and illustrated by Sally Darby.
Marney is a grey squirrel who is having a hard time finding his winter food and ventures to the far side of his home in the park where he meets another creature hoarding nuts who looks remarkably like himself… except that he's red! Marney thinks the strange creature might be a monster but when he realises that in many ways he is like the red squirrel, the two become the best of friends.
With illustrations in a gorgeous palette of autumnal shades and a story that speaks loudly about not misjudging others on their appearance, this is a clever and appealing story for all young readers.
(Owlet Press, paperback, £7.99)
Room on the Broom: A Push, Pull and Slide Book
Julia Donaldson and Axel Scheffler
There's room on the broom this Halloween for even the youngest family members with a brilliant push, pull and slide board book.
Based on the bestselling Room on the Broom picture book by Gruffalo creators Julia Donaldson and Axel Scheffler, the magical moving mechanisms in this inventive book let little ones meet their favourite characters and bring the story to life.
Wiggle the witch's broomstick to make her and her cat fly happily over forests, rivers and mountains. Push and pull the tabs to see what happens when they are joined by a dog, a bird and a frog who all want a ride and… snap, make the broom break in two. And then slide out the big tab on the last page to watch the witch and her friends fly off on their brand new truly magnificent broom… whoosh!
A hands-on flight of fancy for all young Halloween fans!
(Macmillan Children's Books, board book, £6.99)