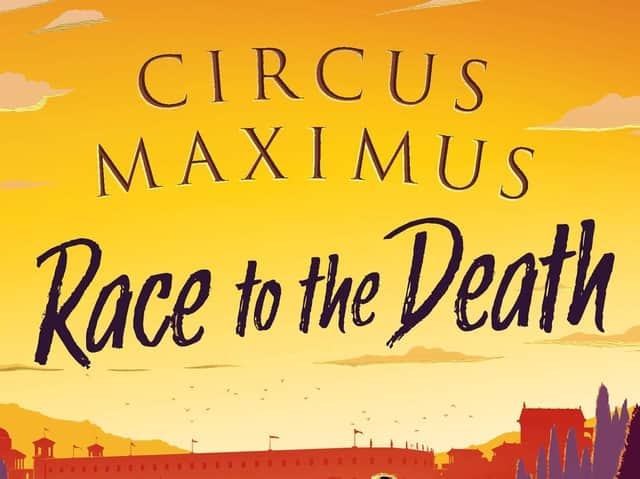 Circus Maximus: Race to the Death
Circus Maximus: Race to the Death
Danger, mystery, adventure, horses, and the greatest show on earth… where else but the fabulous Circus Maximus!
If you're in search of a truly extraordinary adventure – a classic in more ways than one – then head off to Rome and share the thrills and spills of a girl whose dream is to be the first female charioteer at the greatest sporting stage of the ancient world.
Classics scholar and Latin teacher Annelise Gray plays a blinder with her heart-pounding debut novel which brings the Roman world to life with a vibrancy and breathtaking brand of authenticity guaranteed to capture the hearts and minds of readers young and old.
Circus Maximus: Race to the Death is a magical blend of real history and dazzling fiction which transports us back to the perilous reign of the brutal Emperor Caligula in the first century AD whilst delivering a terrific and inspirational adventure story.
Everyone knows that the towering Circus Maximus is where the best horses and charioteers compete in a race to the death, and where men are the only competitors. But that doesn't stop twelve-year-old Dido dreaming of becoming the first female charioteer… and she has lost her heart to Porcellus, a wild, tempestuous horse which she longs to train and race.
Putting her ambitions to one side for now, she must be content with helping her father Antonius, the trainer of Rome's most popular racing team, The Greens, and teaching the rules of racing to Justus, the handsome young nephew of the Greens' wealthy owner.
When her father is brutally murdered, she is forced to seek refuge with an unlikely ally. But what of her dream of Circus triumphs and being reunited with the beloved horse she left behind in Rome? And the threat to her own life isn't over as she faces a powerful and terrifying new enemy... the Emperor Caligula.
Ben Hur meets National Velvet as the brave, intelligent, loyal and passionate Dido battles to secure a foothold in a world dominated by men and must find hope, courage and redemption in the face of revenge, betrayal and cruelty.
From the exciting cast of human and horse characters and a storyline that gallops along as fast as the prize stallions, to intriguing snippets of real Roman history and all the sights and sounds of the ancient city, Circus Maximus is a thrill ride from start to finish.
Saddle up, climb aboard, and don't miss the show!
(Zephyr, hardback, £12.99)
The Good Germ Hotel: Meet Your Marvellous Microbes
Written by Kim Sung-hwa and Kwon Soo-jin and illustrated by Kim Ryung-eon, with editorial consultant Chun Jong-sik
Check into the Good Germ Hotel and meet the bacteria superheroes that live inside your body!
The germ of an idea turns into a brilliant book for kids as a top team of book boffins reveal through this entertaining and accessible illustrated guide that in a world of Covid-19, in which harmful germs and bacteria are all around us, not all germs are bad for us.
The Good Germ Hotel comes from What on Earth Publishing which specialises in telling stories through timelines. And for every question their informative books answer, they spark another one, helping to encourage young readers into a lifelong love of enquiring and discovering.
Here, youngsters are plunged into the world of amazing microbes…. the army of good germs and bacteria inside your body which help to keep us all healthy and happy.
The microbiome is one of the hottest topics in health today. After spending most of the modern era believing that microorganisms were our enemies, we now know that an entire ecosystem of microbiota not only live in our bodies but are also essential to its proper functioning.
So travel through the body with this gut bacteria guide, stopping off to meet the other amazing microbe residents along the way! But you'll have to keep up because human body bacteria are very busy and have lots of jobs to do – helping you to digest your food, protecting us from germs, viruses, and Covid-19. It's all in a day's work for our friendly, neighbourhood microbes.
Time to call in at the Good Germ Hotel and dine out on a feast of facts and fun!
(What on Earth Books, hardback, £12.99)
Jenny Jacoby and Jem Venn
Engineering is cool… and that's official!
Inside this mega-jam-packed book, youngsters can learn about the lives of people who used the power of engineering to change the world. Then they can try out all sorts of experiments to get their own brain matter moving.
From the building of the pyramids to spacecraft and solving global warming, Cool Engineering – written by Jenny Jacoby, who is passionate about making information fun, and packed with Jem Venn's quirky illustrations – is the latest title in a popular and accessible series of fact books which take a playful and yet educational journey through subjects across the sciences, humanities and the arts.
Aimed at both children and curious adults, each guide provides the perfect introduction to a subject, with information presented in neat bite-sized paragraphs, panels, bullet points and diagrams, along with experiments and ideas to try out at home.
These handy guides are useful companions to school studies as well as absorbing reads to dip into any time, and include Cool Architecture, Cool Art, Cool Astronomy, Cool Maths, Cool Mythology, Cool Nature, Cool Philosophy, Cool Coding, Cool Physics and Cool Science Tricks.
As well as experiments, this new book has fascinating engineering timelines, drawing tips, and information, and also includes biographies of key engineers like Leonardo da Vinci, Isambard Kingdom Brunel, Hedy Lamarr and Elon Musk.
Delve into the many branches of engineering and discover a whole world of clever inventions from the mechanical tools that allowed early civilisations to irrigate their land, and the steam engines that powered the industrial revolution, to modern-day computers, and biomedical inventions that are revolutionising how we deal with disease.
A fund of facts, bags of big ideas and pages of ingenious fun all packed into one VERY clever book!
(Pavilion Books, hardback, £9.99)
Mikki Lish and Kelly Ngai
Disappear into a magical world… and join a thrilling treasure hunt with an intrepid brother and sister duo.
Australian co-authors Mikki Lish and Kelly Ngai – two writers who create worlds together although they now live on different continents – make a spectacular return with their fantastic sequel to the critically acclaimed The House on Hoarder Hill which has been optioned for film/TV development.
In this action-packed new adventure, we meet up again with siblings Hedy and Spencer van Beer who love exploring the mysterious tunnels under their former magician Grandpa John's spooky house on Hoarder Hill, a place full of secrets, magic and wonder. And it's there that they discover the Fantastikhana, an underground tournament of magic.
They also find a group of powerful magicians called the Sleight and a mysterious living map which tattoos itself on to Hedy's skin. Soon they are following its magical directions, navigating Slipways between worlds in search of three pieces of a dangerous artefact on the most extraordinary treasure hunt ever!
Youngsters will be on the edge of their seats as Lish and Ngai ramp up the tension and their wildly imaginative powers in this dark and enchanting mystery which comes packed to its underground rafters with bold and exciting characters, fun, friendships, intrigue, danger… and a big helping of love.
(Chicken House, paperback, £6.99)
The Girl with her Head in the Clouds
Karen McCombie and Anneli Bray
The pioneering Edwardian parachutist Dolly Shepherd springs into action in a spectacular reimagining of her extraordinary life from bestselling author Karen McCombie.
The Girl with her Head in the Clouds – featuring the brilliantly atmospheric black-and-white illustrations of Anneli Bray – comes packed with the delightful Dolly's gravity and death-defying stunts, and a fascinating potted portrait of her remarkable career.
Dolly is a born thrill-seeker and in 1904, she's at Alexandra Palace in London where a couple of showmen need a stand-in for a Wild West trick that involves shooting an apple off a human target's head. Sixteen-year-old Dolly Shepherd volunteers on the spot but little does she know that this will be the first of many stunts!
Impressed by Dolly's fearlessness, the esteemed hot-air balloon pilot Captain Auguste Gaudron offers her an opportunity like no other… to plummet from an air balloon to earth on a parachute!
For Dolly, it's just the start of a sensational career but the life of an aeronaut and parachutist is as dangerous as it is daring, and there will be many close shaves along the way…
Packed with breathtaking, sky-high adventures, a largely forgotten female star, and published in Barrington Stoke's trademark dyslexia-friendly format, this inspiring retelling of daring Dolly's exhilarating exploits is sure to enchant your own young thrill-seekers!
(Barrington Stoke, paperback, £6.99)
Picklewitch and Jack and the Sea Wizard's Secret
Claire Barker and Teemu Juhani
Get ready for more wild witching and hilarious naughtiness as everybody's favourite double act returns for their third outrageous adventure.
Author Claire Barker and illustrator Teemu Juhani have discovered an award-winning formula for their knockabout Picklewitch and Jack illustrated series which stars two of the funniest stars in children's comedy fiction.
There are giggles and guffaws at every turn of the page as brainbox schoolboy Jack – winner of the Most Sensible Boy in School – shares madcap adventures with the roguish Picklewitch whose manic misbehaving has won the hearts of an army of young readers.
Here we join the lovable duo as Dr Firenze Sharptooth cordially invites St Immaculate's School for the Gifted to Draconis Hall for the Great Fossil Hunt.
Naturally, sensible and well-behaved Jack is very excited when he learns that this year's school trip is a visit to the Jurassic Coast seaside to hunt for fossils. And even better… there's going to be a prize for the best find, which is he desperate to win. Unfortunately, his best friend Picklewitch, the wild girl who lives in a tree at the bottom of his garden and who never does as she is told, is not impressed… until she discovers the local Sea Wizard, whose secret lair is hiding the biggest treasure of all!
The blend of Barker's wonderful wit and Juhani's charismatic illustrations never fails to work its special magic and this new whiz-bang, fossil-filled adventure will have youngsters longing for the next instalment.
(Faber Children's Books, paperback, £6.99)
Above and Below: Sea and Shore
Harriet Evans and Hannah Bailey
Discover what wonders lie beneath the waves in a spectacular lift-the-flap book full of colour, learning and fun.
Young imaginations will be rolling like the waves as they head to the ocean in the pages of an innovative and entertaining book from ever-inventive publisher 360 Degrees.
A non-fiction imprint of the Little Tiger Group, 360 Degrees offers a stimulating and creative approach to presenting facts and Above and Below: Sea and Shore is another colourful, interactive book full of split-page flaps to lift and amazing facts to discover.
Little ones will love diving in to see nature's wonders unfold in this beautiful celebration of ocean habitats, from the sandy shallows to the darkest depths. Turn the page to discover the incredible creatures and plants that lie below the ocean blue and, with magnificent mangrove forests, colourful coral reefs and exciting estuaries, there are so many water worlds to explore.
Full of Harriet Evans' bite-sized facts about flora and fauna, all brought to vivid life by the richly detailed illustrations of Hannah Bailey, and the child-friendly split-page format, this is an exciting way to let youngsters peep below the surface of the sea and enjoy a world of hidden gems.
(360 Degrees, hardback, £12.99)
Naomi Jones and James Jones
We can all fit in… no matter what shape or form we are!
That is the resonant message that speaks loudly from the pages of a clever picture book from husband-and-wife team, author Naomi and illustrator James Jones, who say the inspiration for The Perfect Fit was inspired by their eldest son trying to fit in at nursery.
And this endearing celebration of difference is already destined to be a big success as it has been snapped up by publishers across the world.
No matter how hard she tries, Triangle simply doesn't roll like the circles, or stack like the squares... so she sets off to find friends that look exactly like her. But when she finds the other triangles, there's still something missing and playtime isn't as much fun. She misses the shapes that roll and stack, she misses being different. So she starts a new quest… one that gets all of the different shapes playing and having fun together!
This joyful and appealing story is an entertaining and imaginative exploration of shapes as well as a warm-hearted affirmation of the many human rewards of individuality, inclusion and friendship.
(Oxford University Press, paperback, £6.99)
Wenda Shurety and Harriet Hobday
A game of hide-and-seek becomes the springboard for a little girl's journey into the joys of nature in a beautiful, rainbow-coloured picture book from Wenda Shurety and Harriet Hobday.
Nature's Toy Box comes from Storyhouse Publishing, founded by Rachel Lawrence and dedicated to producing beautiful picture books to inspire positivity and care for a bright future, including ideas about friendship, collaborative play and conservation.
In this inspirational new book, Brisbane-based author Shurety – who loves to write stories about nature, diversity and the magical world of the imagination – aims to encourage children to turn off their screens and discover the magic of outdoor play.
Tilly wonders what to do when the TV is turned off by her mum. Then she hears sweet singing through the window and a whole new world is opened up for her. As she hunts for the little bird that sings, Tilly climbs a tree, looks under a bush, fishes in the pond and crouches in the vegetable patch, and discovers that the garden is one big toy box!
With Hobday's brilliantly coloured and child-friendly illustrations to entice youngsters into the story, Nature's Toy Box is an uplifting and emotional journey from boredom to adventure, and the perfect inspiration to ditch the telly and find fun in the great outdoors!
(Storyhouse Publishing, paperback, £6.99)
Robert Vescio and Mel Armstrong
Another child making discoveries in the great outdoors is Roman, a boy who loves learning about nature but needs somebody to share his adventures.
Roman is a lone wanderer who seeks out the hidden mysteries and treasures of nature, and the wild is his to explore. Yet despite his fascinating finds, Roman is still searching for something. Is being alone in the vast and deep world really the only choice for a wanderer? Could sharing his adventures bring true happiness?
Written by award-winning children's author Robert Vescio, who is dedicated to inspiring children with his passion for stories, and illustrated by New Zealand artist Mel Armstrong, Into the Wild is a stunning, inspirational picture book that encourages youngsters to explore and engage with nature.
With its warm-hearted messages about the joys of friendship and the rewards of discovering the natural world, plus Armstrong's gallery of charming, colourful and poignant illustrations, this is a story to pull at the heartstrings of readers both young and old.
(New Frontier Publishing, hardback, £11.99)
Isabel Otter and Pau Morgan
Which came first… the chicken or the egg?
The old conundrum might not be solved but there is so much to learn and enjoy in this fascinating board book which explores animals that come from eggs.
Using clever peek-through holes to watch the creatures – chicks, tadpoles, caterpillars, and turtles – hatch into life, this charming book is an ideal and gentle introduction to different animal life cycles.
Made from recycled board to help look after our planet, and beautifully illustrated by Pau Morgan, this is essential reading for all budding eco warriors and nature lovers!
(Little Tiger Press, board book, £6.99)
Where is Dino hiding? He was here a moment ago. Can you find him?
Help your curious little ones get interactive with this sturdy touch-and-feel board book which comes loaded with fun, discovery, word recognition development, and lots of visual and tactile appeal.
A tantalising trail of footprints will lead children past a touch-and-feel big blue shark with bright white teeth, a crocodile with bumpy skin, and a lobster with smooth claws in the search for the shiny dinosaur.
With Kate McLelland's bright, appealing illustrations, discoveries on each spread, and a surprise flap ending, this enchanting series is ideal for young children.
The perfect sharing book for babies and toddlers finding their way in the big, wide world!
(Little Tiger Press, board book, £6.99)