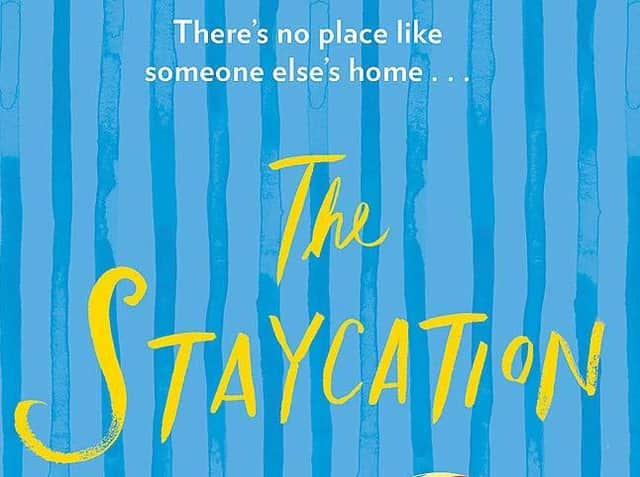 The Staycation
When their dream holidays to Italy are grounded by a volcanic ash cloud, two families decide a spur-of-the-moment house-swap staycation could be the perfect compromise.
If the pandemic has ruined your own holiday plans this year, Michele Gorman's laugh-out-loud summer romp is guaranteed to bring some full-throttle escapist fun. Packed full of wickedly insightful observations on the ups and downs of family relationships, The Staycation is just the kind of reading entertainment we all need to banish the virus blues.
From a claustrophobic corner of Heathrow's manic Terminal 5 to the rural delights of a small village in Gloucestershire and the cosmopolitan streets of busy, bustling London, two very different families discover that seeing how the other half lives reaps unexpected rewards.
It wasn't meant to be like this. Solicitor Harriet Cooper from rural Gloucestershire has been so looking forward to her family holiday in Rome… what could be better than experiencing big city life and la dolce vita in the sun-drenched squares of the Italian capital?
Harriet is an obsessive organiser who has thought of everything for this getaway with her goat farmer husband James and their 13-year-old daughter Billie. Harriet has even packed their pillows, but what she didn't reckon on was being stranded in Heathrow's Terminal 5 because of a volcanic ash cloud enveloping Europe.
Sitting alongside them waiting for the same flight is another disappointed family… Dan and Sophie from London and their two children, Katie and Oliver, should have been luxuriating at a luxury villa with a spa in the stunning countryside of Tuscany on a much-needed break.
And when it turns out that Harriet and Dan have a vague connection through a shared conference in the past, the two families make an impromptu decision to swap homes and each enjoy an unexpected staycation.
For Harriet, this is a chance to explore some big city delights and hopefully reconnect with husband James because the 'spark' in their marriage has been 'fizzling' for some time now. Sophie, meanwhile, is glad to leave London behind and enjoy the peace, quiet and space of the countryside.
But the obsessively orderly Harriet – who has been making inventories since she was child – and downtrodden Sophie, who has her own reasons for allowing husband Dan to control almost every aspect of her life, are about to discover that a change of holiday plan can also be life-changing.
Gorman brings us a brilliant cross-section of instantly recognisable family units… the stay-at-home, dependent wife and mother Sophie with her controlling, supercilious husband, and the confident, uber-organised Harriet eager to put some spark back into both her life and her marriage to easy-going farmer James.
But, underneath first appearances, and the lively buzz and banter of these cleverly portrayed characters, there are hidden secrets and frustrations which cast shadows over both their impromptu holidays and their relationships, and which ultimately become the catalysts for change.
At the heart of this witty and wonderful story is the blossoming friendship between Sophie and Harriet, separated by geography but increasingly joined at the hip as they use the last minute holiday to support each other and embark on their individual journeys of self-discovery.
So if it's inspiration, diversion and a big dollop of optimism you're seeking this summer, switch off, sit back and enjoy The Staycation!
(Trapeze, paperback, £8.99)