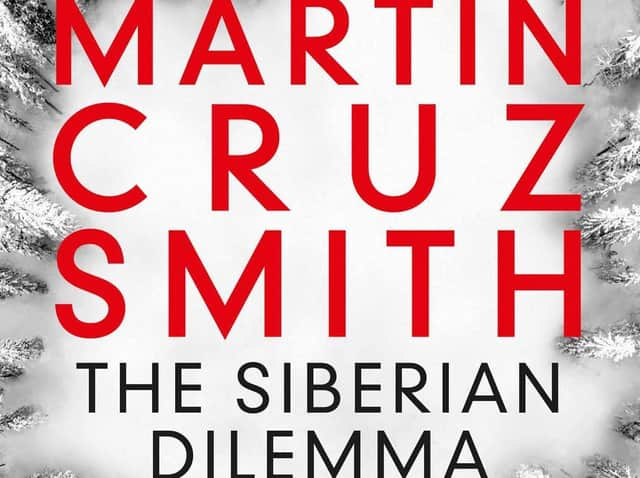 The Siberian Dilemma
Since the 1981 publication of Gorky Park, the stunning first novel in Martin Cruz Smith's much-loved Arkady Renko series, the wily, witty Russian detective has made only intermittent appearances.
But the wait for eager readers – in this case, a long stretch of six years – has been more than amply rewarded with a full-throttle outing for the Moscow-based Investigator of Special Cases who has seen his country move from Communism, through Perestroika to the iron grip of Vladimir Putin.
The Siberian Dilemma is the ninth case for Renko and it's a true thriller-chiller set in the frozen tundra of Siberia, a land where billionaire oligarchs are as menacing as bears, superstition is still rife, shamans are alive and well, and death by both natural and unnatural causes is only ever a heartbeat away.
Written with the literary flair, wry humour, gripping atmospherics and gritty realism that have become the hallmarks of this classic series, Renko's two-pronged, danger mission to the frigid eastern Siberian city of Irkutsk and its picturesque neighbour, Lake Baikal, has all the thrills and spills that we have come to expect from this outstanding American author.
Investigative journalist Tatiana Petrovna has disappeared in Siberia and the editor of the newspaper where she works doesn't seem to be taking it seriously enough for her part-time lover and Moscow detective Arkady Renko.
Renko hasn't seen her since she left on assignment over a month ago and when she doesn't arrive on her scheduled train, he's positive something is wrong. Tatiana is known to disappear during complex assignments but he also knows her enemies and the criminal lengths these thugs will go to in order to keep her quiet.
Given the opportunity to interrogate a suspected Chechen assassin in Irkutsk, Renko embarks on a dangerous journey to Siberia to find the flighty, fatalistic Tatiana and bring her back, and along the way he obtains the invaluable services of a Mongolian factotum and shaman whose business card claims that he 'does everything.'
From the banks of Lake Baikal to rundown Chita where tourists are a rarity, Renko slowly learns that Tatiana has been profiling the rise of political dissident Mikhail Kuznetsov, a golden boy of modern oil wealth who is known as the 'hermit billionaire' and is the first to pose a true threat to Putin's rule in over a decade.
Although Kuznetsov seems like the perfect candidate to take on the corruption in Russian politics, his reputation becomes clouded when Boris Benz, his business partner and best friend, turns up dead.
In a land of shamans and brutally cold nights, oligarchs wealthy on northern oil, and sea monsters that are said to prowl in the deepest lake in the world, Renko needs all his wits about him if he is to get Tatiana out alive…
Arkady Renko fans have a feast of vintage Martin Cruz Smith to enjoy in this spine-tingling, ice-cracking, blood-freezing adventure in one of the coldest corners of the world as our sardonic, clever but touchingly caring and humane detective tackles a case featuring corruption, sabotage, violence, murder and ruthless oligarchs as rich as Croesus.
As always, the author's exquisite characterisation is a constant joy… from Renko's brilliant multi-tasking Buryat factotum Rinchin Bolot to the enigmatic Tatiana, and the warring oligarchs whose similarities to some familiar Russian billionaires is only very thinly disguised.
With witty observations on Russian life, politics and culture to savour, and everything from intrigue, bear attacks, perilous journeys in the wildest of places, and a final, redemptive act which unveils the icy truth about the chilling 'Siberian dilemma,' this is another triumph for both Arkady Renko and his award-winning creator.
(Simon & Schuster, paperback, £8.99)