The Puritan Princess By Miranda Malins: A captivating new slant on the private lives of Cromwell and his family - book review -
Oliver Cromwell… a devout Puritan, politician, and soldier whose Parliamentary armies toppled King Charles I, he famously burst out of his humble beginnings to rule England, Scotland and Ireland as its Lord Protector.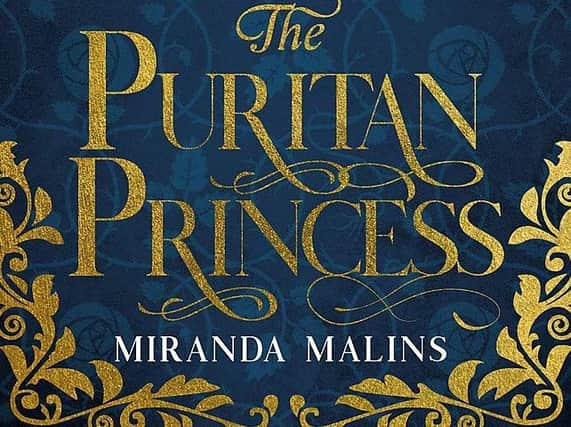 But behind the scenes lay a different figure to the accounts from history books and legend; a loving husband and devoted father, he was a man of outstanding gifts and charisma who believed deeply in the value of religious toleration.
The fascinating enigma that is Oliver Cromwell springs to vibrant life through the prism of his youngest daughter Frances in a brilliant, warts-and-all debut novel from historian Miranda Malins who specialises in the history of Cromwell, his family, and the politics of the interregnum after the English Civil War.
In a thrilling story focusing on the last, tumultuous year of his Protectorate, Malins brings us a stunning portrait of the man and his court, the close-knit family whose fates depended on his decisions and actions, and the intrigue and human passions which played out at the centre of power.
In London in 1657, seventeen-year-old Frances has left behind her childhood home in rural Cambridgeshire and is still finding her feet in the sumptuous palaces of Westminster and Hampton Court where her father is the figurehead of England's new centre of power.
Following the turmoil of the Civil War, a fragile stability has returned to the country and four years ago, her father rose to the unprecedented position of Lord Protector of the Commonwealth, but after an assassination attempt on the Cromwell family, Frances is starting to realise the danger of her position.
Spirited, determined and a 'bookish' girl, Frances is fully aware that her family attracts the hatred and envy of others because, for many people, there is 'no greater vice than ambition' but the truth is that her father is not guilty of the sin of pride, and far from denying his humble stock, he glories in it.
And now there is talk in the court of making her father King Oliver, and even of herself as a princess, a prospect that terrifies her because just the word 'king' can stir men into 'a frenzy of passions' and a storm of tears for the 'martyr' King Charles.
Frances has always dreamt of forging a marriage built on love but any sort of royal status would mean that a union would instead become a matter of state, with expectations that she would make an alliance useful to the nation.
After her cousin's wedding, Frances loses her heart to courtier Robert Rich, grandson of the Earl of Warwick, but the higher her father climbs, the more endangered become Frances's dream, and when Cromwell is officially offered the crown, Frances' fate becomes a matter of diplomatic and dynastic importance.
Trapped in the web of court intrigue, Frances must make a choice… allow herself to be a political pawn, or use her new status to take control of her own future, and of her country's?
Every single character in Malins' dazzling account of the last, increasingly unstable days of the Cromwell family was a real person, providing a layer of rich authenticity, and a heartbreaking air of tragedy, to the divisions, dangers and betrayals which marked out the struggle for the crown.
Forever walking in the great man's shadow were his beloved children... with the restless and precociously clever Frances, the youngest of his brood, acting as our principal observer, weaving together the tapestry of her father's last fraught year as ruler with her own hopes, fears and desires.
And it's a terrific tale, full of immaculate research, social and political insight, and history as it actually happened, but it is also a very personal and tragic story of how a family's progression is dictated by events and people beyond their control, leaving them as hostages to fortune.
The love that blossoms between Frances and Robert Rich is the romantic heart of The Puritan Princess and it is her testimony, her small but intimate part in Cromwell's immense story, which gives an emotional and compelling depth to the drama.
With wonderfully descriptive scenes of life in 17th century London, and a captivating new slant on the private lives of Cromwell and his family, this is history beautifully and vividly imagined.
(Orion, paperback, £8.99)