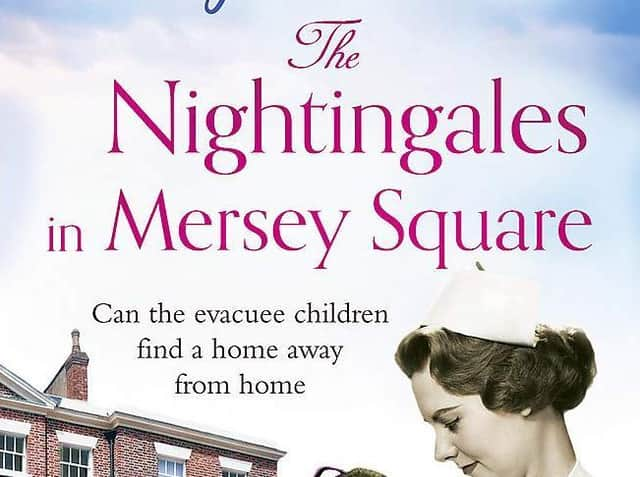 The Nightingales in Mersey Square
A friendship forged in a Stockport air raid shelter will be the glue that holds three young women together during the turbulent years of the Second World War.
Romance fans are going to fall in love with this beautiful, heartwarming saga from Scottish author Lilly Robbins who has woven the fascinating wartime history of her husband's home town into a story brimming with drama and passion.
During recent research, Robbins learned about Stockport's famous air raid shelter tunnels. Hidden deep underground, they were at one time the largest civilian air raid shelters in the country and were built to hold up to 3,850 people.
And when she discovered that the town had also hosted Guernsey evacuee families, transported to England in May and June of 1940 when it became clear that the Battle of France was lost and the Germans were heading for the Channel Islands, the idea for The Nightingales in Mersey Square was born.
As war sweeps across Europe in 1940, Guernsey evacuee families are fleeing their homes and arriving in England in desperate need of kindness, love and a safe place to call home. In Stockport, the residents are heeding the call to help and amongst those volunteering are student nurses Clare O'Sullivan, Gaye Robinson, and their new friend Diana Thornley.
Outspoken Geordie Gaye and her Irish friend Clare met Diana when they spent the night together in one of the town's air raid shelters. The young women are all from very different backgrounds, not least Diana who hails from a wealthy Cheshire family and has discovered that life in the 'real' world can be tough and cruel.
While the country is under siege from the Nazi war machine, homesick Clare is learning how to be a great nurse under pressure, Diana is struggling to find her place in the factory where she sews parachutes, and Gaye is hiding a terrible secret that could tear her family apart.
With the danger of war coming ever closer, it is their friendship and determination that will see the women through and enable them to offer help and security to the children in their care. But can the girls and the evacuee families make a permanent home in Mersey Square?
Robbins, an observant and insightful writer, brings her readers a wonderful cast of authentic characters in an enthralling tale packed with emotion, drama and the harsh realities of life during the turbulent war years.
But there is romance here too amidst the challenges, triumphs and tragedies, the shining light of hope, and proof of the enduring power of love, compassion and friendship to transform even the darkest days.
The perfect, inspirational and uplifting read for summer nights…
(Orion, paperback, £8.99)