The Miseducation of Evie Epworth by Matson Taylor: Funniest, wittiest and most joyful books you will read this year - book review -
Sixteen-year-old Evie Epworth is on the cusp of womanhood, and her much-anticipated entry into the big wide world of grown-ups... but it's 1962 and they do things differently there.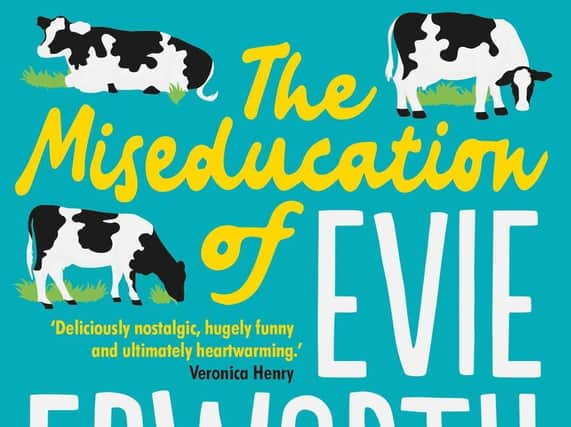 If the year of the pandemic has given you little cause to laugh out loud, then lift your spirits and recharge your batteries as you dive into Matson Taylor's Yorkshire-flavoured, nostalgia-laden debut novel, and enjoy a hearty guffaw on every page.
Imbued with the richly flavoured dry humour of Alan Bennett and all the wicked teen angst of Adrian Mole, but with a delightfully ebullient and seductive feminist twist, the Radio 2 Book Club Pick, The Miseducation of Evie Epworth, is one of the funniest, wittiest and most joyful books you will read this year.
Taylor, a design historian and academic writing tutor, grew up among farming stock in the flatlands of East Yorkshire and like all good novelists, he 'knows' his brilliantly drawn cast of charismatic characters inside out… their mores and manners, their time and place, and what really makes them tick.
And it is these quintessentially Yorkshire folk who steal the show as we set forth on a coming-of-age odyssey with the enchanting Evie who must not only negotiate her future, but battle to save her widower father from the money-grubbing, lavender-soaked clutches of her soon-to-be stepmother Christine.
In the summer of 1962, Evie Epworth has taken her O-level exams and must now decide what kind of a woman she will become, and what she is going to do with the rest of her life.
Up until now, her existence at her father Arthur's farm has been nothing special… a patchwork of school, Girl Guides, cows, village fetes and her personal pride at being the fastest milk bottle delivery girl in East Yorkshire.
Evie's best friend Margaret is 'destined for teaching' but, inspired by her idols (Charlotte Brontë, Shirley MacLaine and the Queen), Evie dreams of a more independent life, far away from her rural home… a world of glamour lived under the bright lights of London (or maybe even Leeds).
Standing in the way of these dreams is the buxom Christine, the farm's scheming, manipulative, live-in housekeeper whose predilections are the colour pink, listening to Mantovani LPs, drinking Babycham, wearing cleavage-bolstering dresses, and who has designs on marrying Arthur and selling off the farm to builders.
And what's more, Christine has lined up Evie for a life of shampoo-and-set drudgery at the local hair salon, and preferably, a future that doesn't involve living at the farm. It's at times like this that Evie longs for her real mother who died when she was just six months old, and who remains a mystery to her, 'a beautiful jigsaw with lots of pieces missing.'
Fortunately, Evie is not alone. With the wise counsel of elderly neighbour, Mrs Scott-Pym and her magic recipe book, and Evie's two trusty posters of Adam Faith on her bedroom wall ('brooding Adam' and 'sophisticated Adam'), the determined teen comes up with a plan to rescue Arthur from Christine's pink and over-perfumed clutches, and save their beloved farmhouse.
And when Mrs Scott-Pym's excitingly glamorous and sophisticated daughter Caroline sweeps in from London like a breath of fresh air, Evie finally gets the chance to work out exactly who it is she is meant to be.
The Miseducation of Evie Epworth is truly a piece of work, with an appeal that stretches far beyond those who remember the Sixties and those heady days of Amami nights, sticky-out skirts, Vim sink cleaner, Izal toilet paper, Terry's Neapolitan chocolates, Juke Box Jury, and the indispensable Rediffusion telly company.
From moments of hilarious comedy – not least a memorable day trip to the Royal Hotel at Beverley which is guaranteed to blow readers away – to tear-jerking pathos as Evie feels the lack of her long-dead mother, Taylor delivers an unforgettable classic.
Taking the spotlight is the irrepressible Evie, a smart, spirited, and thoroughly lovable teenager with a quick brain and an infectious zest for life. Her authentic narrative voice fills the pages and adds vibrancy, wry humour and innocent charm to a story which explores timeless issues of social expectations, gender, identity and sexuality.
With moving flashbacks to the courtship and marriage of Evie's parents, a sprinkling of magic and mystery, and an eclectic cast so exquisitely imagined that they feel like people you already know, Taylor's entertaining debut is the best thing since sliced Yorkshire tea bread!
(Scribner, paperback, £8.99)