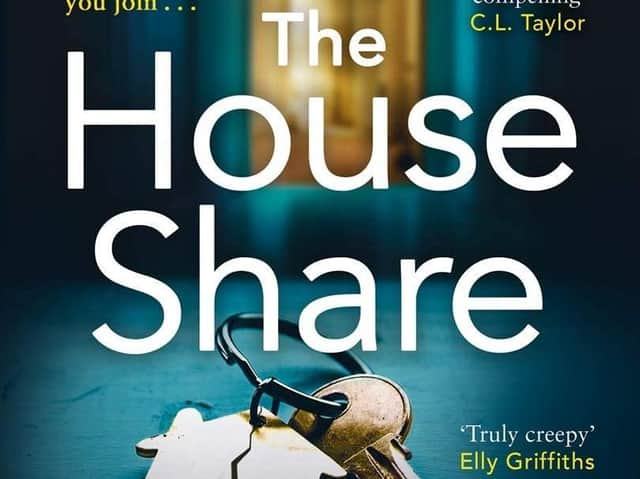 The House Share
Immi Sutton is desperate for somewhere to live… but is a 'dream house share' in one of London's smartest districts just too good to be true?
With its surprisingly affordable price tag, the 'co-living' community project inside a converted warehouse – designed to combat the loneliness of big city living – sounds perfect, but there are dangers at every turn of the stairs and Immi soon finds that you can't lock them out.
If the current lockdown is making you restless, then step into the crazy, claustrophobic world of The House Share, Kate Helm's creepy, skin-crawling new thriller which will leave you happy to stick with what's familiar and as far away from upmarket Bermondsey as possible!
Helm, better known to some as Lancashire-born Kate Harrison, author of several novels and non-fiction books, is in fine fettle in this twisting, turning journey into the lives of a group of flat mates whose secrets are as deadly as a den of vipers and whose 'home' becomes more sinister by the day.
Since she was thrown out by her boyfriend nine weeks ago, teacher Immi Sutton has been sleeping on her friend Sarah's sofa but Sarah's boyfriend's patience is wearing thin and Immi is desperate to find a place of her own, even though she is fast running out of money.
And then Sarah finds an ad for what could be Immi's dream home at the Dye Factory, a luxury community flat share just a stone's throw from London Bridge. The old warehouse development has luxury accommodation, a rooftop terrace, 'fabulous housemates' and daily yoga, all with a surprisingly affordable price tag.
Even though she knows full well that she's antisocial, neurotic and has zero interest in getting to know people she lives with, troubled Immi is determined to go for it because if there's one thing she is good at, it's pretending.
Despite her low expectations, Immi is accepted as a new housemate, along with super-cool, handsome Dex Shepherd, a documentary and fashion photographer who looks rather like 'a young Idris Elba' but also has problems which he hasn't shared with the rest of the group.
And it doesn't take long for Immi to realise that the Factory is not quite as idyllic as it appears. No one seems to know who is behind this multi-million pound urban experiment and her housemates seem to be hiding a dangerous secret.
As a series of pranks escalates into something much darker, Immi is left questioning whether, in this group of increasingly disturbing strangers, she can ever really be safe…
If you like your crime mysteries to come with an extra-large helping of menace and psychological intensity, then this fast-paced tale of tangled relationships, murderous intent, and devious mind play – featuring a superbly drawn cast of characters – will be your ideal reading escape.
The intriguing Immi and the dashing Dex are the alternating narrators as we are plunged into the lies and machinations of the seven housemates, and witness the banter and false camaraderie slowly turn into something nerve-racking, unsettling and ultimately terrifying.
Clever, original and fatally fascinating, The House Share will leaving you guessing from the compelling opener to the final, shocking revelations... and more than happy to stay at home and stay safe!
(Zaffre, paperback, £7.99)