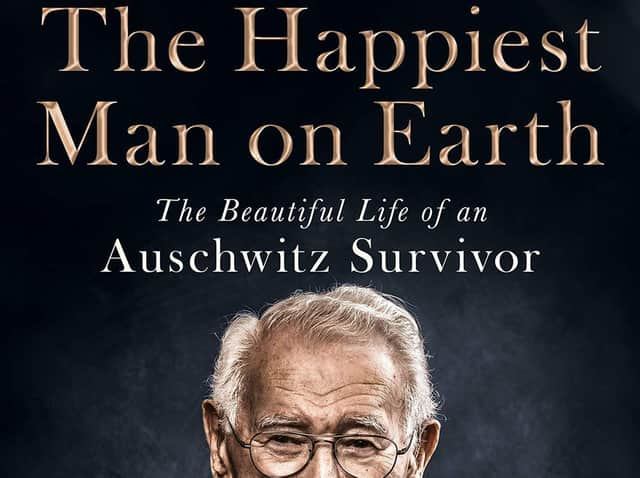 The Happiest Man on Earth: The Beautiful Life of an Auschwitz Survivor
'Life can be beautiful if you make it beautiful. It is up to you.'
Auschwitz survivor Eddie Jaku has lived for a century and knows what it's like to stare evil in the face… so why does he consider himself to be the happiest man on Earth?
If the year of Covid-19 has dented your optimism and made you fear for the future, take a leaf out of the remarkable Eddie's inspirational memoir and discover his moving, timely and powerful messages about the malignant nature of hatred, and the force for good that comes from gratitude, tolerance and kindness.
Eddie, a German-born Jew who was incarcerated in the two deadly concentration camps of Buchenwald and Auschwitz, and survived against the odds, found a new life in Australia after the war and for decades never talked about his Holocaust experiences because, if truth be known, he was still hurting from losing almost everyone he had ever loved.
But, through the years of happy marriage to his wife Flore, fatherhood and on to the joys of being a grandparent, the urge to tell his story grew stronger inside Eddie until the time came when he felt he had a duty to help educate the world about the dangers of hate.
Born in Leipzig in East Germany in 1920, Abraham Salomon Jakuowicz, later known as Eddie Jaku, sprung from a hardworking family that considered themselves 'Germans first, Germans second, and then Jewish.'
Their religion did not seem as important as being good citizens and young Eddie was proud of his country. But his life changed forever in 1933 when Adolf Hitler came to power and brought with him a fierce wave of anti-Semitism.
Following in his engineer father's footsteps, Eddie had a gift for all things mechanical and when he was turned out of school for being Jewish, he continued his engineering studies at another college under a false name and learned skills that would one day make him useful to his captors, and mean the difference between death and survival.
In November of 1938, when the Nazis went on the deadly, destructive rampage which became known as Kristallnacht, Eddie witnessed their once 'civilised' friends, neighbours and colleagues commit atrocities and become their 'sworn enemies.'
On the same night that he stopped being proud to be German, 18-year-old Eddie was beaten, arrested, separated from his beloved parents and sister, and taken to the notorious Buchenwald concentration camp.
He was now a prisoner in a country transformed… a country with 'no morals, no respect, no human decency' and over the next seven years, Eddie faced unimaginable horrors every day, first in Buchenwald, then in Auschwitz, and later on the infamous Nazi Death March near the end of the war when the Soviet army began its liberation of Poland and prisoners were frantically moved out of camps to be used as forced labour.
Eddie escaped from the march and was rescued by Allied soldiers but he had lost family, friends, his country and learned early on that if he could 'survive one more day, an hour, a minute, then the pain would end and tomorrow would come.'
And because he did survive, Eddie, who moved to Australia in 1950, made the vow to smile every day, and has been sharing his wisdom at the Sydney Jewish Museum where he has volunteered since its inception in 1992.
It's there that he constantly pays tribute to those who were lost by telling his story while living his best possible life, and coming to believe that he is lucky to be alive and consequently the 'happiest man on Earth'.
Hope is the word that springs, almost unaccountably, from this harrowing account of the often unspeakable suffering that was unleashed by the Nazis on Eddie, his friends, family and millions of innocent victims.
Being sent to the camps, he reveals, was like being sentenced to a slow death but first, the guards wanted to kill the 'spirit' of their prisoners… something that in Eddie's case they never achieved.
Breathtaking cruelty and barbarism wiped out nearly all his loved ones but with the solace and friendship of school pal Kurt Hirschfeld, Eddie found the will and the strength to battle on. There were times in the camps, he admits, when he contemplated suicide, but being loved by another person is the 'greatest thing' ever and, says Eddie, 'a friend is someone who reminds you to feel alive.'
As the world faces the challenges and fall-outs (in every sense) of a pandemic, Eddie's courage, his big-hearted view of humanity in the face of inhumanity, his strength to see beyond revenge and hatred, his love and devotion to family, and his determination to be happy and live a beautiful life, is a message that we should perhaps all take forward to a new and hopefully better year ahead.
(Macmillan, hardback, £14.99)